Featured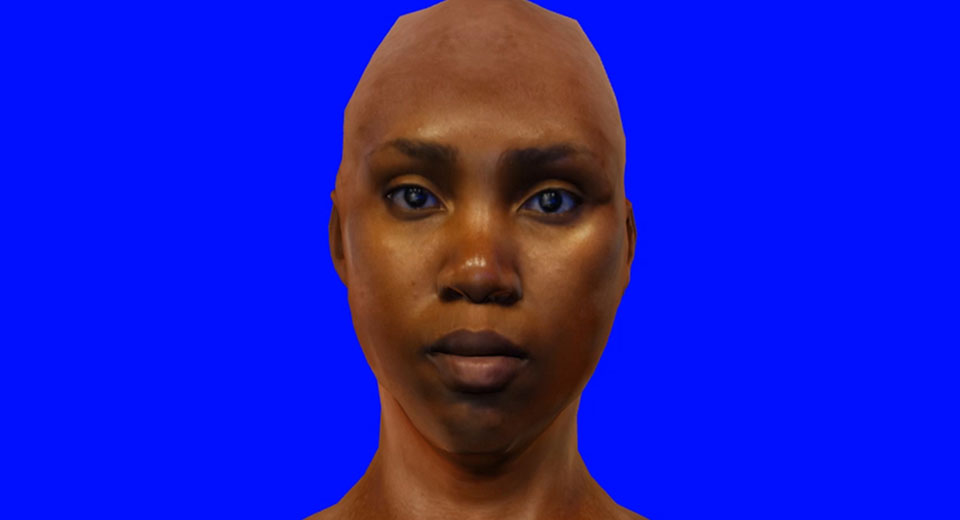 March 19th 2017
There was an undeniably cinematic feel to Sondra Perry's outstanding solo exhibition at The Kitchen last fall. Aesthetically, this could have been because of the enormous "wall of skin," a roiling sea of brown—a digital rendering of Perry's own skin—that dominated, and was about the size and shape of a multiplex screen. Or it could have been the couch she carefully selected as a reference to Coming to America (1988), complete with Jheri-curl stains on the backrest. There was also the soundtrack piped into the space: excerpts from movie scores, Eartha Kitt singing "I Want to be Evil," and most prominently The Stylistics' "People Make the World Go Round," which periodically swelled up and overtook the room, instantly affecting the mood in the way any poignant musical cue might.
That show's title and centerpiece installation, Resident Evil, taken from the video game and blockbuster movie franchise, furthered the cinematic theme, but opened up deeper associations. The connection between production strategies, technology and media trends, and social conditioning is one of the most powerful strains so far in Perry's work, and her alertness to how these ever mutable conditions require keeping apace with them is something that makes her one of the most astute artists working today, in any medium.
Tonight's early career overview, which closes the Migrating Forms Festival, ranges from Black Girl As A Landscape (2010), an abstraction of performer Dionne Lee's body that emphasizes photographic composition and gesture, to the work-in-progress My Twilight Zone Thing (2014--), in which Perry restages scenes from the 50s-era sci-fi show, poignantly casting herself in the roles of the white men and women whose hum-drum lives are about to enter a new dimension.
Also represented are several "multiple monitor workstation" videos, which blow up the artist's personal computer interface, a prime creative site for Perry, to the scale of an immersive, participatory, installation. Lineage for a Multiple-Monitor Workstation: Number One (2015) is one of her best known works so far, having been a highlight of MoMA PS 1's Greater New York. The artist's preference is to display this two-channel video in a room painted chroma-key green, but at BAM the content will migrate to a sit-down cinema context.
Watching Perry's works in a theater neighboring screenings of Get Out and Personal Shopper, a viewer might have the inverse experience of the Resident Evil installation, importing an art-world mindset into the cinema, where Perry's independent and art-based examinations of what she has called "the abstraction of subjecthood," lately a vital controversy around a certain painting, explodes traditional visual arts representations.