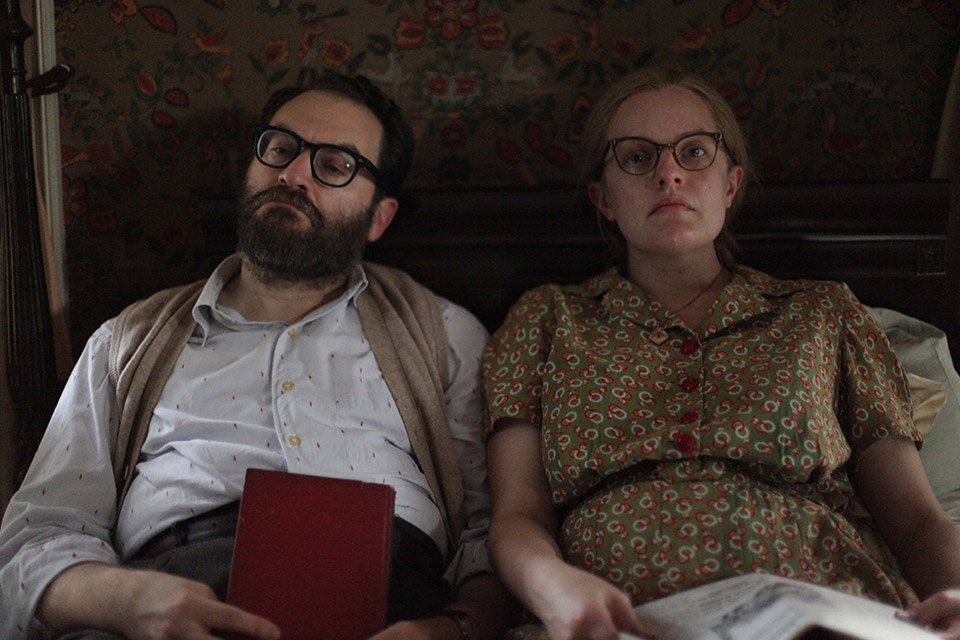 June 26th 2020
"A clean house is evidence of mental inferiority," declares a mythicized Shirley Jackson (Elisabeth Moss) in Josephine Decker's new film. The writer means this literally—her floors are covered with crumpled papers and her bedsheets snarl in perpetual disarray—and, befitting a horror novelist, supernaturally; the house quivers under each of her visions or moods.As Shirley strives to wrench a few sentences free from the chaos, Decker steeps Shirley in this harrowing psychological fluidity, not to romanticize it as a creative necessity, but to explore Shirley's retreat from '50s society through a Jackson-style Gothic.
Shirley's script (by Sarah Gubbins) is based on Susan Scarf Merrell's novel about Jackson, which initially centers on a fictional couple, Rose (Odessa Young) and Fred (Logan Lerman). Fred is seeking a professorship after finishing his dissertation, so they travel to Bennington, Vermont to stay with Shirley and her professor husband, literary critic Stanley Edgar Hyman (Michael Stuhlbarg, in hammy philandering narcissist mode), whom Fred sees as his ticket to tenure. When the fresh-faced twentysomethings arrive, they seem to have stepped into a Who's Afraid of Virginia Woolf? situation; Shirley and Stanley unleash expertly timed barbs of passive aggression during heavily liquored cocktail hours. As much as Shirley delights in their one-liners, the relationship at the heart of the film is a different one: Rose is introduced enthralled by Jackson's The Lottery on the train, and on her first night in Bennington, she's straining to watch Shirley hold court at a nightmarish party of soused academics. As it turns out, Stanley hopes that Rose might be able to take on some of the housework to help Shirley, coping with severe anxiety and agoraphobia, push through a case of writer's block. As Rose gains Shirley's trust, they are immediately keen to test each other's limits—from ingrained social expectations to erotic inhibitions—and together, they escape into a mutual psychosexual frenzy.
Shirley's work flows from this symbiotic feeding frenzy: Rose inspires the beginnings of her novel Hangsaman, based on the real-life disappearance of a Bennington student named Paula Jean Welden. As Young plays Welden in Shirley's visions, Rose bleeds in and out of Shirley's fictitious and real worlds—and as Shirley allows her mind to delve into the violent possibilities of her work, this chaos leeches her to the breaking point. It's pointed parallelism that Rose is carrying her first child as Shirley surrenders herself to her novel, which hits home the taxing, isolating nature of the women's rejection of conformity. In keeping with her visceral work so far, especially the power plays of 2018's Madeline's Madeline, Decker is game to follow these characters' impulses wherever they might lead: Sturla Brandth Grøvlen's jostling cinematography and David Barker's sharp edits keep us on the edges of what's happening, and always suggest the possibility of a sudden hairpin turn.