Featured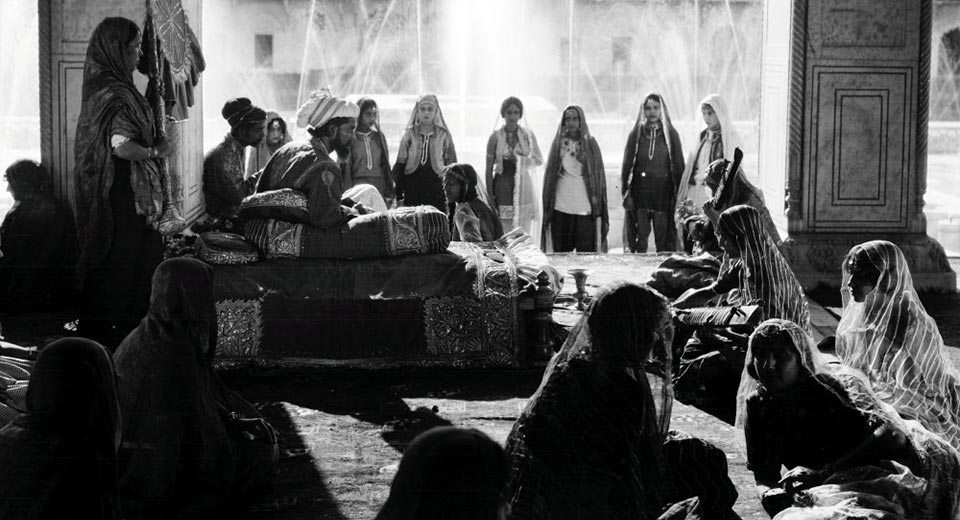 January 14th 2019
Today Metrograph opens a weeklong run of BFI National Archive's flawless restoration of the silent British-German-Indian co-production Shiraz: A Romance of India (1928). Shot on location in India with an all Indian cast, the film boasts sword-toting hordes, epic vistas, and royal exploits set among the deserts and forests of the subcontinent in the 17th century. Fittingly, it culminates in the construction of the Taj Mahal.
As a toddler, princess Arjumand narrowly escapes a raid on her caravan and is taken in by a potter who, unaware of her royal blood, names her Selima and raises her in a small village alongside his son, Shiraz. Slavers abduct the teenage Selima and auction her to the harem of Crown Prince Khurram, despite the rescue efforts of Shiraz, who has grown enamored of his sibling. Selima and the prince fall in love and marry, and she becomes Empress Mumtaz Mahal. Shiraz remains faithful, however, enduring poverty and physical and emotional torment for decades in order to fulfil his duties as her self-appointed protector. He cannot abandon his great love, though she cares for him only as a sister. His love remains unrequited, but Shiraz ultimately fulfills his destiny by designing for Khurram the Taj Mahal, a mausoleum worthy of the woman they both loved.
Shiraz presents a breath-taking abundance of humanity in its battle, palace and market scenes, utilizing hundreds of carefully choreographed extras in luminous costumes. The film can't compete with D.W. Griffith's work in terms of sheer scale, but director Franz Osten's geometric compositions summon more immediacy than the grandmaster of Big Movies. Osten's careful arrangement of his countless performers complements the grandeur of the palace architecture that surrounds them. The result is a festive admixture of myth and history without a trace of Griffith's megalomania.