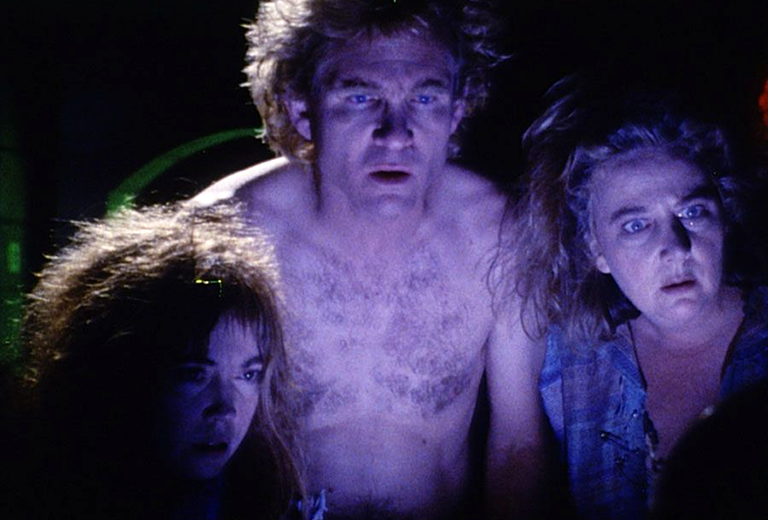 April 15th 2020
1963, Suburbia. A typical American family - 2.5 kids, conservative Dad, gently inebriated Mom - basks in television's glow. Suddenly a news bulletin interrupts: President Kennedy's been assassinated. Dad figures it's only a matter of time before whoever's behind it reaches their front lawn, so down into the bomb shelter the St. Clouds go, sealing themselves off from the world until it's safe to come out.
Thirty years later, they're still down there. Mom and Dad died early on (a prayer to their skeletons noting vomit quantity and canned-food inspection ritual point to botulism), so it's just another subterranean day in the life of the three now-grown (but not adult) children.
In addition to a consistent career in film and television acting, Paul Bartel directed (far too few) offbeat classics, including Eating Raoul and Death Race 2000 . 1993's Shelf Life was his last feature as director before passing away in 2000. To Bartel's surprise, TIFF and Sundance rejected the film, andthough it screened at several independent venues (including a premiere at still-kicking Dixon Place), Shelf Life was never picked up for distribution. In a 1994 Daily News interview Bartel said of the rejection, "Even in the field of independent film-making people tend to get pigeonholed, and if a film isn't a certain kind of comedy, then I couldn't have made it." Ironically, Shelf Life is Bartel at his least fettered - having personally underwritten most of the budget, Bartel was free to make the exact movie he wanted.
Unwittingly trapped in the shelter, Pam (Andrea Stein), Scotty (Jim Turner), and Tina (O-Lan Jones) bounce through a self-invented anti-agenda, popping on records to set the tone for games like Egyptian Slave, Clean-Up Mom, Restaurant, and Mighty Car. Capturing the full weirdness of actual kids at play, the siblings feed off each other's reactions, shifting allegiances and authority on a whim. They incorporate everything absorbed and at hand - right wing propaganda, jingles, worn comic books, vague memories - into their hermetically sealed microcosm. Brief bursts of modern television occasionally penetrate 40 feet of concrete to their old Philco Predicta, but can't link the siblings to a world they have absolutely no awareness of or interest in – the only fascination is as new fodder for their games.
The film's single set, limited players, and musical numbers hint at Shelf Life's stage-play origins, but the actors' total commitment and Bartel's focus on their dynamic keep it from feeling static. Andy Paley's 60s pop soundalike soundtrack creates a world out of time, and features Brian Wilson on the song "In My Moondreams."
While there's plenty of Bartel's signature style on display - human grotesques, repressed sexuality, and wry cultural jabs abound - his sardonic humor is replaced with sympathy, observing the St. Cloud siblings in situ instead of presenting them for mockery. Combined with the film's claustrophobic scope and unorthodox non-narrative, it's understandable why Shelf Life was overlooked the first time around. Fortunately, streaming via Seattle's Northwest Film Forum (with live actor Q&As post-film April 18, 19, 25, & 26, and all donations supporting the theater), Shelf Life's sell-by date is now extended to all of us trapped in our own overly-familiar digs.