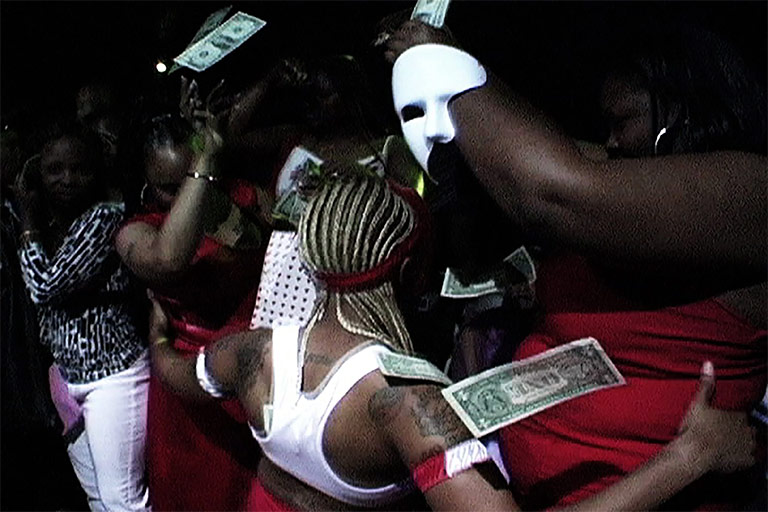 March 27th 2020
Leilah Weinraub's riveting Shakedown documents a Los Angeles strip club owned by and aimed at Black lesbians in the early years of the twenty-first century, and when it played festivals and arthouses a few years ago it plugged seamlessly into an obvious lineage of work centered on queer people of color building their own culture and institutions, from Paris is Burning (1990) to Kiki (2016).
Streaming on Pornhub for the month of March offers Shakedown a productive genealogical remapping. It's not pornographic, not even close; Weinraub's interests are in people, labor, and the tension and release of sexual commodification beyond the traditional male gaze, not stripping itself per se (though neither does she shy away from covering some unflinchingly raunchy acts in graphic detail). But in the context of MILF clips and Brazzers, BBCs and BBWs, twinks and j/o videos, how does Pornhub as a constellation shape the viewing of Weinraub's work?
Weinraub's first visual image is an artlessly angled shot of the corner of a couch and an unadorned wall behind it. Egypt, one of the "Shakedown Angels" of the titular club, takes a seat for an interview, and Weinraub delivers a fantastic montage of flyers and cards, her own footage of the club from 2003, and camcorder-shot scenes from Black lesbian nightlife dating back another decade to 1993. DJs spin and MCs decree: "if you straight, you don't need to be in the front." It's a lo-fi DIY aesthetic but with a clear sense of organization, most evident in Weinraub's withholding of establishing shots. The cinematic iconography of Los Angeles saturates films shot there to the point of suffocation, and in (mostly) forsaking skylines and palm trees, Weinraub instead encloses us in spaces defined by community, not landscape or the built environment.
Here's where Pornhub's presence intervenes, at least for me: watching Shakedown, with its intensely engaged crowds set against crumbling white walls and exposed brick masked only by floating batches of balloons at times, I think of the powerful sexual spheres forged in rather threadbare settings that mark queer porn history. Gay liberation-era hardcore filmmaker Fred Halsted is best known for his landmark LA Plays Itself (1972), which begins with outdoor coastal idylls, but by the early 1980s his film world constricted. Lesser-known works such as A Night at Halsted's and Nighthawk in Leather (both 1982) fail as porn in many ways and have drawn little attention or affection, but offer exacting studies in the spatiality of gay sex clubs at the dawn of the AIDS era. Likewise, the sometimes claustrophobic lofts and warehouses of Christopher Rage's no-wave art-porn (Sleaze [1982], Orgy [1983], etc.) or the further extremes of such BDSM filmmakers as Dave Nesor, whose Fisting Ballet (1985) may be the only film ever shot inside New York's notorious Mineshaft: there is a line of queer place-claiming through sex films that tends to be dominated by men, with such pioneering lesbian porn as Suburban Dykes (1991) registering through a domestic sphere often misread as no-place.
These are not films that would otherwise come to mind while watching Shakedown, but running it through the lens of a porn tube site helps resituate it into a broader cinematic, cultural, and sexual tradition of queer communities forming expansive erotic imaginaries in tightly constrained material conditions, a testament to the power and resilience of queer desire.