Featured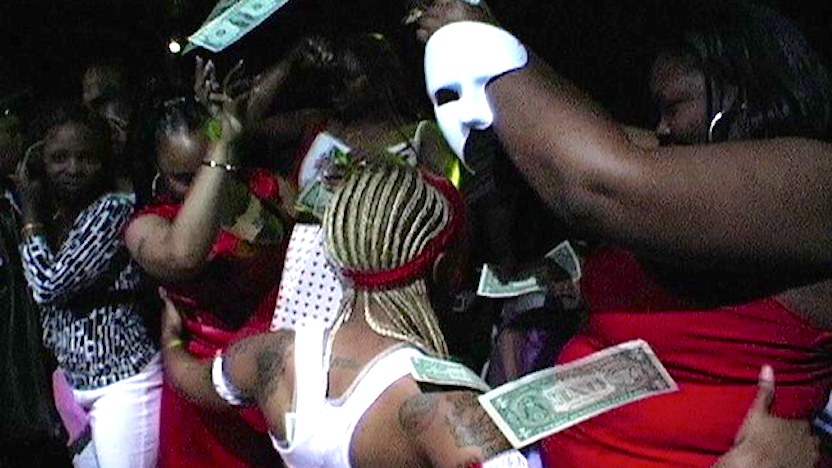 March 4th 2019
Tonight the third annual NYC Feminist Film Week program opens at Anthology Film Archives with Leilah Weinraub's Shakedown (2017) and Krissy Mahan's "Carol" (2016). The series, programmed by S.H. Varino with Patricia Silva and Maya Suess, is inclusive of trans, non-binary, and gender non-conforming filmmakers, and seeks to "interrogate cultural constructions of gender, sexuality, race, class, age, and dis/ability."
Weinraub's film, which premiered at the 2017 Whitney Biennial in an extended cut and was exhibited last fall at Gavin Brown's Enterprise, is a deep dive into The Shakedown, a weekly underground L.A. strip party run by and for black lesbians. "I don't mean to appall anybody, but this is a gay club," founder Ronnie Ron says over the film's opening credits, which list out participants and a rundown of the film's structure like a mixtape. "Please don't disrespect my dancers. They dance for girls—if you don't like it, just have a seat boo-boo." The film is a fuzzy wash of lo-fi textures, including extensive VHS footage dating to the early 90s, scans of cracked, pixelated color flyers, and SD digital tape Weinraub shot as the party's official photographer in the early 2000s. On one hand, Weinraub presents Shakedown as a utopian space that facilitates community and self-discovery — for instance in the case of Shakedown Angel Egypt, who confesses to being a popular, homophobic cheerleader in high school. And yet Shakedown doesn't put too fine a point on the obvious notion of the party as family, choosing to also interrogate how it isn't insulated from realities of power, labor, and money. Nor is it sheltered from the LAPD — in the film's most disturbing scene, a group of white male officers, one of whom had been undercover, surround and cuff dancer Jazmyne mid-routine. Outside, Weinraub asks, "Why are you guys here, why are you doing this?" "You're asking the wrong questions," the cop responds, deflecting to another officer. The police attention precipitates the storied party's conclusion in 2004.
In a short video interview, Weinraub says, "I think the culture that was at Shakedown completely influenced mainstream hip-hop culture, mainstream stripclub culture, and by proxy mainstream American culture." A more traditional documentary may have made this connection explicit or attempted to hone in on traditional character arcs. Instead, Shakedown creates space to contemplate larger themes – of nostalgia, sex, transience, and how underground communities exist in symbiotic relationships with mainstream economic systems and cultural values. At 75 minutes, it contains multitudes — and it still feels like a party.