Featured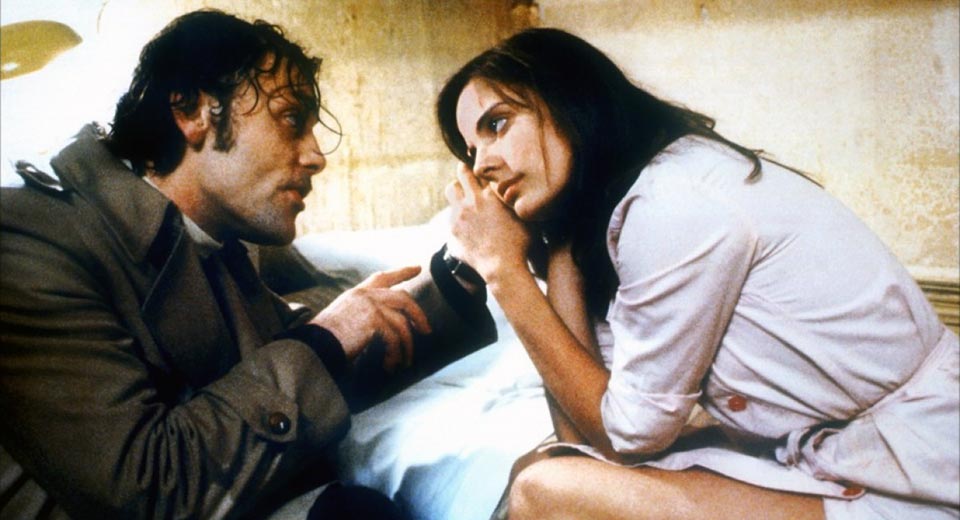 October 4th 2019
Alain Corneau's Série Noire is named after Marcel Duhamel's legendary French imprint of American crime fiction, which published in translation the major classics of the genre starting in 1945. It transposes Jim Thompson's 1954 novel A Hell of a Woman to the shabby Parisian suburbs of Saint Maur and Creteuil in the late 1970s, and the original story's bleakness does even better in this new setting. The slab-concrete banlieues surrounded by highways and construction yards offer very little cheer. Add to this the monochromatic sky of the perennially overcast skies that Corneau chose to shoot, and you've got an environment so suffocating it would drive anyone out of their minds—like Série Noir's decidedly unhinged protagonist, Frank Poupart (Patrick Dewaere),
Coming from a long line of Thompson-protagonists with dead-end jobs, Frank is a door-to-door salesman. During one of his desperate sales runs, he chances upon an old miserly woman with hundreds of thousands in undeclared savings and a pretty, near-mute niece, Mona (Marie Trintignant). An ill-conceived murder-for-money plan hastily takes shape, and the rest of the story involves Frank trying to extricate himself from its ever-multiplying complications. As he puts it at one point—neatly summarizing the central dilemma of the vast bulk of noir novels—"It's exactly the kind of story that no one will ever believe, even though it's true."
Thompson's simmeringly violent narrative was adapted by the famed avant-garde formalist, George Perec (known among other things for A Void, a novel in which the letter 'e' never appears), and his language in Série Noire's nearly ever-present protagonist's mouth is bizarre enough to make what often feels like an endless monologue engaging. "You're cooked," Frank yells at a blackmailee, "so hop in the casserole!" One of the most striking insults he hurls is "asshole without cheeks"—a frightening thing to imagine. He calls himself a "schizomaniac" (a guaranteed Perec coinage) and incoherently urges Mona to flee with him "to Istanbul, or maybe Constantinople."
Thompson's signature brutality punctuates the depressed, ambitionless, utterly aimless lives of the film's characters. When the dangerously hyperactive Frank isn't driving around improvising pop songs or beatboxing military marches, he's smacking around his wife or slamming his head against the hood of his car. Corneau constantly reminds us of the film's origins by having made sure that most of the shelf-space in Frank's apartment—even in his doorless fridge—is filled with pulp paperbacks. America is evoked at every turn, with Hell's Angels turning up at the local dive and Frank's Frenglish turns of phrase ("On y go!"), but distinctly French cultural references also abound, like inane French pop—from Gérard Lenorman to Sacha Distel—blaring nonstop from transistor radios.
If you didn't know anything about Série Noire's background going into it, you might think it's a heretofore undiscovered Maurice Pialat adaptation of The Postman Always Rings Twice (of his contemporaries, James M. Cain was probably closest to Thompson in his sensibility). Compare it to Bertrand Tavernier's 1981 Frenchification of Thompson's Pop. 1280, renamed Coup de Torchon, which transported the story backwards instead of forwards in time to an African-French colony in the 1930s, and you'll see that alongside his materialist groundedness in history, Thompson's broader insights into the irrationality of human motivations often transcend their immediate surroundings.