Featured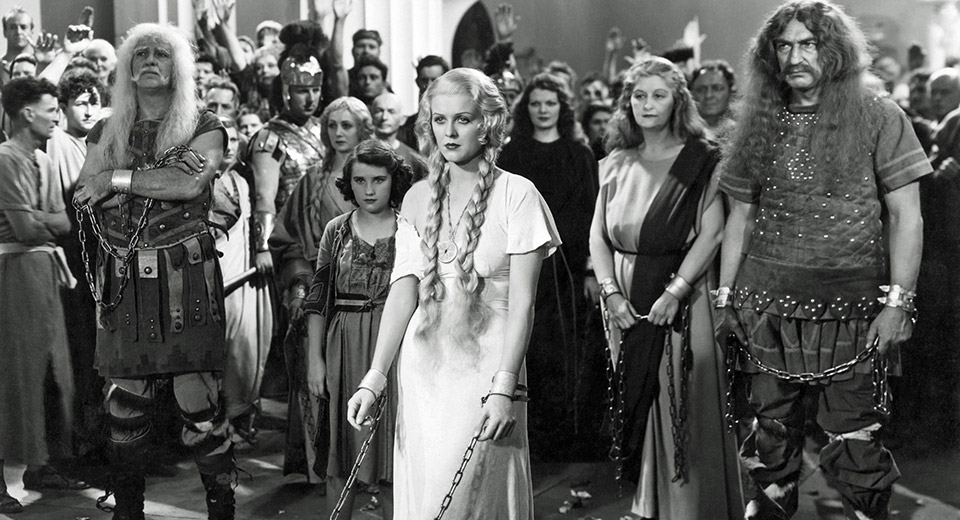 December 4th 2016
Also today: a special illustrated holiday edition of Ms. 35, Cinephile Gift Guide
Kicking off Film Forum's Busby Berkeley retrospective is Roman Scandals, the last of Berkeley's work for Samuel Goldwyn's production company and with vaudevillian Eddie Cantor. In 1933, Goldwyn set out to capitalize on the popularity of Roman epics by adapting George Bernard Shaw's Androcles and the Lion. Shaw refused to give permission, so George S. Kaufman and Robert E. Sherwood were subsequently hired to approximate a sword-and-sandals burlesque. Kaufman and Sherwood hated Cantor so much they took legal action to eject themselves from the project. (Kaufman quipped Cantor's humor was "as painted on as his blackface.") Meanwhile, Goldwyn was tied up in court trying to secure Berkeley's services as choreographer, since Buzz was simultaneously contracted by Warner Brothers and didn't show any interest in completing his Goldwyn contract.
It's as if all the backstage bustle sufficiently distracted Goldywn, allowing the cast to play especially fast and loose with taboo – the result is one of the more outrageous, lascivious pre-Code musicals. Cantor is Eddie, a do-gooder from the fictional "West Rome, Oklahoma" who—much to the chagrin of local authorities—sings about the joys of communal living and riles up the Depression-struck masses. When he's run out of town by a corrupt politician, he imagines what life would be like in ancient Rome, speculation that transports him back in time (a plot that recalls A Connecticut Yankee and anticipates Cantor's Ali Baba Goes to Town).
The Berkeley sequences in this one are particularly gaudy and ambitious, making it an appropriate introduction to the artist. The dance number "No More Love" features topless girls (Berkeley went to great lengths to allow for this, filming late at night at the dancers' request), bondage, a reference to suicide, and a very early film appearance from Lucille Ball. In the spectacularly sexist "Keep Young and Beautiful," Cantor in blackface is mistaken for an Ethiopian beauty specialist (the number was apparently a favorite of Winston Churchill).
College students should take note, Roman Scandals is just in time for final papers season. It captures the desire for escapism, the reprehensible social attitudes, and the New Deal optimism of the '30s. A great watch for anyone interested in early sound comedy, Depression-era popular culture, or, of course, Buzz. It'll be screened as a double feature with the Mickey Rooney and Judy Garland vehicle Strike Up the Band, from the tail-end of Berkeley's Warner Bros era. As added bonus, Eddie Cantor's grandson will be in attendance for the 7:55 pm showing.
And don't skip Ms. 35's Cinephile Gift Guide!