Featured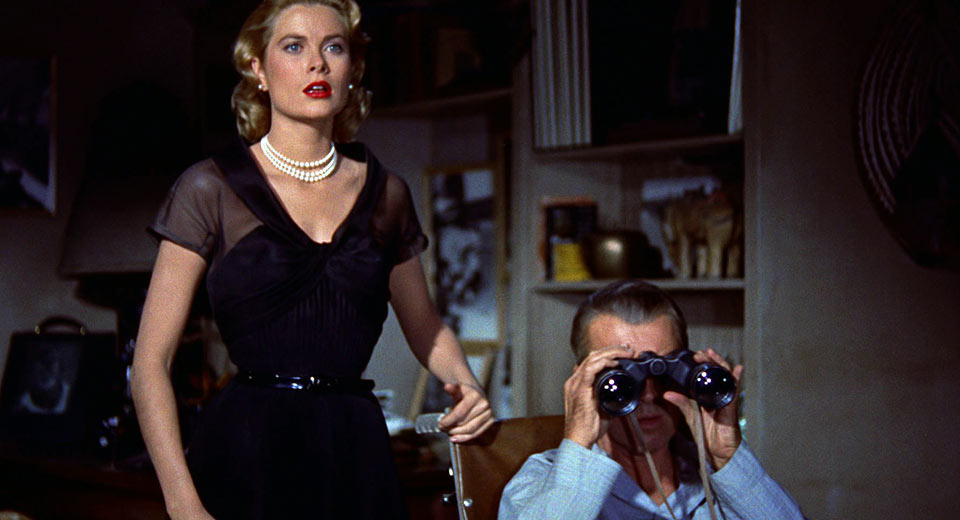 July 10th 2016
A sweltering New York City summer. A studio-built conglomeration of Chelsea apartments and backyards. The thermometer on the wall hits 95-degrees. And in the space of a few opening pans and cuts, we are introduced to a cross-section of middle-class New York City society circa 1954 – we see the aspiring ballerina, the newlywed couple, the sculptor, the struggling composer, a "Miss Lonelyhearts", and the husband and wife who sleep on their fire-escape. All of them are being watched. And the man who is watching them is, ostensibly, just like them, a wheelchair-bound photojournalist who breaks up the monotony of his immobilized summer by spying on his neighbors.
More than six decades after it hit theaters in the summer of 1954, these opening scenes from Alfred Hitchcock's Rear Window still feel like the essential introduction to any theory that regards cinema as an inherently voyeuristic medium. Every aspect of Hitchcock's film is framed by the implications of looking, peeping, peeking, and watching. Within that frame, Hitchcock plays with other themes of social status, of love and lust and incompatibility, and the disconnectedness of a modern urban neighborhood. But these societal and pop-emotional themes rarely probe deeper than the Life Magazine philosophies they tend to regurgitate; the radical mechanism in the film is the frame of the image itself, and through it the simple human desire to 'see' — and, ultimately, to be entertained — is refracted into a seemingly infinite number of questions: about what is public and what is private; about the desire to watch and be watched; about the relationship between seeing and knowing; and about the line between personal pleasure and criminality. 
All of these questions seem ripe and all too relevant for the 21st century, built on constant surveillance and a fluidity between images and truth. But Rear Window is not inherently prophetic, and provides no easy antidotes or solutions. Whatever element of critique exists is leveled — as a question — at the individual. And, as with all of Hitchcock's films, the solution is always a personal one and eventually conforms to the law.
But Hitchcock's mastery was never at the level of explicit social criticism. His genius was aesthetic and structural. And, on these terms, Rear Window is the apotheosis of a certain way of thinking about movies — as mass 'entertainment', but a kind that is prismatic and encapsulates through its images, sounds, and movements, ideas that are more than the sum of their parts.
Rear Window is streaming for free on Peacock along with many other Hitchock movies and the Alfred Hitchcock Presents TV series. (August 2020)