Featured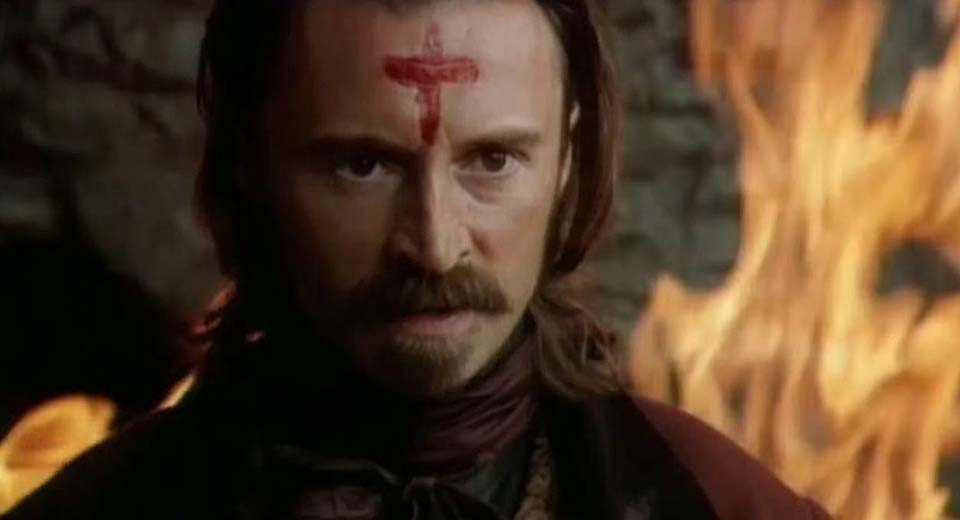 February 24th 2019
Ravenous announces its blend of black comedy with gruesome, realistic gore from the get-go. Over a patriotic soundtrack, a dismal-looking Corporal Boyd (Guy Pearce) receives a medal of honor, then watches in horror as his fellows tear into gigantic steaks, triggering his own blood-soaked memories. His superiors send him to the purgatory of Fort Spencer in California—a veritable death sentence in the mid-19th-century, when the same Sierra Nevadas wrought the infamous end of the Donner Party. There Boyd wrestles with his inner demons in the company of bourbon-swilling, pipe-smoking profligates, whiling away the winter in relative peace, until Colqhoun (Robert Carlyle) appears, nearly frozen to death, clothing stained with blood, which Boyd studies with suspicion — or is it thirst?
Colqhoun narrates a familiar tale of a deadly "shortcut," dwindling supplies, and cannibalism, convincing the men to strike out in search of the remaining members of his ill-fated wagon train, despite warnings of the unquenchable hunger of the Wendigo. Their grisly discovery is predictable: Ravenous is, in structure, a suspense film of the Hitchcock tradition, in which the bomb you know is the far more effective threat than any surprise. The stunning cinematography, the charisma of the actors, and a truly incomparable soundtrack (a collaboration between composer Michael Nyman and Damon Albarn of Blur and Gorillaz) lend what might have been a standard thriller a sense of humor so brittle and bleak it could crack like a twig in the cannibal-haunted wilderness of the American frontier—the horror of manifest destiny made explicit.
The most direct inspiration for Ravenous is likely the story of prospector Alfred Packer, who shared a questionable account of events leading to his cannibalizing the other members of an 1874 exhibition. Amid a notoriously fraught production, third director Antonia Bird, known mainly as a British theater and TV-movie director and producer, resurrected what would likely have been a forgettable film. The result is a horror-comedy-western unlike any other, which demands broader recognition of Bird's body of work and, most essentially, a good, loud sound system.