Featured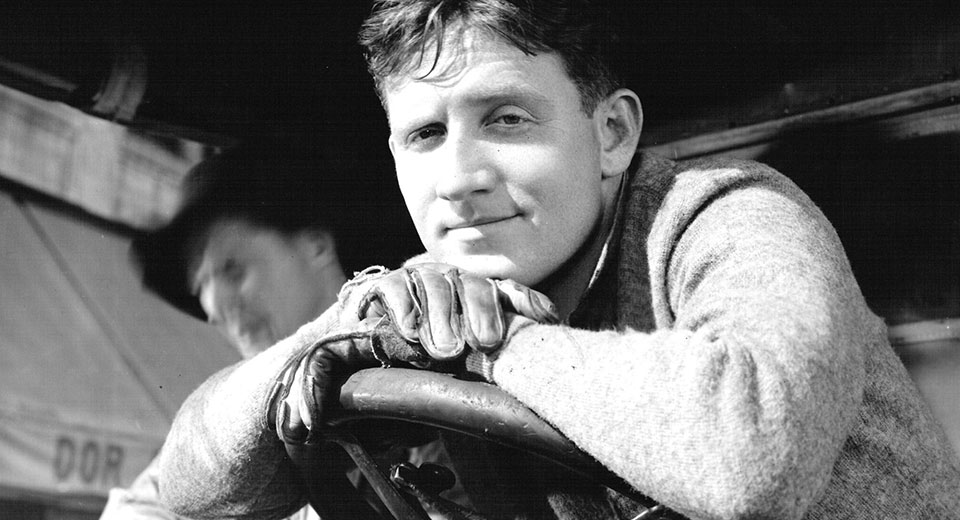 March 18th 2019
The Museum of Modern Art's second Fox Restorations retrospective ends tomorrow, and if you (like countless other readers) failed to prioritize this remarkable line-up of pre-Code rarities, now might be a fine time to rearrange your rep calendar. For the tonier offerings (Fords, Borzages, Walshes, et al.), that ocean liner has already sailed, but all is not lost: there is still one more chance to catch Quick Millions, an insightful and punchy picture directed by precisely the sort of man this film concerns. Director Rowland Brown's gangster-adjacent account disguises the usual (and always enjoyable!) array of wisecracks, peek-a-boo underpinnings, and fraught plot twists as a crash course in pre-Roosevelt, early Depression-era chiseling, during that free-for-all twilight before Repeal and the New Deal re-legitimized beer-swilling and the living wage.
Left out of the bootlegger's racket and too low-born for the professional sphere, Spencer Tracy's tough-talking truck driver "Bugs" Raymond has big dreams (natch), but precious little to hang them on. How does a charismatic tough guy find his level, when surrounding white-and-blue-collar crooks won't give him an inch? Enter organized labor, ready to work – or not, should the occasion call for it – and desperately in need of a mouthy go-between to kvetch on their collective behalves. Backed with a coterie of heavies (including a young, fleet-footed George Raft), Raymond enchants the local Teamsters in record time, all while sending shivers up high-backed spines in the surrounding boardrooms. With a wave of his newly-manicured hands, he alone halts the sorely-needed hum of cement mixers, flatbeds, and supply wagons that keep the city's economy just above water. Galvanized by this power, he makes a hasty break for the top of the heap before the inevitable moral asterisk – tacked on to sneak Quick Millions past the front office – sends him tumbling back to earth.
After his final credit, The Devil is a Sissy (1936), director-writer Brown more or less abandoned the motion picture trade, but his colorful biography might explain the rather sudden drop-off. From humble prop boy during Hollywood's silent heyday to moody, hard-drinking "helmer," Brown's trajectory had the makings of a titillating pre-Code in its own right. His rumored ties to both the Communist Party and organized crime, coupled with a difficult reputation and frequent, dramatic walk-outs – and an alleged fist-fight with producer David O. Selznick – likely contributed to his eventual status as a persona non grata on the backlot. Does this pinko firebrand's shared screenwriting credit on Quick Millions hint at some deeper understanding of labor politics? Take 72 minutes out of your no-doubt busy moviegoing schedule and find out for yourself!