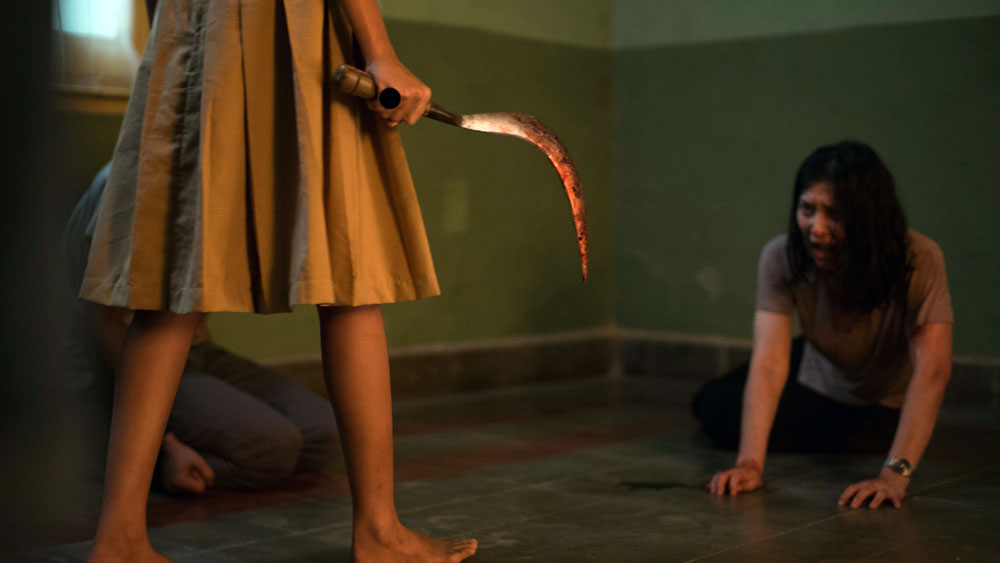 July 6th 2021
Indonesian genre films are having an increasingly international moment, marked, notably, by the country's submission of Joko Anwar's folk horror Impetigore (2019) for consideration at this year's Oscars. In addition to the growing success of these titles amongst local crowds, the expansion in streaming services — and their libraries — has helped bring them to global audiences. (Shudder and Netflix, in particular, have modest but exciting collections.) One of the most recent titles to titillate Western horror buffs is The Queen of Black Magic (2019), the first collaboration between Anwar, as screenwriter, and director Kimo Stamboel, the latter perhaps best known to American viewers for the outstanding "Safe Haven" segment of V/H/S/2 (2013).
Structured like a standard haunted house story, Queen relies heavily on its actors' compelling performances (particularly the children) and the mystery underlying the violence, as with Anwar's previous titles; for fans of Stamboel's oeuvre (see 2009's Macabre, if it ever becomes available to stream), the bone-dry irony and gore extravaganza are on display in the film's final act (and it rules). It's in this gruesome concluding immolation that the film's source material, 1981's Queen of Black Magic, surfaces most recognizably, with the blood-spattered appearance of the "queen" herself: Murni. The name is immediately familiar to fans of the original, a classic of the era and one of the best-known Indonesian horror films (second only, perhaps, to the mind-melting Mystics in Bali, also from 1981). Anwar has described the original as a childhood favorite, and has said that he wished to make a "companion to the original," rather than a remake; as such, beyond the queen's name and the broad themes of revenge and "female empowerment," nothing of the plot has been maintained.
What does persist in both versions is the portrayal of black magic, a still-potent force in Indonesian culture, per Stamboel, who claims the majority of his research consisted of speaking with his friends and relatives about their own experiences with curses and "witch doctors." The film is peppered with signs of evil seen in the original, like floating severed heads, stomach-turning skin eruptions, and a bus full of dead, centipede-covered orphans; unfortunately, the remake relies fairly heavily on CGI ("clearly above 50%" according to Stamboel), losing much of the extravagance and delight of the original film's practical effects.
The Queen of Black Magic is Anwar's second remake of an earlier horror film (after 2017's Satan's Slaves), again produced by Rapi Films and selected from that company's extensive genre library, which reaches back to the 1960s. Both original films were consequently made available to stream — Queen on Shudder, Slave on Tubi. In a way, Anwar and Stamboel are building a cinematic universe in which the folklore and black magic of both their personal histories and an earlier era in Indonesia's cinematic output, uniquely flavored by the country's religious beliefs and political struggles, are brought into communication with contemporary visual styles and audiences both near and far. Hopefully, more of the masterpieces of the 70s and 80s will find new life; as Stamboel said in a recent interview, "Maybe [the Rapi Films guys] have the reels, but they have to clean them and re-digitise, and that costs a lot, and I don't know if they'll do it, but they have a lot of titles, which are really interesting to watch." Couldn't agree more.