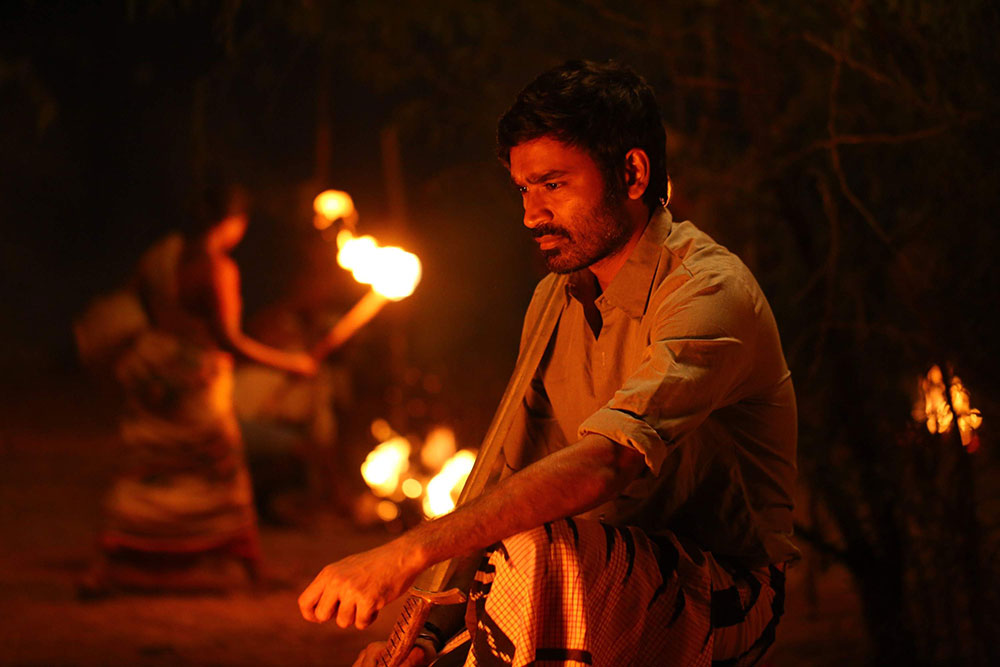 May 24th 2021
Writer-director Mari Selvaraj calls Karnan (2021) a "lifestyle movie", telling Film Companion it would be "about the simple and joyful life of ordinary people." It was an unusual way to promote a big-budget Tamil melodrama led by megastar Dhanush, especially one promoted with images of him brandishing a giant sword astride a mighty steed. And yet for the majority of its runtime, Karnan does indeed focus on the everyday life of a small village in Tamil Nadu, devoting segments to its religious ceremonies, sporting events, and the halting way in which a donkey with its forelegs tied together can still hop down a path. This attention to detail accumulates into an entire portrait of the village, one that is threatened with collapse when a riot breaks out over the lack of bus service to their poverty-stricken locale.
The narrative mirrors the 1995 riots in Kodiyankulam, which were ignited when a low caste Dalit bus driver was beaten up by higher caste Thevars, inciting a cycle of violence that was brutally put down by police. Selvaraj had to unconvincingly state to reporters that Karnan is unrelated to the incident, after Karunas, an actor and leader of the Thevar political outfit Mukkulathor Pulipadia, called for a boycott of the film, claiming it would incite violence. But the parallels are too obvious to deny – as Karnan's villagers from Podiyankulam incite a riot inside of a bus, which causes retaliatory attacks from the neighboring higher caste town of Melur, escalating until a graphically violent attack by the Indian Police Service (IPS).
Selvaraj's debut film Pariyerum Perumal (2018) also dealt with the harsh realities of the caste system, but here he adds mythological elements, naming the villagers after characters of the Mahabarata. "Karnan" is a reference to "Karna," a demi-god abandoned by his parents and raised by commoners. At one point Karnan (Dhanush) wears a t-shirt of Rajinikanth (Dhanush's father-in-law) in Thalapathi (1991), another and more faithful modern dress version of Karna's story. Karnan is not re-enacting the Mahabarata, though, but the villagers use these divine names to shore up their self-respect and needle their Melur neighbors, who see it as blasphemy. It especially incenses the fascistic IPS officer Kannabarian (Natarajan Subramaniam), which is another name for the god "Krishna".
Karnan, unlike his namesake, is of low birth, and his only way out of town is to pass the military physical exam, which the whole town prays for. But the daily indignities of life in Podiyankulam grind him down and make him question the value of army service – and lead him to untie that poor donkey's forelegs. What he can't get out of his head is an image of his sister writhing from a seizure in the middle of the road, with no way to get her to a hospital. But in Podiyankulam the past is never past, and she emerges as a mischievous spirit who wears the mask of village goddess Kattu Pechi, impishly cheering Karnan's vengeful return (this is where the sword comes in), even though everything he loves will soon turn to ash.
Karnan is streaming on Prime