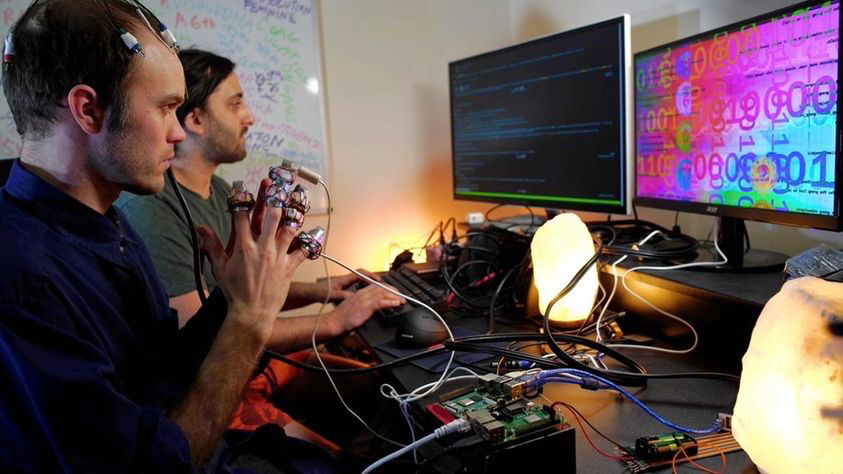 July 8th 2022
I first heard the name Tucker Bennett when the underground film veteran Jon Moritsugu was promoting Pig Death Machine (2013). He recalled discovering an unsolicited DVD in the mail one day labeled Why Are You Weird? It was a shot-on-VHS feature made by two sophomores at the San Francisco Art Institute. Bennett and his creative partner in crime Zach Shipko co-directed and starred in this "anti-budget" comedy about an awkward performance art major struggling to find his creative voice while grappling with the daily humiliations of on-campus dating. It's a snapshot of a not-too-distant past full of flip phones, now-extinct web browsers, and even a MIDI rendition of Sisqó's "Thong Song." At one point Shipko's character, Curtis Jackson, screens a painfully durational video of himself getting a haircut to Eiffel 65's "Blue" for an unimpressed and borderline hostile class taught by George Kuchar (playing himself). Kuchar later informs Curtis, "You've tried very hard, and the trying shows. I want to thank you for trying." That comment, while aimed at his dubious assignment, is also applicable to the film itself. Moritsugu, who studied semiotics at Brown in the '80s and directed the gold standard of self-deprecating art-school satires Hippy Porn (1991), immediately appreciated the film's authenticity and absurdity and cast Bennett as a character named Hotpants in Pig Death Machine.
Why Are You Weird? premiered in 2009, not at any festivals but rather on a platform called JstChillin, an influential online gallery that showcased emerging internet artists like Jon Rafman, Ryder Ripps, and Nick DeMarco. The film was uploaded in 10-minute installments over a two-week period. It was an unorthodox way to release the project and signaled an impulse to work outside of the usual channels of indie film distribution, an interest they maintain to this day. Eugene Kotlyarenko also unveiled his own web cam-centric classic Skydiver (2010) on the site and has been a frequent collaborator with them ever since. It's worth noting that Lena Dunham dropped her own infamous art-world web series Delusional Downtown Divas the same year. A new style of self-critical episodic art comedy was taking off.
While juniors in college, and not yet twenty-one, Bennet and Shipko embarked on their follow up feature, Bloodrape (2011). Shooting began around the same time as Pig Death Machine. Out was the lighter art-school relationship fare and in was a gnarlier homage to Nick Zedd and the Cinema of Transgression. One of the most unique currents in the pair's work is the tension between a commitment to the present—happily including all the trendy technology and social media of the moment—and an unabashed love for the retro tradition of underground film. Bloodrape, a collaboration with Taeer Maymon, tells the story of two dudes, again played by Bennet and Shipko, who follow an all-female "vampXcore" band on their reunion tour to shoot a documentary on them. It's a nonstop blitz of carnage, unhinged partying, and pontification on the nature of punk rock, posers, counter culture, and vampirism. Brooke Candy plays the drummer of Bloodrape and George Kuchar again steals the show, this time as a kind-hearted, rib-eating grandfather. This gross-out affair played at zero fests and was self-distributed on DVD and dumped directly to YouTube—the price of making an underground film in the post-underground era.
The duo began their third collaboration, while still at SFA, in 2011. Candelabra (2014) is far and away their most challenging work and a true oddity. While Why Are You Weird? could be classified as a mumblecore-adjacent art comedy and Bloodrape as a transgressive provocation, Candelabra, produced by Kotlyarenko and directed by Bennett, is in its own class. They billed it as "the world's first emo thriller," but it's so much stranger than that. The dialogue plays out like the opening to Weezer's "Undone (The Sweater Song)," and is filled with off-kilter musical performances, heavy melodrama, and intermittent extreme gore. They didn't bother sending it out and released it straight into the ether of YouTube.
In the eight years between Candelabra and their latest opus, Planet Heaven (2022), the filmmakers relocated to Los Angeles. Bennett worked in a video store for a while, stocking the cult section with his own work, and edited Kotlyarenko's VR World–set fidget-spinner gem We Are (2020), as Shipko continued his own multi-disciplinary fine-art career. When Covid-19 hit, Bennett branched out with his own personal project. He created the Instagram series Pat Sedena Cyber Detective, in which he stars as a bolo tie–wearing private dick using the World Wide Web to tackle the crucial problems of the day: missing Amazon packages, stimulus check theft, and toilet paper shortages. It also takes numerous digs at California's New Age preoccupation, setting the stage for his latest work.
Planet Heaven marks a triumphant return to the Why Are You Weird? universe. While Bennet takes sole direction credit this time, both he and Shipko reprise their roles as Tyler and Curtis. They've given up on their art-school ambitions and rebranded as full-on tech bros looking to break into the LA wellness scene. They develop an app called Planet Heaven to balance people's chakras using "state-of-the-art spiritual technology." It catches on like wildfire, only not in the way the aspiring programmers intended. The story mirrors our current climate where hippyish, Burning Man–infused entrepreneurs have hijacked our endorphins and left us fried, addicted, angry, and confused in ways no one anticipated. There's an eclectic cast of characters including a Venice Beach–dwelling conspiracy "videocaster," a crystal-obsessed tech-support operator, a neurodivergent angel investor, and a young gay couple with Hollywood aspirations. It's a hyper-contemporary and formally bold portrait of unhinged Silicon Valley chaos. Planet Heaven had its world premiere last month at a VHS-only video store in LA called Whammy!, and tonight it has its NYC premiere at another video-store-and-microcinema hybrid in Brooklyn, Film Noir Cinema. I can't help but think of another of Kuchar's remarks on Curtis's work in Why Are You Weird?, "It's really quite an attempt. It's been attempted, and success is right around the corner." Come by tonight and see for yourself!
Planet Heaven screens tonight at Film Noir Cinema. Director Tucker Bennett will be in attendance for a Q&A.