Featured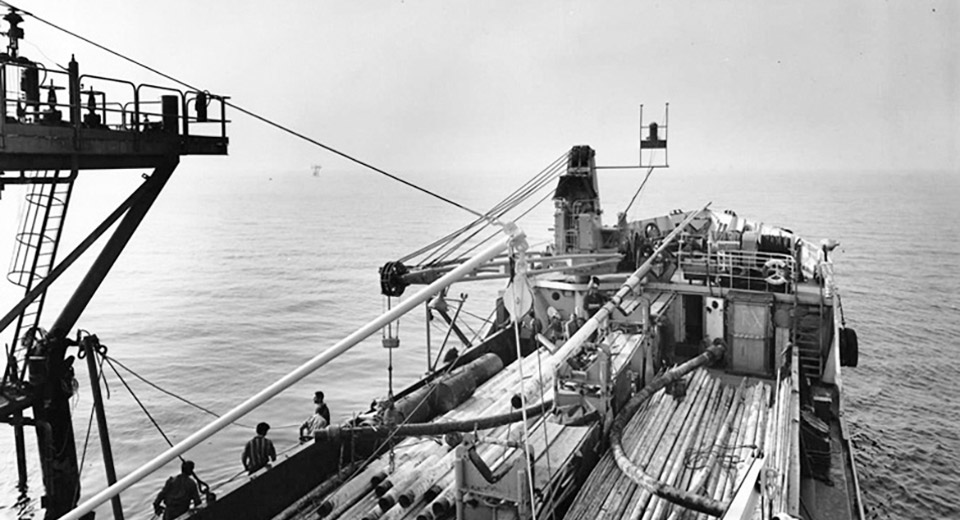 March 18th 2019
Screening tonight as part of Anthology's ingenious "Infrastructure on Film" series, Bernardo Bertolucci's lone documentary feature, The Path of Oil (1967),has the self-explanatory title of a fastidious industrial film, the likes of which Italian multinational petrol company Eni surely had in mind when they commissioned the piece. The final product successfully captures the tedium and grandiosity of the oil business in vivid detail, which alone nominates the film for preservation as an accessible document of great epidemiological value. But The Path of Oil is also an immensely satisfying aesthetic experience full of rich black-and-white tones and exquisite compositions which clearly tickle Bertolucci's appetites far more than interviewing wildcatters about their kids.
The film was originally shown on television in three parts, each detailing a leg of the the titular journey from below the Persian gulf to the engines of Italian industry. The first and most engaging segment "The Origins" erotically gazes at the profusion of steel joints and callused hands that subdue the primordial force of the precious sludge. But Bertolucci's eye wanders toward the Iranian locals, captured in his exoticizing gaze praying and schlepping wares to a bazaar. He dedicates the film to "Persian children," but when the narrator claims that oil "is destined to be a great traveler, because the areas of production are far from those of consumption," it's unclear if he is smirking or nodding at such reductive characterizations of capitalism's resource grabs. Likewise, the idea that "poor countries cannot use the oil" so they export it instead, obfuscates the foundational economic arrangements that continue to destabilize the planet politically. The second segment, "The Journey" follows a tanker crossing the Suez Canal, while the conclusion, "Across Europe," sports a fictional reporter rambling along Europe's pipelines. Both are as handsome as "The Origins," but lack, to their virtue and detriment, the patronizing vigor Bertolucci mined in Iran.
Seen with contemporary eyes, the film's devotion to industrial minutiae lays bare the absurdity of the entire enterprise. Modern life, the span between There Will Be Blood and Deepwater Horizon, sprouted from the steel straws slurping liquified death from the ground so we could burn it. When aliens comb Earth's wreckage wondering what the hell happened, they could start with The Path of Oil.