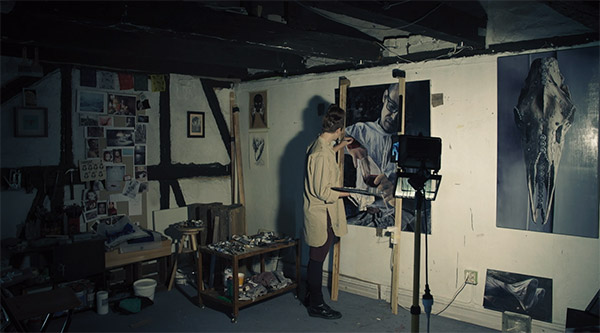 May 22nd 2020
Screen Slate is thrilled to partner with NEON to bring our readers the new film The Painter and the Thief. 50% of all proceeds from the $3.99 rental made through us will go toward supporting Screen Slate as we continue to pay writers, redevelop our website to accommodate streaming listings, and provide artist fees.
Two paintings are brazenly stolen from an Oslo gallery window. The motivation is uncertain, as creator Barbora Kysilkova is a relatively unknown artist who only recently came to Norway. The thieves are quickly caught. At trial, Barbora introduces herself to Karl-Bertil Nordland, the man who stole her work. She befriends him, questions him, sees him, and paints him, causing Nordland to have a full-on emotional breakdown when he sees himself on canvas. For other documentaries, this would be the full story arc. In The Painter and the Thief, it's the first ten minutes.
This is only the second feature documentary from director Benjamin Ree, who filmed this shifting story as it unfolded over three years. Ree's personal fascination with art heists and his background in journalism helped him capture lightning in a bottle, coming into Barbora and Karl's budding relationship so early, and correctly sensing the germ of a deeper story rife with unexpected turns. Ree's curiosity matches Barbora's own, although he's a silent partner to Barbora's forthright, at times obtrusive inquiry of Karl.
By design, The Painter and the Thief initially seems to fall prey to that earnest documentary blind spot of a character versed in the "respectable" language of art or academia (here, The Painter) translating and defining the life of the "other" (The Thief), validating them as a person for us. But Ree highlights viewers' reflexive expectations with a story structure based on therapeutic practices of shifting empathy, as Ree described it to Filmmaker Magazine. Karl now calmly relates Barbora's own dark details and painful past, and the film soon hollows the labels of its own title.
Ree quietly floats minutiae that later expand to key insights, suggesting what draws Barbora and Karl to each other. The odd note of removed frame nails instead of slashed canvas during the theft comes back in full, as Karl's pride in carpentry and craft illuminates why he noticed the paintings in the first place.
As they continue reassembling their lives, Karl and Barbora's crafts come together in a painting where she inverts the gaze from photographic reality. Early in the film Karl says of Barbora, "She sees me very well, but she forgets that I can see her." With the new piece, Barbora can finally see herself through Karl's caring gaze, the painting a physical manifestation of the emotional space they built out for each other.