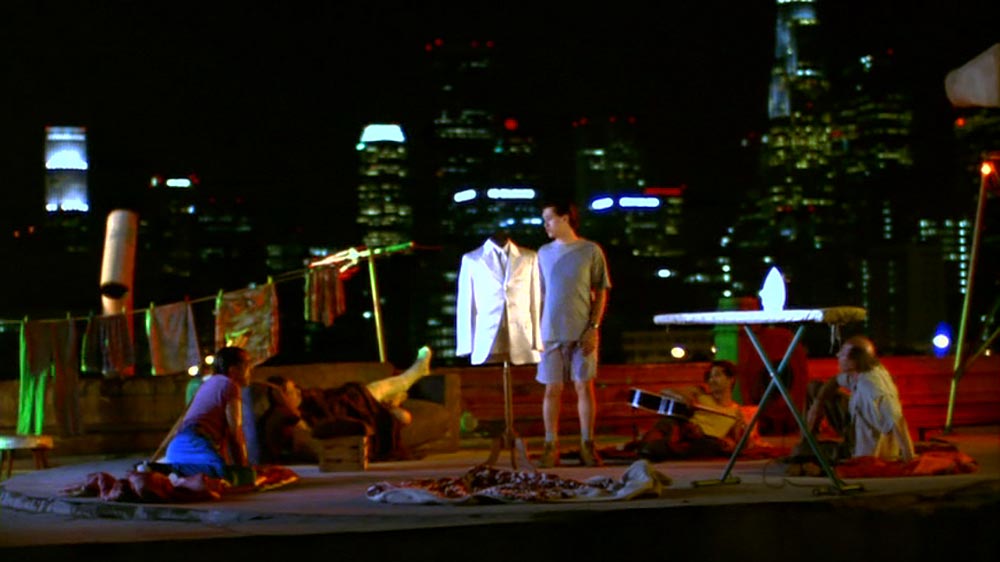 June 11th 2021
The Outskirts is a column by programmer Cristina Cacioppo that looks at a film that merit cult status: movies that fell into obscurity and exist outside the categorical. This week's installment is by guest contributor Laird Jimenez, a video editor and Weird Wednesday programmer for Alamo Drafthouse Cinema.
Unlike the titular garment, The Wonderful Ice Cream Suit never gleamed a display window; after a few festival appearances, Disney unceremoniously dumped it straight to video. At hipper video stores that grouped Stuart Gordon's movies together, this G-rated farce sat on the same shelf as From Beyond and Re-Animator.
This magical-realist story about a group of Hispanic men in East Los Angeles sharing a single suit was written by Ray Bradbury in 1958 and later adapted for the stage by Bradbury himself. Stuart Gordon directed productions of the play in the mid-1970s, and Bradbury caught a touring performance in Los Angeles. He was reportedly so moved that, after the play, he climbed onstage, stripped to his underwear, and requested to try on the suit. Bradbury and Gordon remained friends for decades, and after a failed attempt to get his friend Federico Fellini to direct a film version, Bradbury approached Gordon with the idea of going to Disney with a screenplay.
While the color palette and costuming mark the film as a product of the 90s, its rhythms and humor feel more like Vaudeville. Joe Mantegna plays Gomez, a shifty hustler who devises a plan to find four people with his exact measurements to put in $20 each so they can timeshare a $100 suit. (Mantegna is the only non-Hispanic lead cast member.) Once Gomez has assembled his four compadres, reluctantly including the filthy Vamanos (Edward James Olmos), it's off to the menswear store where the group finds the suit missing from the window. This scene is one of the only instances in which real world race issues feel present, as the Jewish shop owner (Sid Caesar) starts to panic that he's about to be robbed by gang members. After a sing-songy repetition of "The suit is in the booth," the five finally lay eyes on their glowing treasure
The bulk of the film is dedicated to the fantastic scenarios that occur as each man takes a turn wearing the suit. Dominguez (Esai Morales) serenades an apartment building full of women who follow him into the street in a catchy musical number. Martinez (Clifton Collins Jr.) gets the courage to ask out a neighbor who has never noticed him. Villanazul (Gregory Sierra, in a role played by Dennis Franz in Gordon's stage production), an organizer, performs a rousing poem about the L.A. River to an unprecedented audience. The unhoused Vamanos initially looks something like the nightmare behind the Winkies dumpster in Mulholland Drive, a whirling dervish of debauchery. After the suit has been purchased, a bathed and shaved Vamanos wears it to a dive called The Red Rooster where a cigar, a glass of red wine, and a "juicy taco" send his suit-mates into a panic, providing the movie's most slapstick moments. There's even a fight scene performed in (mostly) fake slow motion. "It's the most fun I've ever had making a movie," Olmos told the New York Times.
Ultimately, the movie is about the bonds that develop between people experiencing poverty. It's also about the inherent comedy of dysfunctional adult men trying to live together. It's a movie ripe for rediscovery and celebration: charming, breezy, funny, and with more Hispanic leads than 99% of Hollywood movies. It's a gem in the subset of "all-in-one-night" comedies with great location footage of Los Angeles. "It's the best film I've ever made, and there's not one curse in the whole film," Bradbury told the A.V. Club in a 1999 interview. Fuckin' A!
The Wonderful Ice Cream Suit is available to rent through various streaming platforms.