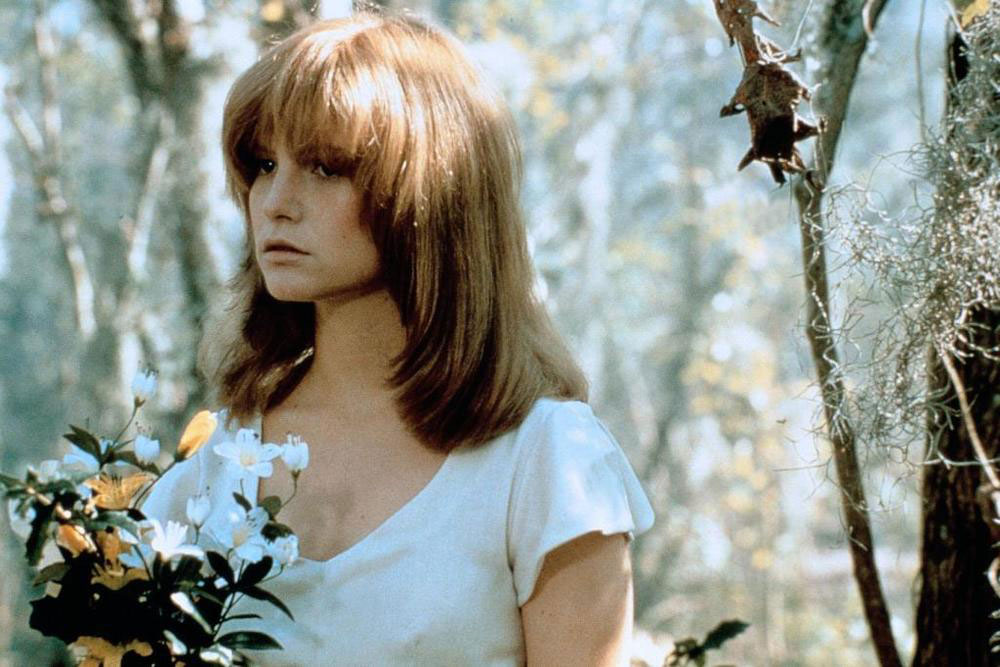 August 6th 2021
Just after its "New World Pictures" opening logo, Sister, Sister drops the viewer into a room overrun with candles, tracking over to Jennifer Jason Leigh in bed as a naked man looms above her. As they begin to press into each other, a drip from the ceiling spreads into walls caving to water, filling the room and nearly drowning her. She wakes with a fright—it was a dream. There begins Sister, Sister, the directorial debut of Bill Condon (Gods and Monsters, Dreamgirls), a Southern gothic horny-but-not-quite-erotic thriller with supernatural tinges.
Lucy (Leigh) and Charlotte (Judith Ivey) are the titular sisters, keeping up the family estate off the bayou now that their parents are passed. Charlotte has been the caretaker for Lucy ever since she was released from an institution. She keeps Lucy sheltered and on her meds, and herself has resisted marrying the local sheriff due to her obligation. Lucy's sexuality is blossoming; she flirts with Etienne (Benjamin Mouton), a local boy who tends to their property. The sisters share a secret (of course), and Charlotte's protection of Lucy may be more about ensuring that their past be kept hidden. When they begin to take on boarders, Matt (Eric Stoltz), a young congressional aide from D.C., is their first. Lucy is immediately enchanted by him, and a flirtation begins. But Matt may have a secret of his own, and when the family dog winds up dead, it is undeniable that something is amiss in the house.
With gorgeous photography by Stephen M. Katz, whose credits range from Messiah of Evil (1973) to Baby Geniuses (1999), Sister, Sister effectively creates a mood, all gauzy and playing with the palette of candlelight. Even the color of the women's hair are shades of a flame. Rain shimmers through the windows onto walls, and the bayou looks effectively haunted, dotted with broken down structures, the homes of the local "trappers, shrimpers, couple of psychos" as Etienne explains. Some levity comes with a group of aggressively-New York lodgers, led by Mrs. Bettlehem, a matriarch with a foul mouth and electrocuted looking wig. The brief scenes with her are an odd tone shift, but a welcome bit of camp.
Building to a reveal of the secret which involves sexual assault, for a moment you might fear whose side the movie will land on. The sisters are pitted against each other, but maybe neither of them are crazy beyond carrying the weight of their fate.
Sister, Sister is streaming free on Tubi and Pluto