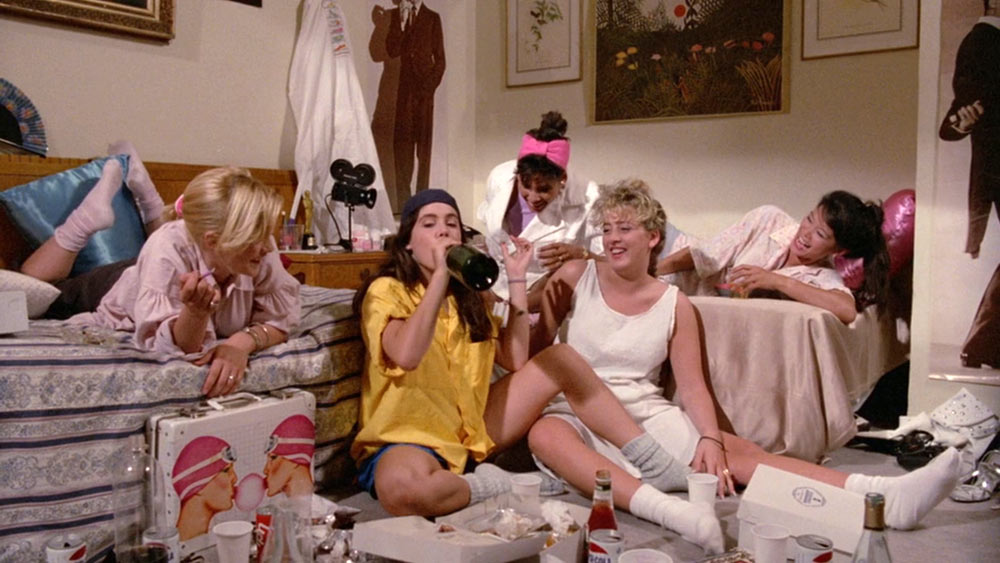 December 3rd 2021
The Outskirts is a monthly column by Nitehawk programmer Cristina Cacioppo that looks at a film that merit cult status: movies that fell into obscurity and exist outside the categorical.
Sisters Jennifer (Lisa Lörient) and Daphne "Zig" (Tricia Leigh Fisher) Ziegler—whose personality differences are clear because one is a posh blonde and the other a brunette who dresses like "Like a Virgin" Madonna—are both shipped away to a private school in Greece after Daphne gets into enough trouble to push their parents over the edge. They are immediately sorted socially, Zig fitting in with the "Subs" (meant to be "subhuman" or "subculture", depending on who you ask), and Jennifer with the "Preens," a very bleached group mostly made up of Scandinavian Ingas. Headmaster Crawley favors the Preens, who are obedient, and at times aggressively flirtatious. Zig strikes up a friendship with Zero (Patricia Arquette), a fellow freak who smokes blue cigarettes. Seemingly intent on alienating even her rebellious co-conspirators, Zig takes some pranks too far (although it is quite satisfying to see her, posing as pregnant, biting her toenails and spitting them). But when she discovers that Headmaster Crawley has been secretly recording the girls in their rooms and selling the tapes to rich pervs, all factions must align to take his ass down.
Pretty Smart (1987) is a late-era New World Pictures production that balances out its T&A with a girl-power plot. Although the opening credits include "Introducing Patricia Arquette," her true big screen debut, A Nightmare on Elm Street 3, beat it to the box office by about a month. It pops with 1980s confectionary color, boasts a title credits theme song, and is at its best when it's just a group of girls making goofs. Director Dimitri Logothetis has an odd range of credits, including Slaughterhouse Rock (1988) and more recently the very mental DTV actioner Jiu Jitsu (2020). The version now available to stream, and on Blu-ray from Kino, includes a detail I find charming: it is clearly a scan of a 35mm release print, and you can spot the reel-ends by the crackles and scratches.
It's an odd balance being struck here—the standard female nudity that once was the concession for getting a movie made, but here with a refreshingly girl-positive message. Although the delivery of some lines feels stilted, the dialogue can be fun, the style is great (even the cotton-candy-pink school uniforms), and it fits into a category of the women-just-hanging-out movie, of which there are still so few. The Mediterranean scenery is lush, and we do get some pretty boys to look at too.
Pretty Smart (1987) is available to rent from YouTube, Vudu, and elsewhere, as well as on Blu-ray from Kino Lorber.