Featured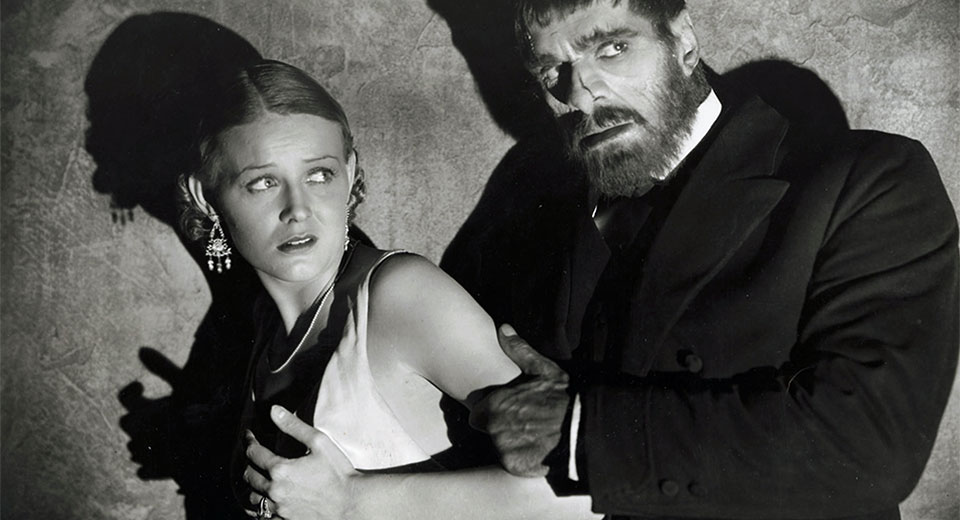 October 1st 2017
If you have yet to kick off your October with a dose of haunting or hair-raising horror, then perhaps it's best to take a step inside The Old Dark House , opening this weekend at The Quad in a new 4K restoration. Director James Whale builds this macabre residence with things that go bump in the night, flickering candlelights, and locked rooms filled with dark secrets, all perpetuating the madness of its inhabitants, the deranged Femm family.
Three travelers (future stars Melvyn Douglas, Gloria Stuart and Raymond Massey) seek shelter from a treacherous storm and arrive upon a mansion located off the main road. They are greeted by towering manservant Morgan (Boris Karloff) and his two keepers: the neurotic Horace Femm (Ernest Thesiger) and his fanatical sister Rebecca (Eva Moore). Two more travelers arrive soon after (Charles Laughton and Lillian Bond), and what begins as an innocent exchange between three groups of strangers will soon end in mayhem and murder. The Femms are not used to the presence of outsiders, and as the five travelers navigate through the dark corridors of the estate, they will soon meet the more demented (and homicidal) family members who are less welcoming than Horace and Rebecca. 
Unlike other Universal Horror of that era (including Whale's own Frankenstein saga), The Old Dark House trades the central threat of a single monster for a torrential thunderstorm complete with mudslides, floods and a pervasive clash of thunder. Like Hitchcock's Rebecca, this haunted house contains no ghosts but rather the remnants of a collective psychological trauma from the family — often taking a spectral form in fractured reflections and animate shadows upon a terrorized Gloria Stuart. Eighty-six years later, this film remains refreshingly idiosyncratic and marvelously skates between an eerie mood piece and a self-referential parody, a black comedy that would pave way to future generations of disturbed families and their unwelcome guests, from Spider Baby to The Texas Chainsaw Massacre.
Long thought to be lost, this film was first rescued by director Curtis Harrington in 1968. Over the years the title has yet again drifted into obscurity from modern audiences, rarely screening in repertory houses and released only in a murky unrestored state on home video. Hopefully, this restoration will reveal more crumbling architecture and hidden corners of The Old Dark House for us to revel in during this Halloween season and in years to come.