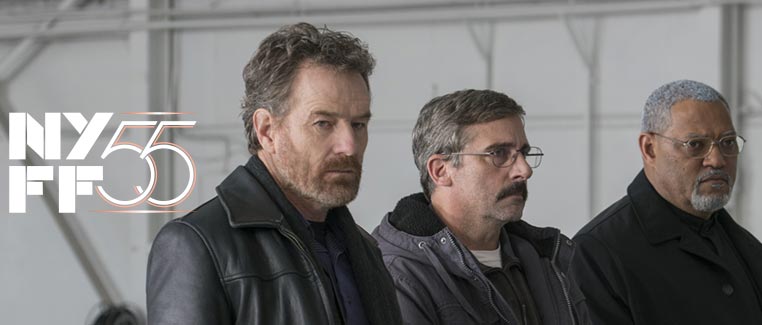 September 25th 2017
Each fall we're pleased to offer Screen Slate writers' takes on many of the noteworthy films in the New York Film Festival line-up—an annual chance to pipe up on mainstream arthouse releases that we otherwise leave for the Tomatometer-approved critical masses to hash out.
To parse the line-up at a glance, this year's edition offers 25 features in the main slate, including thirteen premieres: the world premieres of Richard Linklater's Last Flag Flying (see below for Chloe Lizotte's take) and W***y A***n's latest; five North American premieres, and six U.S. debuts. Almost all of the films arrive with distribution, meaning that if you miss out on the festival screenings, the films are likely to hit a theater near you soon; exceptions as of this writing are Agnieszka Holland's Spoor,  Lucrecia Martel's Zama, Serge Bozon's Mrs. Hyde, and Hong Sang-soo's The Day After. (Hong's other film in the main slate, On the Beach at Night Alone, will be released by Cinema Guild.)
Although we intend to focus our coverage on the Main Slate, we'll also chime in on the Spotlight on Documentary and Projections line-ups as availability allows and will incorporate Revivals and Retrospectives into our usual stream of daily featured screenings.
This article will be updated throughout the festival, to be noted on our daily email and social media. And if you have difficulty sorting through ticket prices, online queues, rushes, sellouts, and standby lines, you can consult the Film Society's website for ticket information and an updated list of availability.
Updated 10/2 with Lover for a Day, The Meyerowitz Stories (New and Selected), and Voyeur
Updated 10/6 with Let the Sunshine In, Sea Sorrow, and Zama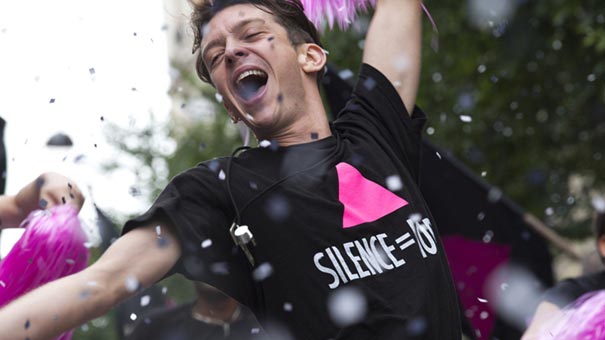 BPM
Dir. Robin Campillo. France. Main Slate. Released by The Orchard.
10/8: 8:30 pm; 10/9: 6:00 pm
In the US, Robin Campillo's 120 battements par minute is titled BPM , the unit in which tempo is measured. This is fitting, because not only does 90s house music (which averages around 120 BPM) constitute the soundtrack (mostly furnished by Arnaud Rebotini), but a major aim of the film's AIDS-activist central characters is to demonstrate that seropositive and seronegative people live at radically different tempos. When ACT UP Paris storms the offices of Melton Pharm, a med-research company withholding data about a new protease inhibitor, the staff assures the activist-patients that they understand their plight. But if your friends and lovers are dropping like flies, you're bound to become a little impatient (pun intended).
To be banal for a second: despite its 144-minute runtime, BPM never drags. That's because, if you're like me, you'll find yourself taken in by this community of militants, embraced as an adoptive son like activism-neophyte and ostensible protagonist Nathan (Arnaud Valois). Like a nurturing relationship, you never want it to end, even though you know it has to.
The film arcs from the mass-political, with its organizational meetings and public shamings of out-of-touch bureaucrats, to the deeply personal, with 26-year old Sean (Nahuel Pérez Biscayart) dying under the care of his mother and his lover. Echoing the second wave feminist slogan "The personal is political," Sean's obit says he "lived politics in the first person"—and sure enough, his ashes wind up being used as a projectile in a morbid attack on an insurance salesmen's buffet luncheon. (Cosmo Bjorkenheim)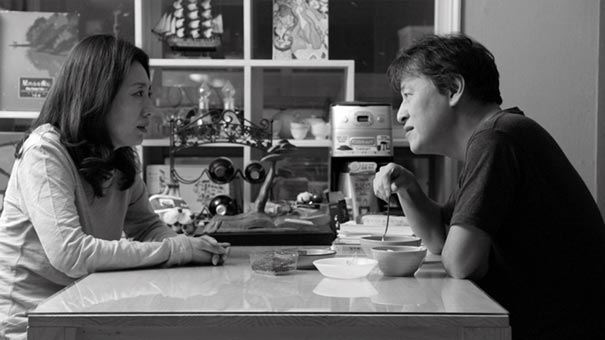 THE DAY AFTER
Dir. Hong Sang-soo. South Korea. Main Slate. As yet undistributed.
10/7: 4:00 pm; 10/8: 9:00 pm
The Day After , one of the disconcertingly prolific Hong Sang-soo's two films in this year's fest (is 'cinerrhea' a diagnosable condition?), is what one might call a minor work, a bibliographical/filmographical category that Hong has turned into a genre of its own. Inspired (if that's the right word) by his real-life affair with the film's star, Kim Min-hee—which is also what (*yawn*) On the Beach at Night Alone is about—the film consists almost entirely of confrontational silences and nervous mirthless laughter being exchanged by a book publisher, his wife, and his lover(s).
As minimalistic thematically as it is technically and formally, The Day After has one or two moments of emotional ingenuity and singular spontaneity. After a strenuous jog, the publisher plops onto a public park's exercise bench and starts openly crying; while telling the publisher he's a coward, lover #2 weeps gaspingly into her soju; before unleashing a vengeful storm of slaps at lover #2, the wife carefully sets down a take-out bag from KFC ("Since 1939" it says. Really?).
The Day After is a light snack presented as a meal, a carefully arranged dish of geometrically cut iceberg lettuce topped with a couple of walnuts for substance. The "bourgeois frustration"-genre can be done a lot better, perhaps by giving the professional-middle-aged-male protagonist less cliché problems than a jealous wife. The risk that a filmmaker takes when baring his vague feelings of existential vacuity is that of transmitting them to the viewer, which Hong has unfortunately done here. (Cosmo Bjorkenheim)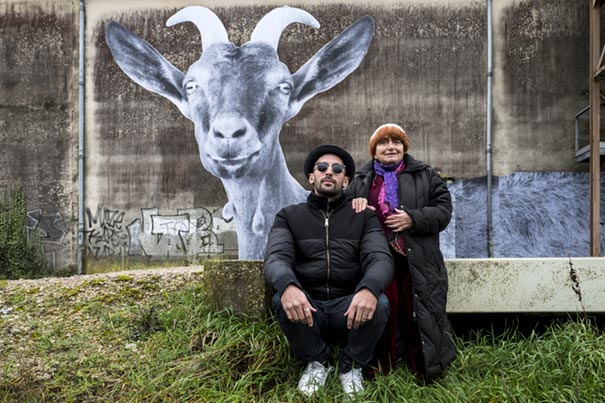 FACES PLACES
Dir. Agnès Varda & JR. France. Released by Cohen Media Group.
10/1: 12:30 pm; 10/2: 8:30 pm
Agnès Varda's mastery of structure comes through in her nearly peerless ability to invite us into a train of thought, always rigorously edited into a swift, intuitive flow. Her instincts for construction sharpen the resonance of Faces, Places, which sees Varda traveling through rural France alongside the 33-year-old photographer/street artist JR, who specializes in adorning buildings with large-format, black-and-white portrait photography. Driving through the countryside in a van that doubles as an enormous polaroid photo booth and printer, they meet with postmen, carillonneurs, farmers, miners, dockworkers' wives, and more—both to talk, and to honor their essences through photographic tributes. The JR factor may set off twee alarm bells at first, but he quickly assuages any fedora-induced anxieties with his humanistic artistic outlook and practice; as with Varda's previous work, the film derives its power from engaged interactions and heartfelt gestures, transcending cliché by generating an unquantifiable emotional trust. The bassline is JR's caring rapport with Varda, offering an organic way for her own introspections to emerge—and after a reprint of one of her 1954 portraits of Guy Bourdin washes away with the high tide, it's her meditations on art, mortality, and image-based memory that continue to resurface. (Chloe Lizotte)
THE FLORIDA PROJECT
Dir. Sean Baker. USA. Main Slate. Released by A24.
10/1: 3:00 pm; 10/3: 6:00 pm
In The Florida Project, Sean Baker's follow-up to his one-fateful-night-in-LA madcap comedy, Tangerine (2015), Willem Dafoe's performance as Bobby, a motel manager in the Orlando suburbs, is so humble that it's hard to believe the guy's been a superstar for several decades. Bobby receives orders from a significantly younger boss, takes shit from the housing complex's every resident, and clears out disgusting, vacated apartments without ever even kicking a wall in frustration. Moments of reflection are spent smoking and staring at fluorescent Florida sunsets.
Baker has captured so many spontaneous, endearing moments that the barren lives of his protagonists gain the sheen of the Disney fairytales that their surroundings ironically evoke. (Streets and housing complexes have names like Seven Dwarfs' Lane, Futureland, and Magic Castle). When Moonee (Brooklynn Prince) and Scooty's (Christopher Rivera) game of hawk-loogies-onto-the-cars-in-the-parking-lot incurs their neighbor's wrath, they switch to the even-more-fun wash-the-neighbor's-car game; the car-owner's own kid gets jealous and (Tom Sawyer-like) joins in the scrubbing (although "It's not supposed to be fun, it's supposed to be work!"). When Moonee's tatted, rail-thin mother Haley (Bria Vinaite) suddenly shouts "Swimsuit selfies!" parent and child stage an impromptu photo shoot in the bathroom. And an extra-wide shot of a massively obese man in an electric wheelchair slowing down to cross a strip mall speedbump drips with pathos.
The Florida Project reveals the shabby underside of Disney's plastic fairyland, with its huge discount gift outlets and large-pored dads looking for hookers to take the edge off their family vacations. (Cosmo Bjorkenheim)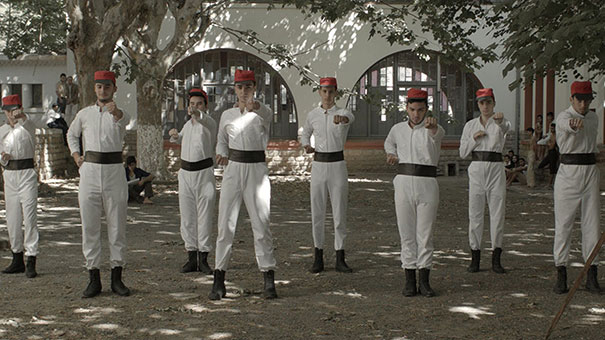 LE FORT DES FOUS
Dir. Narimane Mari. France. Projections.
10/9: 5:30 pm
Frantz Fanon, the revolutionary theorist of the Algerian liberation struggle, described colonialism as an assault on a people's subjecthood—a psychological incursion whose insidious effects spill far beyond material structures of power. Algerian filmmaker Narimane Mari brings this idea to dazzling life in her new feature Le fort des fous . A tripartite meditation on the ontology of imperialism and violence, the film uses experimental—and often inscrutable—narrative techniques to bring these realities into confrontation with ruminations on temporality, memory, and fantasy.
In the first section, which reconstructs Algeria's colonial past, young legionnaires train in a 19th-century military compound. Mari's play with history here is wilfully irreverent: The setting (provided by Mari's old elementary school) lacks any period detailing and the actors playing young soldiers are almost comically inconsistent and anachronistic. Mari mines this temporal confusion to make some startling political arguments; notably, she juxtaposes snippets of colonial-era military texts with contemporary speeches by Nicolas Sarkozy and Emmanuel Macron. In the second section, two characters from the preceding chapter wash up on the shore of a Greek island, where a diverse group of people live in an absurd, utopic commune. This is the most impressionistic and oblique of the three chapters, combining strange and beautiful visions of communal life on the beach with ominous undertones of power-play and violence. The final section is straightforward by comparison—a long, documentary-style interrogation of a Greek scholar and a young man from Athens' infamous Prosfygika housing complex—but challenging in its own regard, presenting perspectives on revolution from two different vantage points in society. (Devika Girish)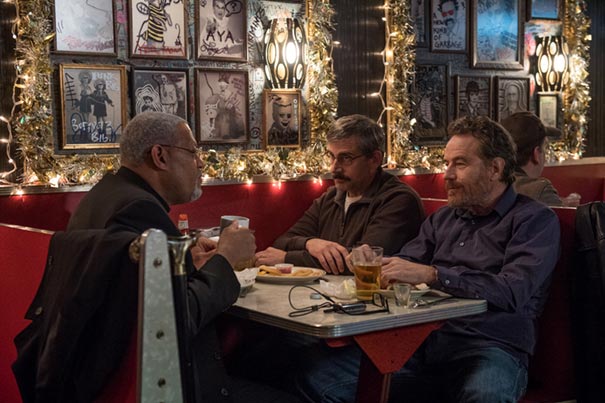 LAST FLAG FLYING
Dir. Richard Linklater. USA. World Premiere. Released by Amazon Studios.
10/28: 6:00 & 6:15 pm
About halfway through Last Flag Flying, the film's three central Navy vets—Steve Carell's reserved, grieving father; Bryan Cranston's wisecracking bartender; and Laurence Fishburne's weathered priest—kick back with some beer on an Amtrak Northeast Regional train, expounding on their disillusionment with the political establishment. It's around this point when Richard Linklater's sensibility becomes more overtly recognizable, toggling between boys-will-be-boys antics and vaster historical musings, but the fluency with which he renders companionship proves crucial to the film's impact. Taking place 33 years after the action of Darryl Ponicsan's 1970 novel (and Hal Ashby adaptation) The Last Detail, Last Flag Flying is a story of loss; most proximately, the death of Carell's character's son while serving in Iraq. It's also a familiar story of the decay of a certain idealized vision of America, told amidst a backdrop of rusty infrastructure, faded photographs, and one deliberately placed Hail to the Thief poster near the end. But where other filmmakers might have reduced Last Flag Flying to didactic, Bush-era talking points, Linklater and co-screenwriter Ponicsan convey these ideas through nuanced characters, fostering an organic camaraderie that belies the depth of their shared history. (Chloe Lizotte)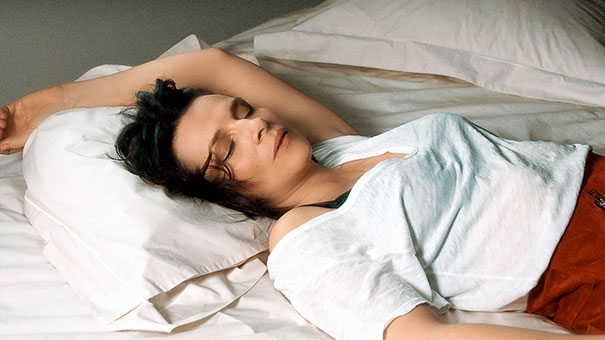 LET THE SUNSHINE IN
Dir. Claire Denis. France. Main Slate. Released by Sundance Selects.
10/7: 3:30 pm; 10/8: 3:30 pm
Claire Denis's original title Un beau soleil intérieur has a hard time finding its way into English—my high school French is rusty, but it seems to speak to sunlight emanating from within, maybe to fill up an interior world, or to radiate outwards from one. Such open questions of translation seem fitting for this film, itself an ever-shifting inquiry into the potential for fulfillment, as Juliette Binoche's painter seeks precision and logic in emotional minefields that absolutely defy them. Denis collaborated with novelist Christine Angot on a screenplay loosely inspired by Roland Barthes's A Lover's Discourse: Fragments; like the source text, it examines Binoche's romantic entanglements in clipped bursts, each one dialing up an acute intensity of thought or feeling. Denis overwhelms us with the emotional density of these moments—be it a probing conversation, an unsatisfying sexual encounter, or an unexpected dance floor catharsis—and then moves on to the next, creating a sense that we can't fully inhabit them in their entirety. And just as feelings or insights can shift depending on context, Denis and cinematographer Agnès Godard develop a new cinematic grammar for the film's lengthy dialogues—the camera swoops evenly back and forth between speaker and listener, expresser and interpreter, and occasionally even crosses the axis to shake up perspective. It simulates the experience of turning a conversation over in your mind, driving yourself crazy rethinking all of its facets. After one of these chats, Binoche worries that she and her date have spoken at length but haven't gotten anywhere; it's to Let the Sunshine In's credit that long after it comes to a close, you'll be trying to put a finger on where exactly your thoughts have taken you. (Chloe Lizotte)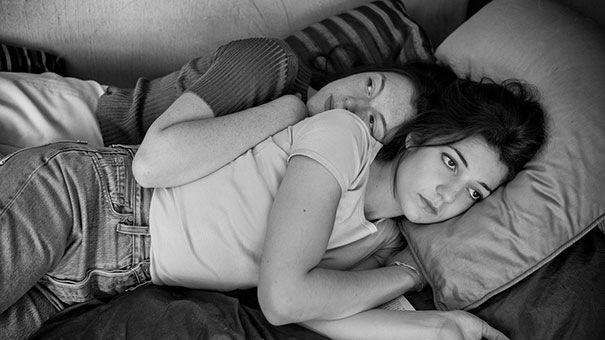 LOVER FOR A DAY
Dir. Philippe Garrel. France. Main Slate. Released by Mubi.
10/10: 9:00 pm; 10/11: 8:30 pm
Lover For a Day confirms what we already knew, that Philippe Garrel is a master filmmaker. But it also begs the question of why it isn't a better film. Every actor gives a quintessentially honest performance. Every black-and-white frame is perfectly underexposed (in this case by the great cinematographer Renato Berta). And, far from being impenetrable or pretentious, every scene in the film is evidence of Garrel's genuine tenderness for his actors, their characters, and their character's problems. But then, suddenly, Garrel will insert a moment like the one in which the two female leads go out together to a club to dance; we watch as the two women are repeatedly lifted into the air (in slow-motion, and backed with emotive music) by the pretty young men that they're dancing with, and both the image and the sentiment are straight out of a scene from Dirty Dancing. After half-an-hour of subtlety, the film inexplicably begins to shout out what it has already told us in a much quieter voice: that this is a film about youth and how it ends, and about the pain of falling in love for the first time and then possibly for the last. We've already intuited as much from the actors' smallest gestures; it's not entirely clear why Garrel feels the need to punctuate them with exclamation points. (Jon Auman)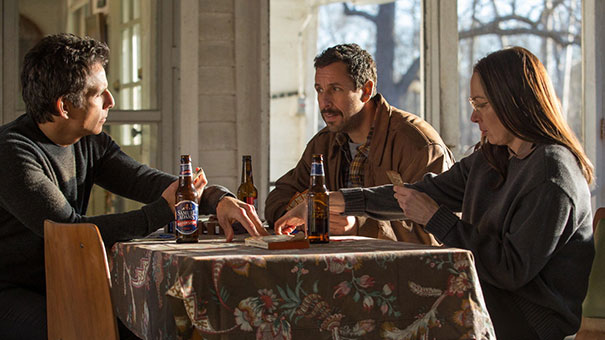 THE MEYEROWITZ STORIES (NEW AND SELECTED)
Dir. Noah Baumbach. USA. Main Slate. Released by Netflix.
10/2: 9:00 pm; 10/3: 8:45 pm
There's something off about the dull tan hue and teacher handout–friendly title font of Harold Meyerowitz's (Dustin Hoffman) career retrospective art book. We soon learn that this book was CaféPressed by Harold's children rather than a museum, epitomizing the myth-making at the heart of Noah Baumbach's depictions of family memory. Harold monopolizes the Meyerowitzes' narrative web, chiseling out his own legacy as an undiscovered legend of 20th century sculpture; the film brings his kids (Adam Sandler, Ben Stiller, and Elizabeth Marvel) back within earshot of his compulsive verbalizing, reawakening dysfunctional dynamics that they had otherwise packed away.
Their jumble of emotions might be illegible without Hoffman as their Napoleonic lion in winter. Sporting Hemingway's beard and lone-wolf bravado, he's as irresistibly charming as he is maddening; his pride clashing with a newfound fragility he refuses to face—Sandler has to physically hoist him upwards to fetch one of his sculptures from a high shelf. As Harold's wife, Emma Thompson only needs a wide shot to steal a scene, mouth agape in tipsy confusion as she steers her Prius slowly...off a driveway...and into a tree with a soft thunk. A force of nature, she makes it impossible to overlook how much more thinly drawn Meyerowitz's female characters are than their male counterparts. Although they're given space to express bottled-up remorse, their monologues often function as compressed exposition, allowing for a quick pivot back to repressed masculine hangups. Tellingly, Marvel's more introverted sibling doesn't get a full chapter heading like her two brothers; she gets a parenthetical. It's disappointing that any members of the ensemble get lost in a film so overwhelmingly eloquent about family dynamics, but that may reinforce Baumbach's point—above all, the stories we tell reflect our own interests. (Chloe Lizotte)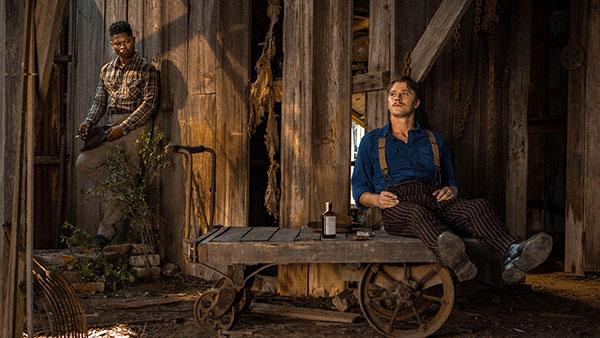 MUDBOUND
Dir. Dee Rees. USA. Main Slate. Released by Netflix.
10/12: 6:00 pm; 10/13: 9:15 pm
Dee Rees's impressive epic Mudbound is about the lives of two families who live on the same 200 acres in WWII-era Mississippi; the Jacksons are black sharecroppers who have worked this land for generations without ever owning a piece of it, and the McAllans are the brand new white owners who've decided to try their luck at farming. Though their lives gradually become entangled in various ways, there's no question that the Jacksons are entirely subject to the whims, vagaries and violence (both unintended and deliberate) of the white McAllans.
Owner Henry McAllan's brother Jamie (Garrett Hedlund) and the Jackson's eldest son Ronsel (Jason Mitchell) are both freshly returned from war in Europe. They bond over their shared experiences in battle, but more than that, they chafe - for different reasons - at the strict confines of Southern social and race relations after growing used to a less restrictive Europe. Their friendship is as dangerous as it is genuine. (Vanessa McDonnell, originally reviewed at Sundance)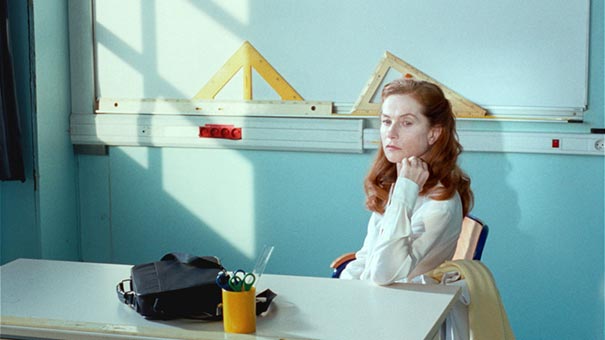 MRS. HYDE
Dir. Serge Bozon. France. Main Slate. As yet undistributed.
9/29: 6:00 pm; 10/1: 12:30 pm
A modern-day reworking of Dr. Jekyll & Mr. Hyde fronted by Isabelle Huppert conjures up certain visions of off-the-rails intensity. To be clear, Mrs. Hyde is not that movie, nor does it want to be that movie. Serge Bozon drew on his experience teaching high school students in the Parisian banlieues to sketch out this tale of a meek physics teacher (Huppert) trying and failing to hold court with a class of vocational students, only to undergo a mysterious transformation after she's struck by lightning. By day, she harnesses her newfound poise to defy the school's out-of-touch administrators, who condescend to her technical students; rejecting academic policy, she champions practical, experiment-based learning over dry lectures. By night, she faces an entirely different set of problems, which, let's say, open up a new chapter of her research into electrical currents.
There's something intriguing about using Jekyll & Hyde to dramatize systemic educational issues, but the film's blend of socially conscious drama, science fiction, and wacky satire never congeals. Mrs. Hyde's materializations seem especially jammed into Bozon's framework of position statements; when Huppert is forced to explain to her class what he's trying to get at, she collapses from exhaustion while gasping out an awkward link to gene-environment interaction. The film similarly obscures its own ideas through narrative overload, losing itself in pursuit of a few too many identities. (Chloe Lizotte)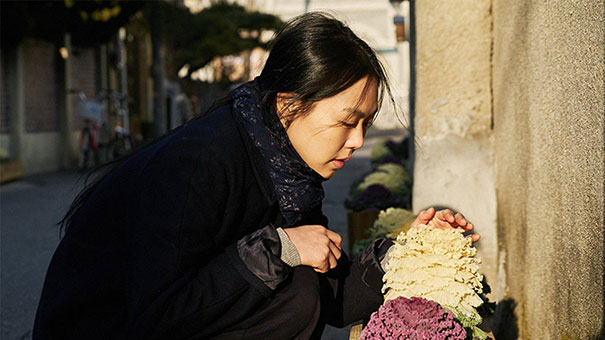 ON THE BEACH AT NIGHT ALONE
Dir. Hong Sang-soo. South Korea. Main Slate. Released by Cinema Guild.
10/8: 6:15 pm; 10/9: 9:00 pm
The film's PR material will tell you that On the Beach At Night Alone  is Hong Sang-soo's reckoning with the scandal that engulfed him and the film's lead actress Kim Min-hee. It's possible that you could find at least a partial plot synopsis in the the South Korean tabloids, but, as one of the film's characters states near the end of the film: a film's subject isn't that important, what matters is the way that it's made.
Hong has spent the last two decades perfecting a method for shooting multiple films a year by working quickly and cheaply with his rotating stable of actors. One imagines that it's the kind of set where the actors dress themselves; they certainly drink real liquor rather than from a prop, and the only special effect here involves the unexplained presence of a strange man in a black pea coat. In these situations it is never either/or—it's both—as to whether economics effect the style or the style the economics; regardless, the outcome for Hong is that he has found a way of working that gives himself, and every member of the cast and crew, whatever freedom they need to make inexplicably perfect works of art.
Kim Min-hee has rightfully won awards and praise for her performance, but the whole cast deserves the same plaudits for their miraculous achievement of being real human beings on screen. Hong, for his part, doesn't need any more attention. Let's hope that in the future he will be left alone to keep making his films. (Jon Auman)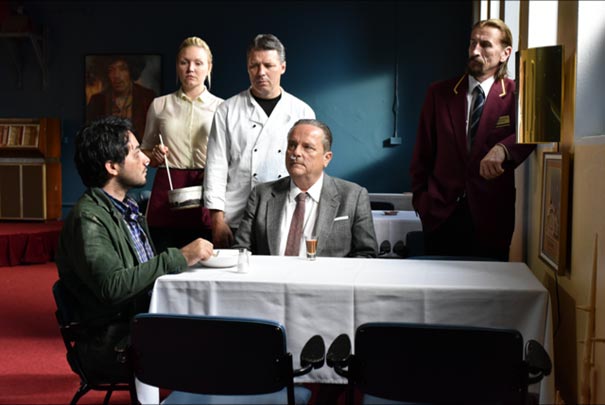 THE OTHER SIDE OF HOPE
Dir. Aki Kaurismäki. Finland. Released by Janus Films.
10/5: 9:30 pm; 10/10: 8:30 pm
In a year dominated by trauma-inducing auteurs, it is so nice to step into one of Aki Kaurismäki's sparsely furnished bars and be served some beer and sardines. In the fifteen years since The Man Without A Past, Kaurismäki—the jewel of Finland—has grown into a filmmaker of uncommon grace, the cranky sarcasm of his work from the 80s and 90s gradually opening up into something more tender, humanistic, and (in his own grumpy way) hopeful.
The peak of this evolution is The Other Side of Hope. Building from the structure of Le Havre, Aki returns to the global refugee crisis to follow 20-something Khaled (Sherwan Haji), escaping the horrors of present day Aleppo for the dour shores of Helsinki. Shattered by the disappearance of his sister during one of many border crossings, he plays by the rules and seeks asylum. Bureaucracy, however, has other plans: failed by the system, Khaled is forced underground—where, fortunately, a lone-wolf restaurant owner (Kaurismäki vet Sakari Kuosmanen) waits to lend a hand.
Perhaps the warmest journey yet into "Aki Land," Hope shows that, more than any retro jukebox, Kaurismäki's real preoccupations have always been with the survival of the working class, and its suggestion that we may still depend on our fellow man feels, quietly, more radical than anything else at the movies. Make sure to order the salted herring (with wasabi, of course). (Dylan Pasture)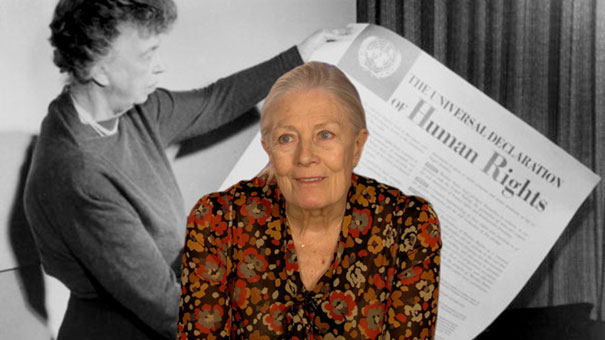 SEA SORROW
Dir. Vanessa Redgrave. UK. Spotlight on Documentary. 
10/7: 1:30 pm; 10/8: 4:00 pm
There's a moment in Vanessa Redgrave's Sea Sorrow where the veteran actress, framed against a tackily green-screened video of child refugees, holds up a poster made by her granddaughter."For Every Child, Protection" it reads, in golden block letters against a white background. Much of Sea Sorrow is like this scene: ungainly and obvious, executed more like a home-video than a documentary—but brimming with a fervent sincerity that's hard to deny.
Essentially a cri de couer about the refugee crisis, Sea Sorrow opens with the faces of young refugees who recount their death-defying journeys to a holding centre in Italy. The remainder of the the film attempts—broadly and without much focus—to situate their ordeals within various frames of reference: memories and lessons from the two world wars; the international statutes those crises birthed (such as the Universal Declaration of Human Rights); glimpses of current pro-refugee activism in London; and heartrending images from the recently-demolished Calais "Jungle" camp. The haphazard assemblage of these materials betrays a hint of all-cards-on-the-table desperation—a grasping for something, anything, that might stick.
Some do stick better than others. The Czech-born Lord Alfred Dubs—one of the film's few interlocutors who offer more than just rhetoric—speaks movingly of his own passage to London on the Kindertransport and argues convincingly for reform in the UK's policy for refugee children. Sea Sorrow starts to feel out-of-touch, however, when it forays into Shakespearean comparisons. The film's suggestion of a parallel between modern-day refugees and the protagonists of The Tempest—royalty cast into the sea by treacherous family—feels both narcissistic and naive, a self-congratulatory bit of speechifying that ignores the racial and economic underpinnings of the refugee crisis. (Devika Girish)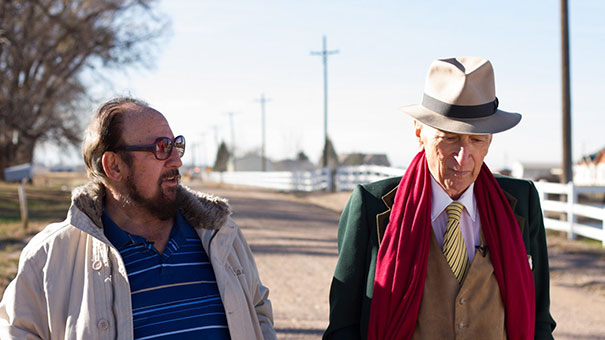 VOYEUR
Dir. Myles Kane & Josh Koury. USA. Main Slate. Released by Netflix.
10/4: 9:30 pm; 10/5: 6:00 pm
Setting aside its glossy production values, which nearly make it too much of a visual confection to take seriously, Voyeur is complex and well-researched, with several formal surprises. From Gay Talese 's Batman Forever -style gearing-up montage ("dapper" would be a serious understatement) to the painstakingly constructed models of affable scopophile Gerald Foos 's infamous Manor House Motel, Voyeur makes a banquet out of—let's be honest—very dry material (it's really just Talese and Foos reminiscing, after all).
Talese in electric blue double-breasted suit and white-collared salmon shirt descending the steps of his Manhattan brownstone make him the cosmopolitan antithesis of hirstute everyman Foos, who recounts (in his Mountain State accent) discovering his voyeuristic tendencies when "enderin' puberdence," drinks diet root beer, and describes himself and his wife Anita as "common people." While Talese's New Yorker editor considers "sociopath" Foos "really disturbed," many find him simply endearing (present reviewer included).
Narrative spice is added with endoscopy-style cameras "dollying" deliberately through the tiny rooms and airshafts of the motel diorama and with reenacted anecdotes about guests wiping KFC-grease on bedsheets or furtively finders-keepersing "accidentally abandoned" luggage actually planted in the rooms by Foos.
Is Voyeur about Foos's warped mind or Talese's journailistic integrity? Maybe Foos is the sane one (he always described his peeping as "research") and Talese the pathologically afflicted (narcissism, anybody?). Like good American impartial reporters, directors Kane and Koury (whom Talese lambasts as mere "cameramen," not "accredited journalists") leave the questions open. (Cosmo Bjorkenheim)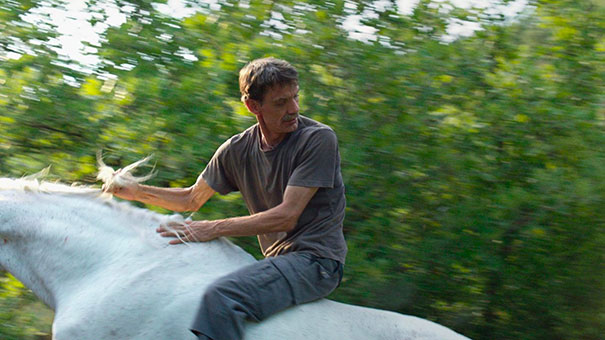 WESTERN
Dir. Valeska Grisebach. Germany/Bulgaria. Released by Cinema Guild.
9/30: 3:00pm; 10/1: 8:30pm
A stranger rides into town. Then he finds a horse. In writer-director Valeska Grisebach's knotty third film, the genre conventions hinted at by the title are tugged on and turned around. Our stranger is Meinhard (Meinhard Neumann), a migrant laborer who travels with a construction team to a small, ruggedly beautiful town to build a hydroelectric plant. Here the West is the East. The townsfolk are Bulgarian. The construction crew is German. Neither side is too terribly happy to acknowledge the other. As mistranslations accumulate and literal flags get flown, Meinhard refuses to commit to a side. Things don't quite come to a head—mutual ignorance wins out—but Meinhard's persistence is, in the end, deeply touching, almost poetic. Assimilation isn't so much his goal as a kind of placid self-settlement: for a man who chooses "country" over "nation," what does it mean to truly have a home? (John Magary)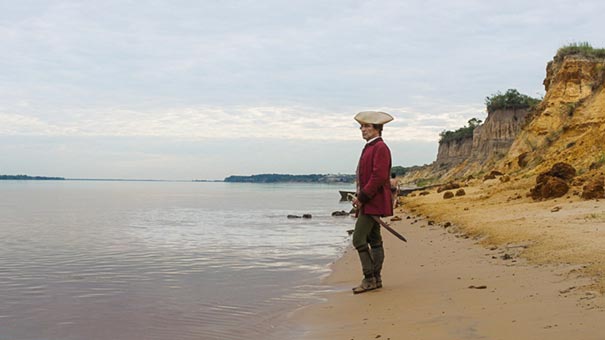 ZAMA Dir. Lucrecia Martel. Released by Strand Releasing. 
9/30: 6:00pm; 10/2: 6:00pm
"There we were: Ready to go and not going." So opens Zama, Antonio Di Benedetto's lost-and-found novel of colonial torpor at the end of the eighteenth century. The territory occupied by the novel's titular magistrate, Don Diego de Zama, a perpetual middleman forever in search of transfer, is modern-day Paraguay, but, stuffed as it is with ineffectual, overdressed frontier bureaucrats, this could double for any wayward empire's unwanting Purgatory. Lucrecia Martel, an unexpected and perfect match for the material, renders the novel into beguiling chops and chunks. Through her thrillingly democratic eye, the officials and their servants—and the servants' servants, and the children of the servants, and the animals attending to the children—roam through backgrounds and foregrounds, attending to some unexplained duty. The "subjects" of the frame—often Zama himself, eyes darting to the next "horizon" in a head-crowding close-up—appear at once bound and unbound. The narrative opens up (at last!) to conquest, but by then we know. Zama's transfer—his literal one, anyway—will never come. (John Magary)