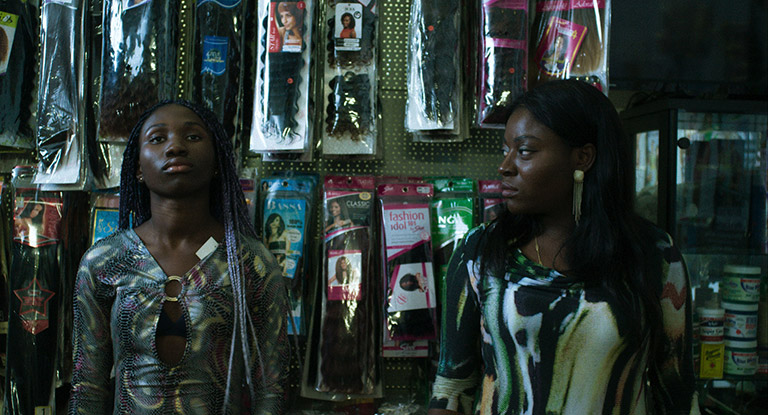 March 25th 2019
Now in its 48th year, the New Directors/New Films festival is an annual partnership between the Museum of Modern Art and Film Society of Lincoln Center dedicated to presenting bold works by early-career filmmakers. Past years have seen the New York debuts of films by Chantal Akerman, Hou Hsiao-hsien, and Kelly Reichardt. For New Yorkers, ND/NF is the calendar year's first look at films arriving on the heels of early acclaim at festivals like Sundance, Rotterdam, and Locarno.
This year we're running down highlights from the festival on a rolling basis, so check back for our writers' latest takes. The following are by Cosmo Bjorkenheim, Angeline Gragasin, and Mark Lukenbill.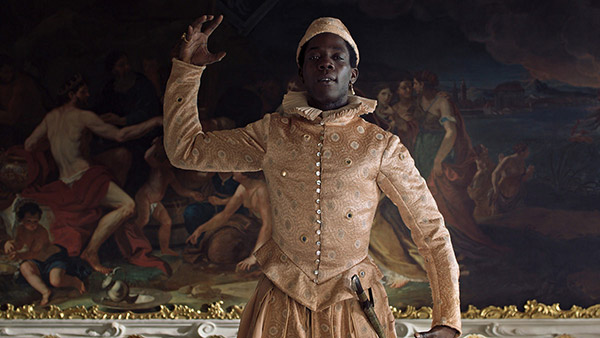 ANGELO
Dir. Markus Schleinzer. 111 min. Austria/Luxembourg.
New York premiere.
Saturday, April 6 - 1:00 pm (FSLC)
Sunday, April 7 - 3:15 pm (MoMA)
After seeing Markus Schleinzer's Angelo, an understated biopic of an African child brought to Austria in the 18th century and raised as a courtier, I'm curious whether his fate was unique or whether this kind of thing was common among European elites eager to civilize the children of their newly colonized subjects. The film's tone flips from one scene to the next, from Angelo and his wife's cute early-morning pillow fight to the macabre clandestine retrieval of the deceased Angelo's remains and their taxidermized preservation in a Viennese museum of natural history. True story! Like if The Wild Child were given the Haneke treatment—not surprisingly, since Schleinzer worked with him several times as casting director.
Angelo can be read as a revisionist history a la The Favorite (with similarly abrasive harpsicord), or as a parable about black talent in a white-owned entertainment industry. Angelo looks fly AF in his courtly apparel, not unlike an 18th century Young Thug or Dwyane Wade. His captivity is a double-edged sword: he enjoys privileges reserved for the nobility but also has to dress up and perform for bored aristocrats, narrating a fabricated myth of his wild origins as a warrior king's son. It's a rags-to-riches story that will be told again and again over the coming centuries by blacks who have made it in a white man's world, its contemporaneity underlined by the abrupt appearance of distinctly present-day set design elements. A question for Schleinzer: why wasn't Angelo's apocryphal meeting with Mozart included? (Cosmo Bjorkenheim)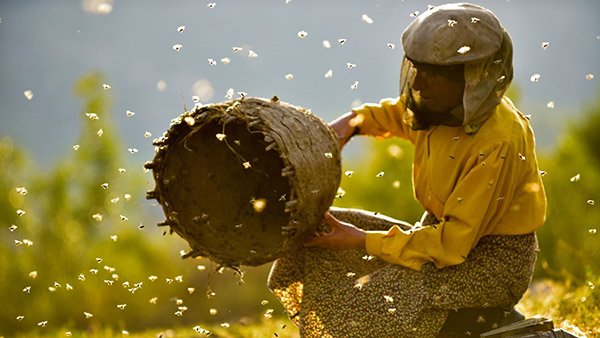 HONEYLAND
Dirs. Tamara Kotevska & Ljubomir Stefanov. 85 min. Macedonia.
New York premiere. A NEON release.
Wednesday, April 3 - 6:15 pm (MoMA)
Friday, April 5 - 6:30 pm (FSLC)
Honeyland fills an important void in the recent influx of films about bees, beekeping, and the worldwide honeybee crisis. Whereas most issue-driven docs have a tendency to tell, not show, this one sets itself apart by focusing instead on the emotional journey of an often overlooked human player in the story of the bees: a wild honey hunter, whose life is inextricably tied to the health and vitality of her bees. Hatidze lives in rural Macedonia, in the stonewalled ruins of an abandoned mountain village, where she spends her days tending to wild bee colonies, and her nights caring for her blind and paralyzed 85-year-old mother by candlelight. She lives an isolated existence, with wild dogs, cats, and bees as her only companions. A prospecting family of nomads suddenly arrives to settle for the summer, disrupting Hatidze's peaceful existence with their two trucks, seven children, and an enormous herd of angry, fearful cattle. At first Hatidze is suspicious, but she quickly warms to her new neighbors and the renewed energy they bring into her daily life. But with so many more mouths to feed, the family's patriarch decides to take up beekeeping in addition to raising cows and growing corn — anything he can to make a buck, even if that means treating his animals (and his children) with less care than Hatidze does her bees. The violence of human desperation and animal suffering simmers to the surface, at times making for uncomfortable moments, but never so much as to cause us to look away. A thoughtful and tender portrayal, and a welcome addition to the ongoing investigation into the relationship between humans and bees. (Angeline Gragasin)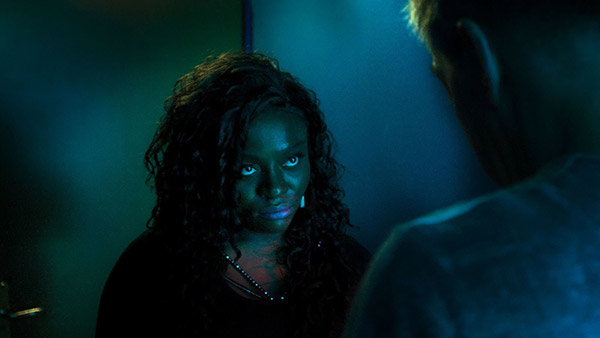 JOY
Dir. Sudabeh Mortezai. 99 min. Austria.
New York premiere. A Netflix release.
Thursday, March 28 - 8:45 pm (MoMA)
Wednesday, April 3 - 8:45 pm (FSLC)
Sudabeh Mortezai has won a lot of international recognition for Joy, a story about two Nigerian girls, Joy and Precious, sold into sex work in Austria. Mortezai's portrayal of the trap these women have been lured into by the promise of being able to help their families back home is bleak and brutal, but never didactic. As borders harden and xenophobic sentiment rises, films like this should be important, and I say "should" only because they're not getting Avengers-level exposure, which is what they deserve.
Having based the screenplay on a book about sex trafficking by two Austrian journalists, Mortezai did months of field research among Nigerian prostitutes in Vienna and assembled much of the cast from visits to diasporic churches and businesses. One of the main locations was literally around the corner from an active streetwalker strip.
Among the many tragic aspects of these women's lives is the double bond they're caught in: both to the local religious authority of their homeland, a Juju priest who extracts from them a ritual pledge never to collaborate with foreign authorities, and to their madams in Austria, who all passed through the same gauntlet of debt, degradation, and assault to get where they are. Joy's aspiring white saviors prove useless: a social worker unable to promise her any kind of official recognition of her residence in return for testimony and a white married man who wants to be her sugar daddy but can't bring himself to sacrifice any of his domestic comforts. (Cosmo Bjorkenheim)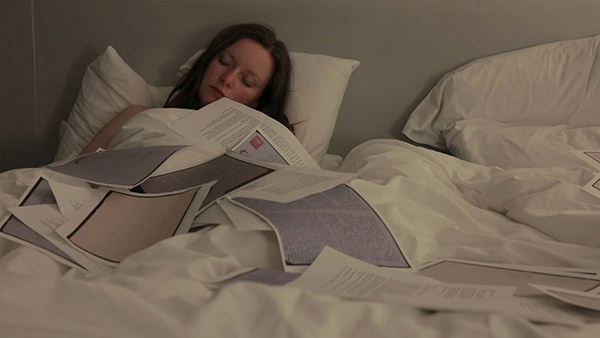 MS SLAVIC 7
Dirs. Sofia Bohdanowicz & Deragh Campbell. 64 min. Canada.
North American premiere.
Saturday, March 30 - 8:30 pm (FSLC)
Monday, April 1 - 6:30 pm (MoMA)
Last year, with the release of documentary feature Maison du bonheur and festival run of her short "Veslemøy's Song," Sofia Bohdonowicz was written into the fashion of young filmmakers with a predilection for the archive — a collector's eye and an affinity for physical, tactile media. While MS Slavic 7, which reunites Bohdonowicz with her "Veslemøy's Song" collaborator Deragh Campbell, may lack the candy-coated, crackling grain of her prior films, it still features young people treating libraries of the written word with a beatific reverence.
Campbell plays Audrey, a taciturn but determined analogue of Bohdonowicz who is named the literary executor of her great-grandmother Zofia, a Polish poet. Zofia is Sofia's actual great-grandmother, and the elusive post-war letters between Zofia and the writer Józef Wittlin that Audrey tracks down actually do reside in Harvard's Houghton Library, at the titular call number. Beyond that it's unclear whether its Sofia or Audrey who is attempting to wrest control of the letters from a stubborn aunt in the hopes of putting on an exhibition. Zofia's poems and love letters have a funereal, borderline apocalyptic tone that the film wryly compliments with bombastic Bach cues played on an organ. Campbell is, as she was in last year's Fail to Appear, a perfect conduit for heady ideas — dryly funny delivery and politely placid expressions concealing a burbling obstinate drive that propels the film's narrative. (Mark Lukenbill)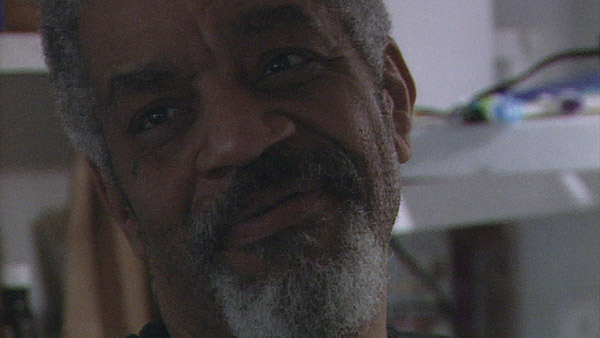 THE PLAGIARISTS
Dir. Peter Parlow. 76 min. USA.
North American premiere.
Thursday, March 28 - 8:45 pm (FSLC)
Friday, March 29 - 6:15 pm (MoMA)
The success of The Plagarists, a loopy, goofy metacritique crafted by director Peter Parlow and collaborators James N. Kienitz Wilkins and Robin Schavoir, hinges on two big conceptual — and very, very funny — jokes, one near the halfway point of the film and the other which doesn't hit until the end credits. The effects of these punchlines ripple out in concentric circles, tangling the films dopey central couple (a self-proclaimed "novelist" and a commercial cinematographer, both young and white) in a mess of ethical dilemmas about authorship, copyright, fiction and non-fiction, media consumption and, ultimately, "the truth" and how it should be presented. All this anxiety-spiral philosophizing is put into motion by a charming, offbeat stranger named Clip (the acting debut of P-Funk's Clip Payne), who rescues the couple when their car breaks down in a snowstorm, and shelters them from the night. He settles their nerves and rejuvenates their creative drive with tales of his childhood in Detroit, and gifts the man an interlaced broadcast news camera that shoots Betacam SP (ostensibly the camera on which the film was shot). The film then skips ahead to the summer, where a discovery puts a disconcerting light on some of the things Clip regaled. His warm, bemused smile hangs like a phantom over the characters for the rest of the film as they suffer something of a pop cultural identity crisis. By the time the film is done peeling back its satirical layers, basically every line of dialogue, cultural reference, and incidental background music choice is proven part of the joke, an ex post facto payoff that renders the film a neatly devious prank. (Mark Lukenbill)