Featured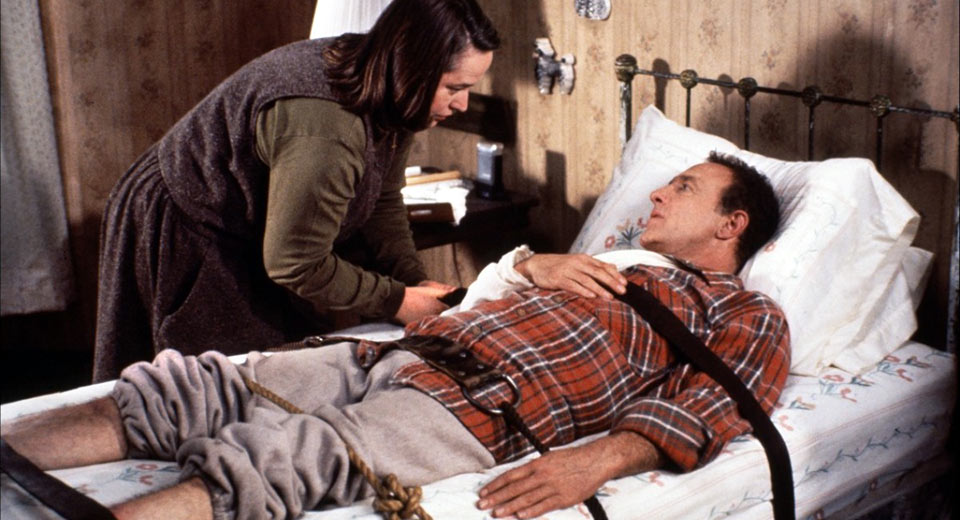 February 27th 2017
In anticipation of the approaching Hollywood spectacle, it's a perfect moment to revisit the only Stephen King adaptation (yet) to win an Oscar, screening at the Alamo Drafthouse Brooklyn. Rob Reiner's Misery (1990), based on King's semi-semi-autobiographical novel from 1987, has to be one of the most effective translations of novel to screen, made all the more so by Kathy Bates' Oscar winning performance (the first for Best Actress in a horror or thriller film) as Annie Wilkes, a deranged rural American who kidnaps and tortures her favorite author in her cozy home.
Misery was sandwiched between Reiner's When Harry Met Sally (1989) and A Few Good Men (1992); in a review of the film, Dave Kehr describes its peculiar tone, veering from horror to comedy, pathos to exploitation. Bates is rightly considered by Kehr to be the greatest aspect of the film, and it is now nearly impossible to read the novel without picturing and hearing her in the lead role. Annie was supposedly one of King's favorite characters – sadistic yet nurturing, psychologically fragile yet physically strong. As is the novel, the film is much more complex than its tagline would indicate. The story is infused with King's personal struggles as a writer, with Annie representing the entrapment of his success in the horror genre, but also his drug and alcohol dependencies, a dark theme in his other semi-semi autobiographical novel, The Shining.
The cinematography was overseen by Coen Brothers collaborator and soon-to-be-director Barry Sonnenfeld, lending the movie his trademark scale confusions and oblique angles to bring a fun-house vibe to the plainly tidy, tchotchke and jam-jar filled farmhouse. James Caan in the role of the writer is a perfect sounding board for the lunacy in this all-American depiction of a reclusive and desperate individual whose private passions conjure a most vivid hell.