Featured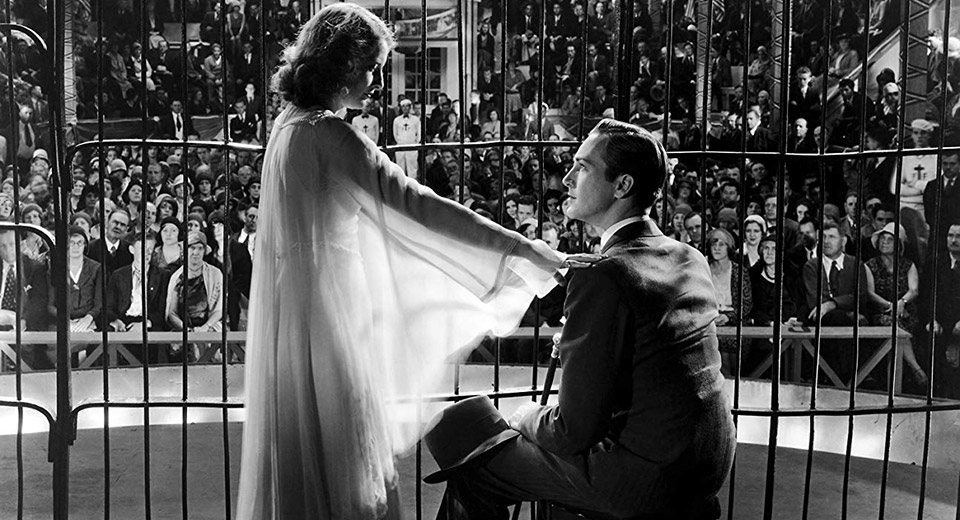 March 18th 2019
If you're feeling your righteous rage at hypocritical evangelicals at a boiling point lately, you'll want to make sure to get to The Miracle Woman on time. In the first scenes of this fiery pre-code, a grief-stricken Barbara Stanwyck charges up to her father's pulpit just in time for Sunday service and lays into the congregation. Her father has just died moments before, and Florence is sure his heart was broken after being fired for a new, younger priest. As Florence beings to rail against the parishioners' greed and stone-heartedness, they attempt to retreat, but Florence chases them to the door and continues to yell out. It's catharsis right off the bat.
After her faith is destroyed by her father's death, Florence - an Aimee Semple McPherson analogue - is convinced by sleazy Bob Hornsby to become a fake evangelist and go on the road with her indignant anger. While at first she recoils at the prospect of using her faith for profit, her bleak prospects convince her otherwise, and soon she's the talk of post-Depression American radio. At one of her sold-out speaking engagements/tent revivals, blind veteran John (David Manners) inadvertently walks into one of her phony tricks, making it out alive. Though he's the world's most earnest human and she cons religious people out of money for a living, they fall in love, and Florence starts to question her deeply cynical life.
This early Frank Capra film is part social commentary, part romantic drama, and, I must warn you, part ventriloquist routine, as every time it begins to get hot and heavy between Florence and John, he pulls out his ventriloquist dummy and tells some jokes, bringing the movie to an absolute halt. But that's just part of the charm of this strange, bitter movie, one that could have only been made in Hollywood's pre-Hays Code glory days. The Miracle Woman plays at Film Forum in a 2-for-1 double bill with another Capra pre-code, American Madness.