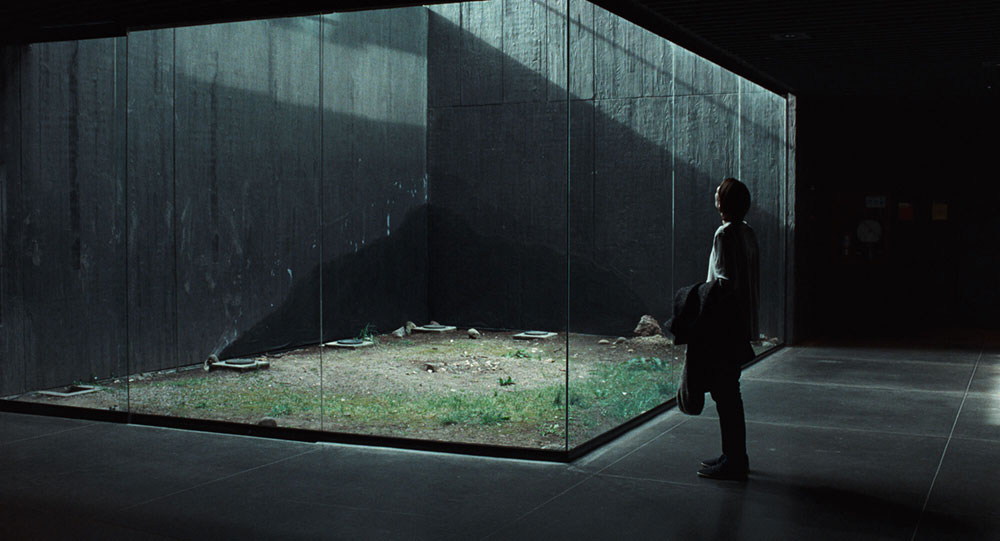 October 10th 2021
It is a long time before anything happens, and then there is a loud thud. The noise is clearly not diegetic; it is too metallic, too loud, to have emerged from the world of the film. Jessica (Tilda Swinton) wakes with a start, rises to investigate. Her slight stumble in the dark indicates that these rooms are not entirely familiar.
Memoria is Apichatpong Weerasethakul's first feature made outside of Thailand, the country whose landscape has often structured the director's films. Jessica has recently arrived in Bogotá from Meddelín. Her Spanish is faltering ("perfect for poetry"), though it grows stronger as the film goes on. She visits her sister in the national university's hospital and conducts research on orchid disease in its library. Invited to inspect some recent archaeological discoveries, she fingers a hole drilled into a girl's skull six thousand years ago. The bones were found in the path of a tunnel being drilled through the mountains for a highway: a nation makes its future and its past at once.
Elsewhere in the university, Jessica enlists the aid of a young audio engineer (Juan Pablo Urrego), who successfully simulates the mysterious bang she has heard using a library of film sound effects. On her way to the studio, a bus engine backfires in the street and a pedestrian hits the deck, thinking it a gunshot. In these scenes, the film begins to engage both with the documentary and artistic impulse and with the political history of Colombia. In that country, the film's title connotes the right-wing paramilitary violence that began in the 1960s, especially in rural areas, and the subsequent truth and reconciliation process.
Swinton has a way of remaining absolutely still while her mind moves quickly behind her eyes. Her poise and quiet panic provide the tempo for the first two-thirds of the film, during which Jessica is increasingly in doubt of her own sanity. There is a dramatic change of pace when we move into the rainforest, where a man (Elkin Díaz) who remembers everything, even the space before his birth, communes with Jessica, who can read his mind "like an antenna." Together, they listen to an old trauma whose vibrations were recorded in a stone. Then comes something really wild.
Weerasethakul has attributed the inspiration for the film to his experience with "exploding head syndrome," a parasomnia that disturbs sleep with the sensation of a loud noise; he had already written the film when he discovered the name for the condition online. In a Q&A, Swinton described accounting for a sound that would not be developed until post-production: "It was a strange piece of tightrope time travel and trust, to imagine that this thing we were responding to would be."
The film's distributor, Neon, has hatched a novel scheme: Beginning December 26 at the IFC Center, Memoria will play in a kind of unending roadshow—a different city every week. It will never be in more than one place at once, and it will never be made available for home viewing. Time will tell if this strategy amounts to much more than a promotional ploy. In any case, audiences will be compelled to experience Weerasethakul's latest dazzler in one of our remaining temples of the senses. The director spoke of arriving early to the theater to make sure the sound was just right.