Featured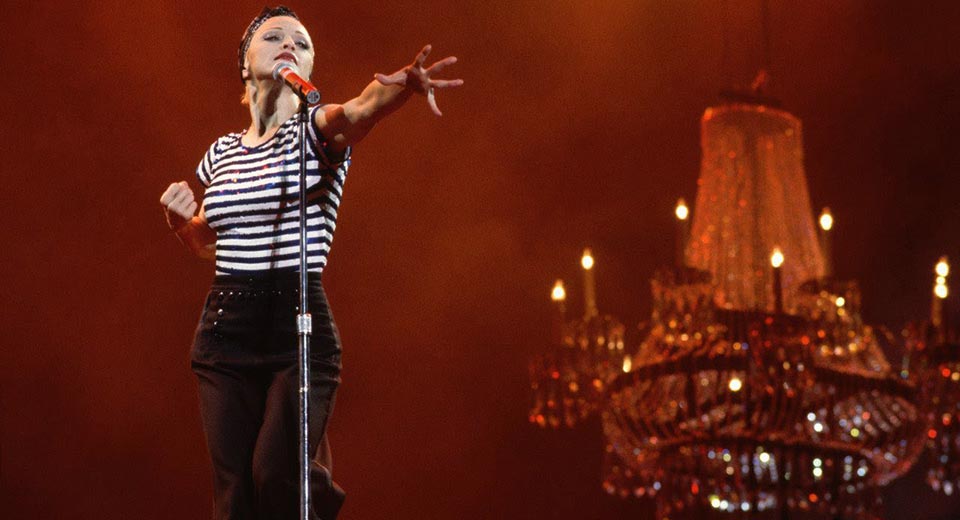 August 13th 2018
I don't know whether The Girlie Show - Live Down Under is the best of Madonna's concert docs (I've heard Blond Ambition World Tour '90 is pretty good), but in terms of sheer stylistic eclecticism, it's awe-inspiring.
After a fairground organ announces the start of the show, it's Ghostbusters meets Showtime as a G-stringed backup dancer does an athletic twirling and spreading routine down a 50-foot pole. Then a couple boxers box and a commedia dell'arte-looking mime mimes for a while, until Madonna herself appears in full dominatrix, complete with whip, fishnets, and black leather platform-heel boots. At this point you're pretty sure you got what you asked for, knowing that this was the tour that promoted Madonna's 1992 album Erotica; the show is filled with what The Las Vegas Journal's Gary Graff called "more-than-suggestive sexual simulations," especially "Deeper and Deeper," during which the backup dancers get so into their orgiastic writhing that director Mark 'Aldo' Miceli and DP Toby Phillips resort to euphemistic camerawork and rapid cross-dissolves to give the number an impressionistic effect. While most of the songs are from Erotica ("Fever," "Rain," "Bye Bye Baby"), there's also a sprinkling of old standards: "La Isla Bonita," "Holiday," and, notably, "Like a Virgin," which Madonna sings in tophat and tails a la Marlene Dietrich in Der Blaue Engel (1930), mangling the V's Germanically.
Apart from the costumes and Madonna's brother Christopher Ciccone's monumental production design, the supporting singers and dancers are the best part. I found myself wondering what they all do when they're not licking Madonna's armpits on a stage in Sydney. Backup vocalists Donna DeLory and Niki Haris worked with her on half a dozen tours from the 1980s to the aughts. One of her "blokes," Chris Childers (who plays, among other things, a crazed fan who leaps onto the stage and tears off his concert tee in front of her), would go on to dance in Showgirls (1995) and work as a choreographer on Spider Man (2002). And as a nod to her six-piece band, Madonna introduces them all by name three-quarters of the way through and lets them solo. Among them is drummer Omar Hakim, who had played with Miles Davis and David Bowie in the 1980s.
Christopher Ciccione told an interviewer, "I think she's become much more introspective about what she's doing." This is evident in her rendition of the ballad "In This Life," which she dedicates to two friends who died of AIDS. (Madonna had been raising money for AIDS research for several years already; one 1990 show alone raised $250,000.) It's a heartfelt moment, in stark contrast to the non-sequitur banter that sounds like it's addressed to a non-English-speaking audience. Madonna humors the crowd by peppering the last couple songs with shout-outs to Australia and even wearing the national soccer jersey. The rest of her costumes are varied and elaborate, from her naval admiral's uniform during "Holiday" to her blond afro and sequined booty shorts during "Express Yourself."
Whether you're a Madonna fan or not, it's hard not to be infected with The Girlie Show's kinetic energy. Wear something easy to move in.