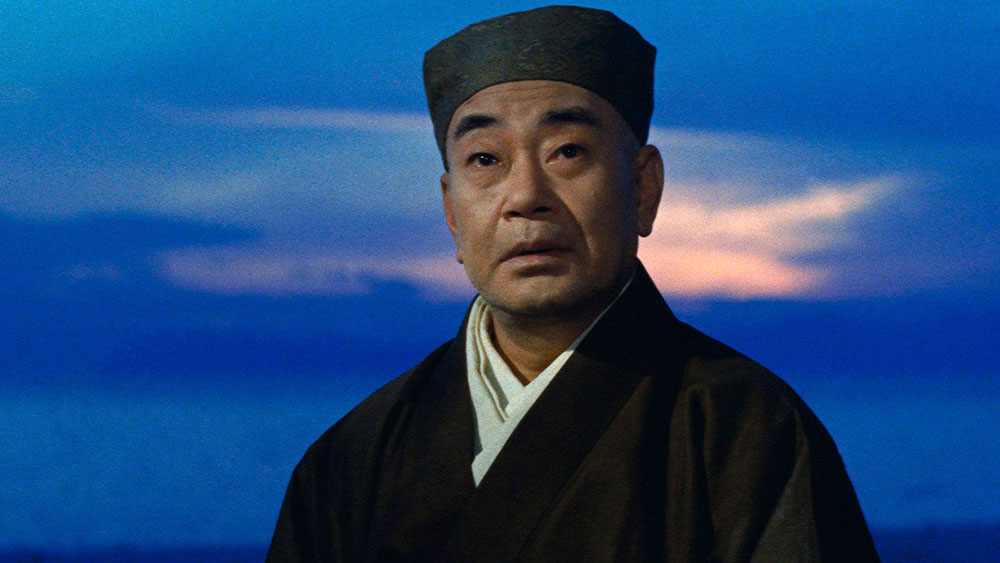 March 23rd 2022
In the late 1400s, the status of Christians in Japan was shifting; by 1614, Christianity would be outlawed entirely, with Christians forced to trample on images of Jesus and the Virgin Mary as a purity test (memorably portrayed in the 1971 and 2016 films Silence). For her final film, director Kinuyo Tanaka used this backdrop for a heart-wrenching story of forbidden love, Love Under the Crucifix (1962). Gin (Ineko Arima) has been in love for years with Ukon (Tatsuya Nakadai), a Christian feudal lord loved as a second son by her family. Ukon, however, is married, both to his wife and to his job, though the audience can see his heart breaking as he tells a young Gin goodbye. Gin is so clouded by her own pain that she rushes into an unwanted marriage with an ambitious merchant, which has devastating consequences for everyone involved.
Gin understands too well that her life is prescribed for her; when Ukon tries to let her down gently, she reminds him that he has "happiness in heaven and happiness in this world," neither of which she can ever obtain as a woman. Gin's agony runs through the movie like a stream; first, she loses the idea of love, then, through the machinations of the men around her, she is tricked into meeting with Ukon as a married woman, a decision that brings disaster on them both. The men in Gin's life—aside from Ukon and her doting tea-master father (Ganjirô Nakamura)—use her emotions against her at every turn. "I am a living corpse. Do you desire me just the same?" an exhausted Gin asks a powerful man near the end of the film; the answer is, of course, yes.
Tanaka, Japan's second major female director after Tazuko Sakane, began her career as an actor, appearing in more than 250 films and collaborating with Yasujiro Ozu and Kenji Mizoguchi. Her deep understanding of the power of actors shines through in the film, especially in her work with Arima (another Ozu associate), whose heart is raw and exposed in nearly every scene. Gin's final scenes, though agonizing, also show the beatific peace of a woman who knows she has had true love, even if for only the briefest of moments. The beautiful blues of the Japanese sea, pink pastels of the kimonos, and white snowy mountain caps are showcased alongside this tragic tale of love; Tanaka seems to be assuring us that the world is still beautiful even when awful things happen.
Love Under the Crucifix screens March 20, 23, and 26, at Film at Lincoln Center in a digital restoration as part of their Kinuyo Tanaka retrospective.