Featured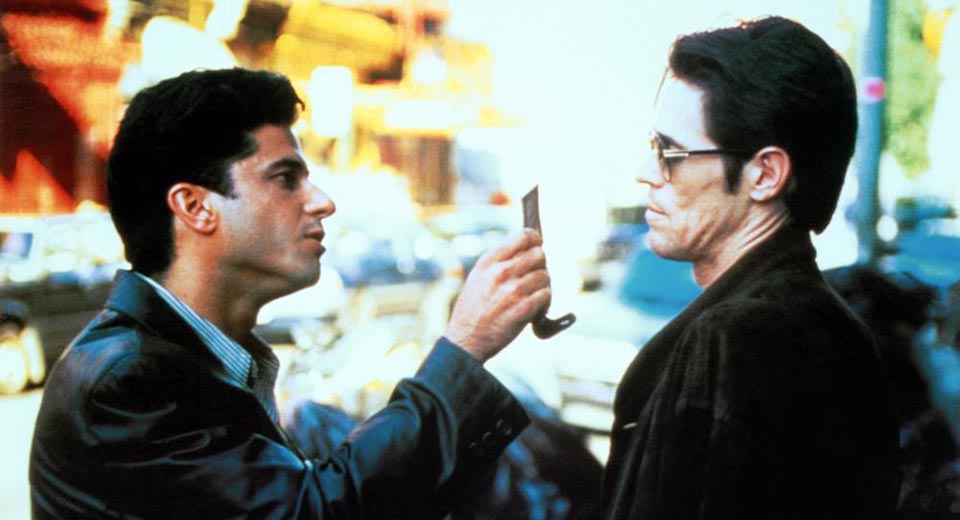 April 29th 2018
It may be a commonplace to make biographical comparisons between a director and his characters, but in Paul Schrader's case the parallels are so compelling that it's hard to resist interpreting his screenplays as forms of autobiography. His scripts are spread across a wide generic spectrum—from the erotic horror of Cat People (1982) to the hallucinatory grit of his post-Ritchie/Aronofsky/Boyle crime tragedy Dog Eat Dog (2016)—but the thematic unity of the four films in Metrograph's series is clear: lonely men trying to reconcile the vulgar world of work and money with a desire for individual distinction, like Schrader himself balancing Hollywood's demands for bankable casts and goal-oriented storytelling with his contemplative, Bresson-influenced approach.
The less said about Taxi Driver (1976) the better. As Schrader himself complained, "Taxi Driver has become a classic, but in a way a classic is a curse." No doubt American Gigolo (1980) has had no shortage of learned exegeses written about it, but it hasn't entered the pop-cultural consciousness at anywhere near the same level. The closest Richard Gere gets to a "You talkin' to me?" moment is when he's teaching himself Swedish while hanging upside down from a pull-up bar. The moral coordinates have been flipped: whereas De Niro wants to wipe this whole stinking cesspool off the face of the earth, Gere inhabits a gleaming chrome and neon Los Angeles and is himself the guilty stain on it, selling himself like Taxi Driver's senatorial candidate. "You live on the good graces of a small number of people," he's told, reminding him that his lifestyle is precarious and essentially parasitical. American Gigolo is a transition from Taxi Driver to the next two installments of the "man in his room" tetralogy; like De Niro, Gere has to work for a living, but like Willem Dafoe and Woody Harrelson, he does so on the margins, more sub-proletarian than proletarian.
Light Sleeper (1992), playing tonight, brings Schrader back to New York, albeit a less vice-infested one; by the early 90s initiatives like the Disneyfication of Times Square were in the works, and Mayor Dinkins would leave office having expanded the NYPD by 25%. Dafoe is an aging high-class coke dealer who, like the city itself, is starting to mature out of his wild days. "You can become a good person halfway through your life," he says with a distinctly Pauline ring to it. He's reinventing himself as a tough with an "artistic" side, filling notebook after notebook with longhand reminiscences between deliveries. Schrader often couples brutality and aestheticism: Richard Gere kills a guy and broods over it in front of posters for Warhol's Torsos exhibition, and Dafoe's Swiss client throws a woman out the window of an apartment with original David Salles on the walls.
The Walker (2007) exhibits many of Schrader's stylistic trademarks: lingering shots of hands, two-shots split down the middle by columns, slow pans fetishizing attire. Once again we've got a man earning his bread by non-traditional means, only this time with a political pedigree. Woody Harrelson comes from a long line of Southern patriarchs, a plantation-owning grandfather and a corrupt congressman father. Like Dafoe with his notebooks, Harrelson also has a claim to individuality: a gay relationship with an Arab photographer who makes Abu Ghraib-themed "incendiary agit-prop" art. Schrader brings his American Nightmare-theme full circle: from Taxi Driver's psychotic veterans of a war that made Americans irremediably cynical about their government to The Walker's pervasive resignation wrought by decades of torture, unofficial wars, and domestic surveillance. We are clearly in the middle of the "war without end" in Iraq and Afghanistan, with ubiquitous United We Stand posters, Bush-Cheney campaign stickers, and American flag lapel pins. Still, many of its themes are the "timeless" ones, such as aging; with its mature cast, The Walker rivals the most melancholy moments of Limelight or Sunset Boulevard, with Chaplin and Buster Keaton replaced by Harrelson, Lily Tomlin, and Lauren Bacall.