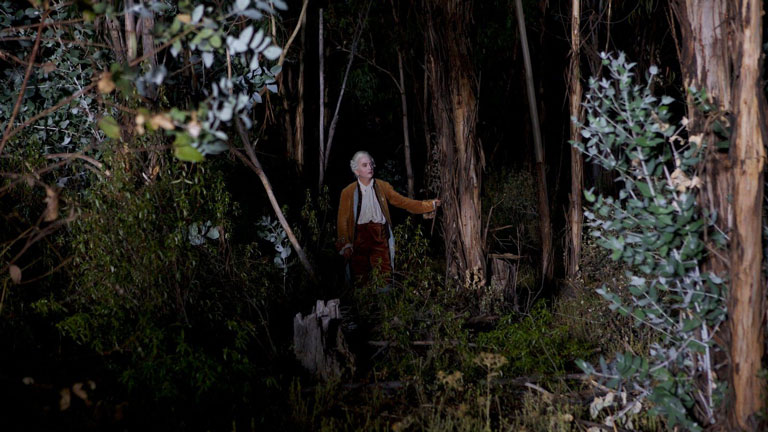 October 1st 2019
In this third iteration of Liberté, which was previously a stage play and video installation, Albert Serra steeps his captive audience in a trance-like night. It's the late 18th century, somewhere in the Prussian forest, where a group of libertines in exile from Louis XVI's court have decamped to play out their most outré sexual fantasies and scout for sympathetic converts, including a German nobleman played by Helmut Berger. During this deliberate evening of aristocratic cruising, the film is less salacious than plainspoken on the gap between Sadean possibility and practice—which isn't to say it doesn't have its graphic surprises, to which you should go in blind.
Serra traverses between filmmaking and gallery-friendly pieces, on occasion with the same project. His Jean-Pierre Léaud-led The Death of Louis XIV (2016) was originally commissioned by the Centre Pompidou as an installation, but Serra would only be able to rework it as such a few years later with frequent collaborator Lluís Serrat Masanellas—also in Liberté—replacing Léaud, all captured on film in 2018's Roi Soleil.These medium shifts see Serra centralizing their unique conditions of spectatorship, which is especially fitting for Liberté's emphasis on voyeurism: the characters amble through the dark to spy on each other from afar, a tacit understanding that also becomes a performance of its own. Working in a format that offers greater control over what we see, and when, Serra often obscures what we're supposed to focus on—in the film's earliest scenes, he makes us squint for the slightest movements and sounds, as if adjusting to the darkness, and overlaps conversations with images from adjacent vignettes. He and DP Artur Tort stage compositions whose contrasting shadows and glowing carriages evoke Rococo lensed by Gregory Crewdson, theatrical and uncanny, and a ceaseless drone of crickets further destabilizes a clear sense of time or space.
All of this builds to a detachment from conventional momentum—which then adds a sense of futility to the proceedings, especially when things do become more explicit. The noblemen expound on using "imagination" to reach lurid ends that no one else can fathom ("coward" is another linked buzzword), but that edict paralyzes some of the characters, while their acts satisfy them less as the night wears on. That impossible reconciliation between thought and action offers the film's central paradox and fuels Serra's aesthetic, dreamy and disjointed. Perhaps detractors would say that Serra hasn't pushed his own visual imagination far enough into truly sadistic territory, but the fact that the film's opening monologue, a vivid description of Robert-François Damiens getting drawn and quartered, is more gut-wrenching than most of what follows seems to capture the heart of the matter.