Featured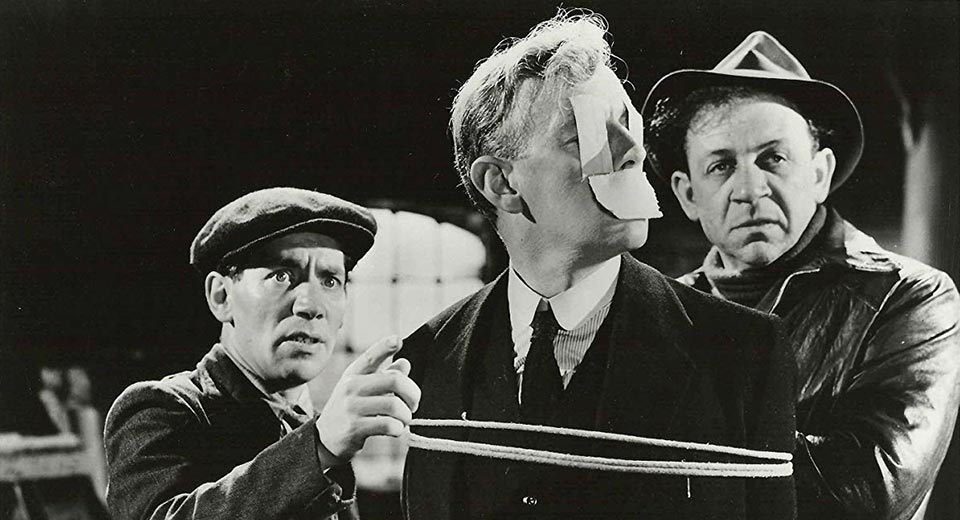 December 2nd 2019
The Lavender Hill Mob (1951) is second in a quartet of films comprising Kind Hearts and Coronets, The Man in the White Suit and The Lady Killers that established Britain's Ealing Studios as producers of comedy. Each film features a youthful Alec Guinness his, cuddly befuddled smile showing sweet naïveté in The Man in the White Suit. However, hidden behind the mild facade is the cagey mien of the resentful masterminds and troubled authoritarians he embodied later in his film career.
Guinness plays Holland, a docile, bespectacled bank clerk, one of the middle-class British everymen who flood London Bridge wearing bowler hats, carrying umbrellas and briefcases. Passing as a "nonentity," he has spent his "unambitious" career plotting the perfect robbery. But Holland's abject stance and the diffidently tilted head when addressing his superiors is undercut by his big expressive eyes and oddly stentorian voice that subtly telegraphs his outwitting of those who underestimate him.
One evening Holland meets cute with his new boardinghouse neighbor, Pendlebury, a Shakespearean Stanley Holloway, who has a smelting business. An artist encountering an artisan, the novice partners in crime form an ersatz mob, engaging two professional thieves played by character actors Sid James (of Carry On series fame) and cockney stalwart Alfie Bass to steal a truckload of bullion and smelt them into Eiffel Tower souvenir "gewgaws" in order to smuggle the contraband gold out of England.
True to the heist genre, the mob maps out and rehearses the theft. The success or failure of its execution adds suspense (and laughs). Caper films also depend on a meta layering of acting, impersonation, and misdirection creating performance coups for actors as they convincingly enact regular citizens giving inept performances. Yet The Lavender Hill Mob predates the wave of psychologically complex European heist movies of the late fifties like Rififi and Le Cercle Rouge.
Director Charles Crichton's experiences as an editor on productions like The Private Life of Henry VIII (Korda, 1933) and Things to Come (Menzies, 1935), and as a documentarian, may account for the witty accumulation of small details in the realist mise-en-scène. The scheme immediately goes off-kilter, igniting a series of comedic set pieces that build to a sustained hysteria driven by Georges Auric's playful modernist score.
Former policeman Tibby Clarke won an Oscar for his screenplay, where police procedures and technology animate the crazy finale where it pays to be able to pass. Seeing the mob will never be the same as my first time, when I couldn't breathe for laughing, but I merely have to think of its inspired use of "Old MacDonald Had a Farm," and I'm wiping tears of pleasure from my eyes.