Featured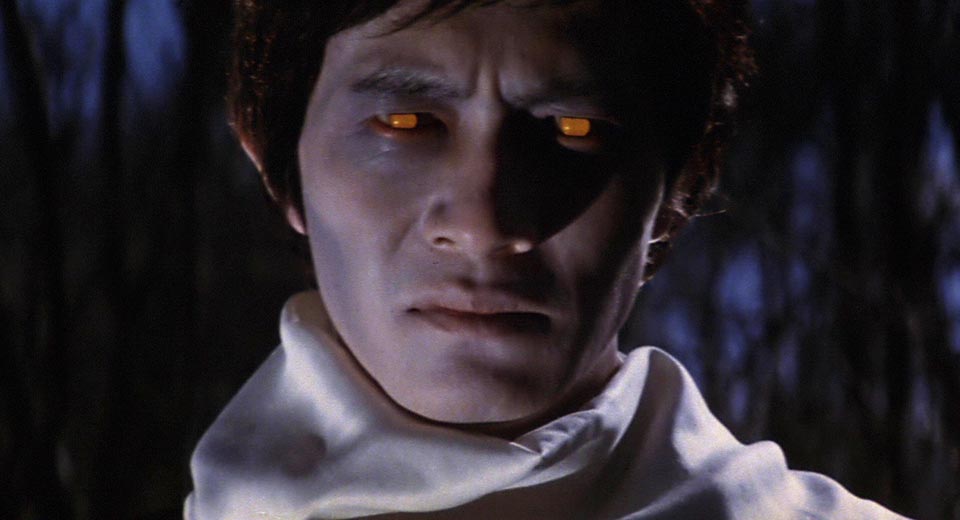 October 15th 2018
J-horror meets Hammer goth in Michio Yamamoto's Bloodthirsty Trilogy, which runs through Thursday at Metrograph. Once a video store curio – the excellent 90s Chicago noise band Lake of Dracula lifted their name from the VHS cover of the second film sight unseen — the trilogy has recently been exhumed by Arrow Films, with screenings at Spectacle, Drafthouse, and now a full-on revival run at Metrograph repositioning it as one of the year's essential rediscoveries.
It's not difficult to understand why: each of these self-contained narratives feel both familiar yet singular, iterating on familiar British horror tropes and Japanese ghost stories with a psychedelic sheen. The first film in the series, The Vampire Doll, is the moodiest of the trio. A man visits his betrothed's looming family estate and is dumbfounded to learn that she's suddenly died – only for her to revisit that evening. Eventually, the man's sister visits to investigate his own disappearance. It's rather lowkey and skates by on nocturne atmosphere, but it eventually erupts into an unforgettably savage finale. It's also notable, not only among the trilogy but vampire cinema writ large, for ditching fangs in favor of a dagger-wielding ghoul who slashes her victims throats.
The highlight of the trilogy is Lake of Dracula, which strikes a balance between the kaidan trappings of its forebear and the more exploitation-style successor, Evil of Dracula. In it, a painter is haunted by recurring nightmares of a terrifying figure she seems to have encountered in childhood. While she sequesters herself to work in a lakeside cabin, the arrival of a mysterious coffin heralds a sudden outbreak of death. Here Yamamoto manages to combine a saturated, autumnal palette with the stygian ambiance of a Terence Fischer or Mario Bava movie while working in more familiar narrative beats from Stoker's Dracula.
The final film in the trilogy, Evil of Dracula (also known by the evocative title Bloodsucking Roses) was released in 1974, a few years later than its predecessors, and it takes advantage of relaxed censorship standards to spin a more lurid and violent tale about a new psychology professor making disturbing revelations at a girls school. For starters, the headmaster keeps his wife's coffin in the basement — and after being attacked by her, the professor works with students and residents to uncover the facts behind local lore. It's the most Stoker-esque and sexualized of the series, and considered by some to be its best. It only lacks for the absence of the iconic, glowing orange eyes of the bloodsuckers in its predecessors. Regardless, any one of them is worth discovery or revisitation.