Featured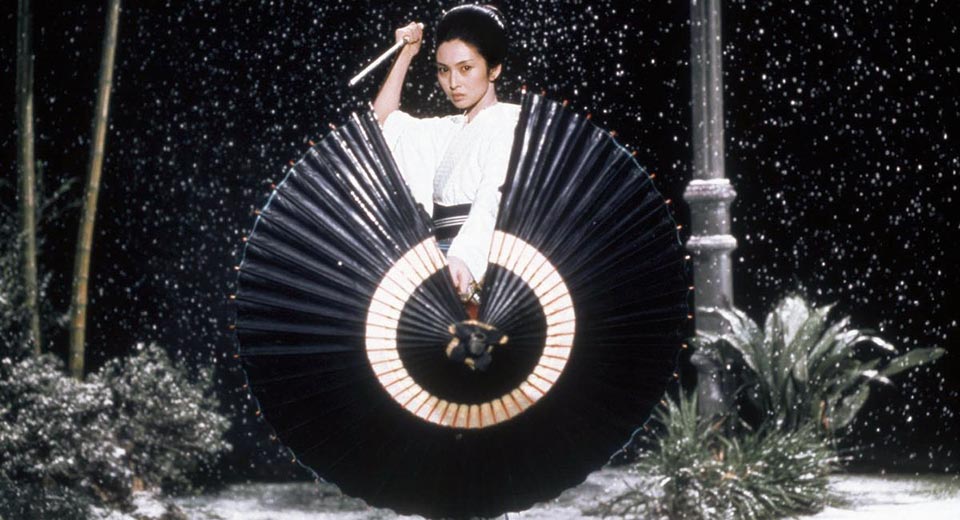 June 18th 2018
Nothing beats the summer heat like sprinkling blood on pristine white snow! The essential female revenge thriller Lady Snowblood (1973) runs in Quad Cinema's Have Sword Will Travel series tonight.
Based on Kazuo Koike (Lone Wolf and Cub) and Kazuo Kamimura's manga series from a few years prior, Lady Snowbloodchronicles the mission of a deadly woman spawned from the desire for revenge. In Meiji-era Japan, a dying mother in a women's prison seduces a guard in order to conceive an heir to her anger: a daughter named Yuki who exists solely to avenge the murder of her father and brother and the rape of her mother. Yuki (played my Meiko Kaji of the Female Prisoner Scorpion series) spends the first two decades of her life training to be an assassin and tracks down her family's tormentors in this beautiful blend of genre and art film.
Before Lady Snowblood, director Toshiya Fujitawas mostly known for arty youth films about Japanese juvenile delinquents, most notably the melodramatic Wet Sand in Augustand the girl gang exploitation Stray Cat Rock series (where he collaborated with Meiko Kaji for the first time). The rebellious spirit of his filmmaking is oddly-suited for a story centered in Meiji Japan, as Yuki seeks to destroy those who degraded and destroyed her family, arguably stand-ins for the violence ushered in by the country's interest in claiming imperialist power.
If you've never seen it, it's time to leave Tarantino's fanboy homages in the dust and jump into the snow.