Featured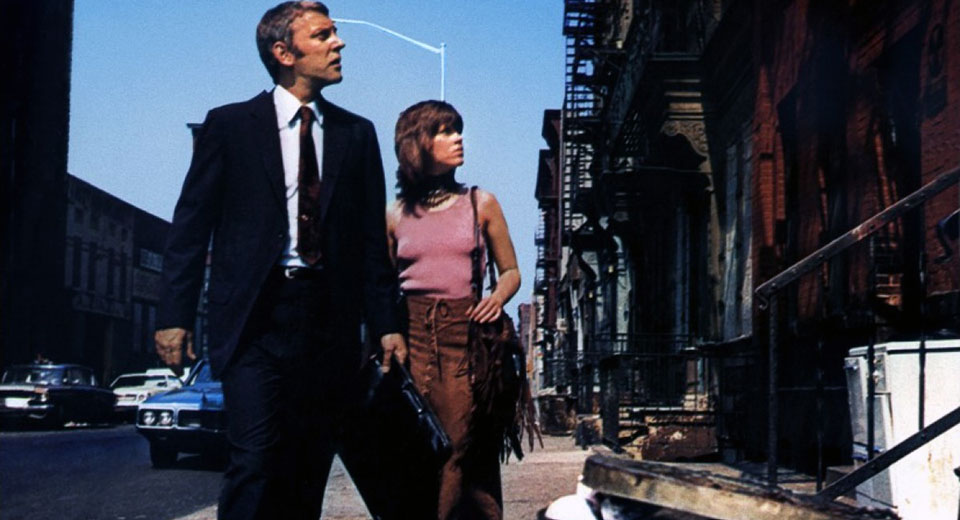 February 25th 2018
One aspect of Alan J. Pakula's 1971 semi-thriller Klute  that puzzled critics was its title; Jane Fonda's Bree Daniels is the film's only complex character, so why is it named after Donald Sutherland's one-dimensional private detective? Although, as Jonathan Kirshner mentions in Hollywood's Last Golden Age, Klute's gender politics are compromised by the fact that Bree is 1. a prostitute, 2. saved from her "distress" by a man who 3. delivers her to a safer, domestic setting, the sheer amount of screen- and script-time dedicated to her personal struggles is enough to set the film apart. Several scenes of Bree discussing her life and career with her (female) therapist suffice for Klute to pass even the famous Bechdel test (i.e. whether two women talk to each other about something other than a man). 
When Pennsylvania businessman Tom Gruneman disappears, private eye John Klute is sent to New York City to follow a lead. Bree is trying to make ends meet by tricking and going to humiliating acting and modeling auditions, when Klute arrives and starts pestering her with a case she hoped was long-forgotten. She tells her therapist that only sex work gives her some sense of control, so it's no wonder that Klute's investigation appears to her as just another attempt to make her a piece in a man's puzzle.
Cinematographer Gordon Willis (The Godfather, Manhattan) uses the Panavision format to luxuriate in decor, from the idiosyncrasies of Bree's boho studio apartment (a charcoal portrait of JFK?) to a casting director's ornate oriental tapestries and the decadent interiors of Manhattan's elite brothels. At the other end of the visual spectrum, the sinister businessman Peter Cable is framed in silhouette against his ultramodern office's floor-to-ceiling windows overlooking the site of the future World Trade Center (Klute was shot in 1970, about halfway through its construction), bringing to mind the austere placidity of the opening shots of Fassbinder's The Third Generation.
Klute's main appeal lies in its function as a time-capsule. In 1970, you could still boast to a suburbanite of "the sin, the glitter, the wickedness" of New York City, where harassment by pervs and stalkers came with the territory and Lexington and Eighth Avenues were streetwalkers' haunts. The era's recording technologies also have a significant narrative function: Cable's iPhone-sized tape deck enables him to record Bree's intimate exchanges with her clients, and the police compare typewritten notes to find differences in keystroke weight. (Apparently one can determine the relative strengths of a person's fingers by examining the force with which each key is pressed.)