Featured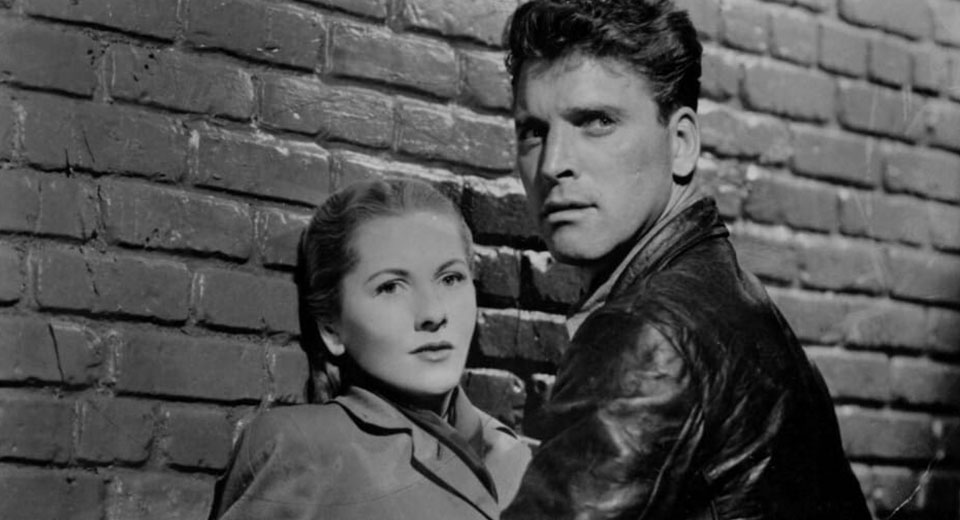 August 12th 2019
When a small-time hood off-handedly calls Burt Lancaster's Bill Saunders "big as life and twice as handsome" he might as well have been referring to Lancaster himself, whose portrayal of Saunders, the beleaguered former-POW in 1948's Kiss the Blood Off My Hands, is nonetheless the closest he ever came to successfully diminishing his titanic charm and physical presence. Blessed with a face carved especially for movie posters, Lancaster effortlessly consumed the screen. But here, in an early role, he struggles against his blessed genes to play a man rattled by war and victimized by his own weaknesses. Saunders is a small, scared figure at odds with Lancaster's bulky frame and divine voice. This tension courses through the film, elevating an already satisfying crime tale.
We meet Saunders in a pub, objecting to closing time because he's got nowhere to go. With little provocation he knocks out the barkeep, killing him instantly. Saunders flees through dense shadows and shards of streetlight before sneaking through the window of nurse Jane Wharton (Joan Fontaine). She chooses to see the traumatized veteran within the criminal and helps him secure a job delivering medicine from her clinic. The two gradually fall in love, even after she repeatedly witnesses the violent rage he unleashes upon all men who challenge him. A future in the straight world seems possible until Saunders' redemption is threatened by a blackmail scheme concocted by a cockney thief who witnessed the pub murder.
The dense shadows and shards of streetlight come courtesy of two once and future Orson Welles collaborators, director Norman Foster and cinematographer Russell Metty (Touch of Evil). Their bleak London holds its own against the greatest achievements in noir atmosphere. Foster is best known as the credited director on Journey Into Fear (1943), a Mercury spy thriller long rumored to have been directed from the shadows (in part or entirely) by Welles. Kiss the Blood Off My Hands provides convincing evidence that Foster was more than capable of navigating noir's grand fatalism and stark aesthetics, though he'd only get the chance once more, with 1950's similarly adumbral Woman on the Run.