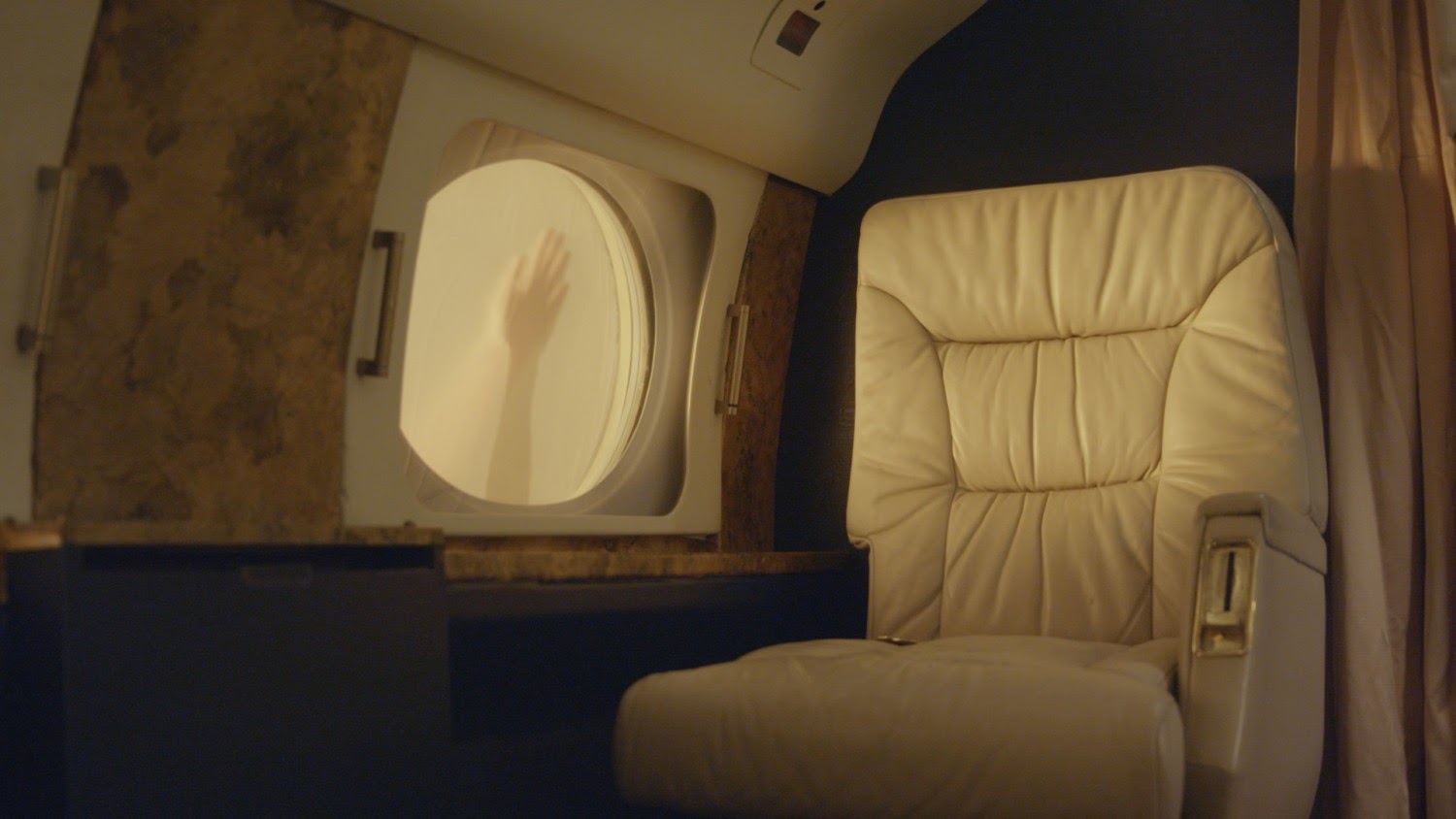 January 19th 2022
Peak Heaven Love Forever (2022) is the video at the center of Jordan Strafer's exhibition PUNCHLINE, now on view at Participant Inc. Based on a true story of a small family aboard a chartered flight from London to Miami, it encloses baleful emotional deprivation within the trappings of material wealth. Here and elsewhere, Strafer deals with autobiography as something other than only a paradox of identity, dwelling on the excruciating moment of experience and creating an account devoid of shame or sentiment.
A young woman (Cammisa Buerhaus) and a man who might be her father (Alexandro Segade) are attended to by a stewardess (Marti Wilkerson). Another man, who might also be her father (Jim Fletcher), is mostly asleep, perhaps semi-vegetative, breathing via a tracheostomy and ventilator. Their faces, framed by the airplane's ovular windows, are marked variously by sunburn, cosmetic surgery, a patchy beard, and a papulous rash—the young woman's, which progresses across her body in the course of the flight. For the moment, they are suspended in transit's stasis, though a sense of personal history touches each of them. Their troubled thoughts play out on wincing eyes, flared nostrils, and fretted fingers. They do not speak.
This tone is broken twice. For a while, the three waking characters lip sync to The Mamas & The Papas' "Dedicated to the One I Love." Illuminated by a tight spotlight, each is animated but remains unexpressive. There is also a scene of wishful fantasy, a massacre, photographed partly as a first-person shooter, which results in tray tables smeared with viscera and the release of oxygen masks from the overhead compartments. The loop point of the 19-minute-long video seems to come between two dolly shots down the center aisle, a resetting of the scene.
In the back room of the gallery, eleven works on paper expand upon the video, notably featuring Shari Lewis's hand puppet Lambchop. Several make use of airport beads, the medium used to provide ultra-reflective runway surfaces, which here sit dull and languid until activated by a camera's flash. In one image, a plane sits on the tarmac, its staircase extended, an ambulance parked outside, gurney at the ready. The scene recalls another in SOS (2021), which was on view over the summer at the New Museum. The sick man in that video, to whose eyes false tears are applied, even wears a swatch of the same hospital gown as Peak Heaven's patient. Crucially, illness is not a metaphor, but a persistent state of affairs.
The figurines Strafer has previously cast in her work are typically miniature, sometimes the subject of manipulation by large, aged hands. Here, life-sized dummies and mannequins are the soft targets for a woman's retribution, her handgun's laser sight finding their distended faces one by one. There is something of Greer Lankton's gaunt dolls and Todd Haynes's lacerated Barbies in the bloodline. Likewise, the outrageous make-up and masks recall Harmony Korine's Trash Humpers (2009) or the videos of Ryan Trecartin, although Strafer's action is mostly subdued, rather than manic.
This is the artist's first solo exhibition, following last year's web-based project, No Bag, hosted by Participant After Dark (the gallery's pandemic-ready virtual program). With a greasy or gangrenous hand for a cursor, the visitor probes a collection of vessels and baubles for recordings, drawings, jokes, and user surveys (89% of respondents have agreed that "Opting out should be free and legal"). Peak Heaven represents both an increase in production value and a narrowing of scope for Strafer, who continues to fabricate scenes of trial and trauma with a caustic absurdity. Interposing the opiate of self-distraction and the catharsis of self-annihilation, she maintains the righteousness of both.
Jordan Strafer: PUNCHLINE is on view at Participant Inc. through February 20.