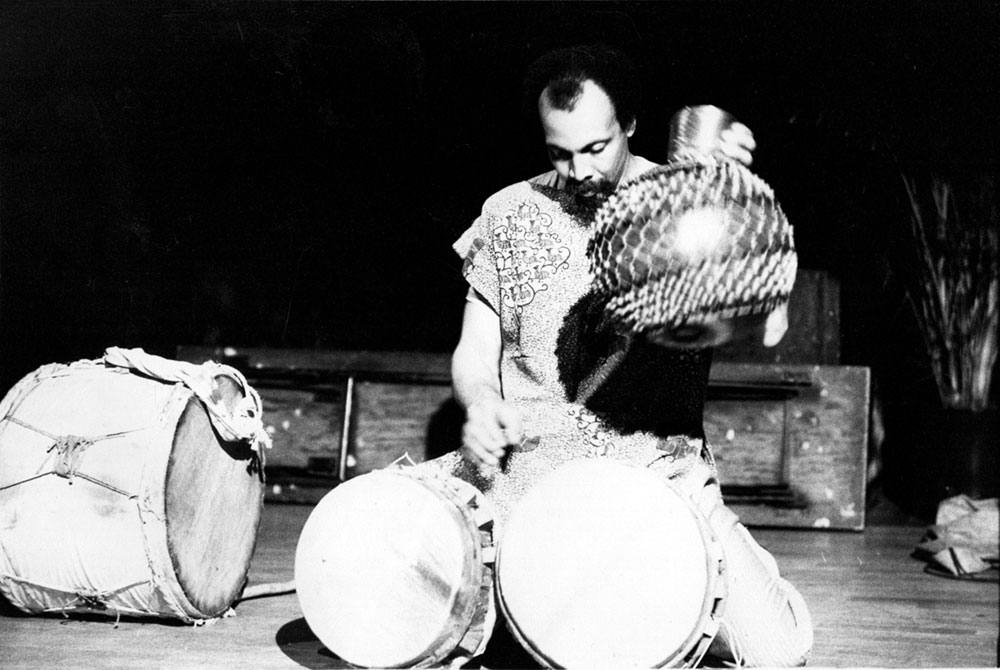 January 4th 2022
A Queens-born artist and revolutionary drummer who made formative contributions to the free jazz movement, Milford Graves was less interested in keeping time than in liberating it. His expansive curiosity about sound and healing led him to study heart rhythms, botany, martial arts, acupuncture, the cosmos, and the interrelationships between them all.
In an exhibition at Artists Space, we encounter Graves's freedom as a humming presence. The retrospective includes a collection of the costumes he wore and the percussion instruments he decorated and played, footage of his performances and happenings, his artwork, and related ephemera.
A series of live events featuring Graves's fellow musicians and admirers is presented alongside the show at Artists Space, and on the exhibition's website. An extensive companion to the show, the website features videos that range from Graves's demonstrations of acupuncture technique to his lectures on herbalism. In Heartbeat Drummer (2004), a short documentary piece, we see Graves in his home in Jamaica, Queens, recording the heartbeat of a friend and playing a musical accompaniment.
In much the same way that Graves's music reflects the Zen attitude of the "beginner's mind," his visual work scrubs the eyes until they are fresh and tingling. In the gallery space, drums, shouts, and murmurs echo throughout. Video monitors display men sparring and dancing, and Graves munching sweet peas directly off a bush in his garden. In Cosmos 5 (2017), a multimedia sculpture, an anatomical model of the human head rotates on its central axis; a metal figurine beats a drum inside the model's brain.
Graves bent technology to his hand and heart. In two untitled works on paper from 2020, buzzing lines, faces, spirits, computers, and electromagnetic fields appear intertwined. Analog systems become digital, and digital systems become analog. For those who are fearful—of technology's encroachment, of violence, of a world without a spirit—Graves offers relief. What once felt dry as a bone begins to take on the rich ooze of marrow.
In Graves's treatment, harm becomes nourishment, and beginnings and endings come closer together, mingling. He craved movement and confrontation, even devising a martial arts practice that he called Yara, after the Yoruba word for "nimble" or "flexible." As the great dance improviser and Graves collaborator Min Tanaka said in a recent interview with the Artists Space curators, "by being present in the world with the whole body," Graves conveyed "the history of the swarm of life."
Milford Graves: Fundamental Frequency is on view through January 15 at Artists Space and online.