Featured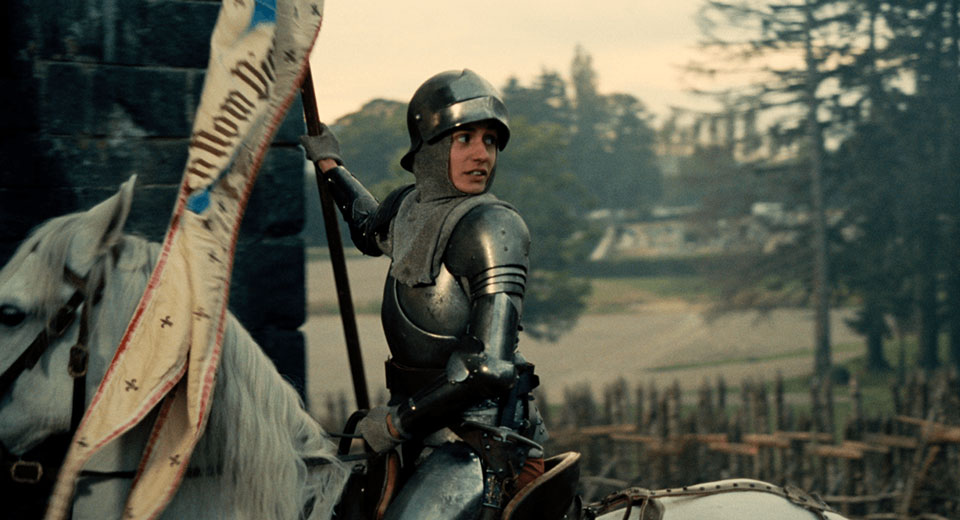 August 4th 2019
In Jacques Rivette's diptych retelling of France's most storied saint, Sandrine Bonnaire astounds as a restless, credibly teenaged Jeanne d'Arc. Together, both films, Joan the Maid: The Battles and Joan the Maid: The Prisons, run over five hours, making the endeavor Rivette's second longest, trailing only the notorious 13-hour length of Out 1. Yet Rivette's probing camerawork and Bonnaire's mesmerizing intensity make the hours skirt by, making for a viewing experience far less torturous on the ass than anything with Dwayne Johnson in it. The first entry finds Jeanne steadfastly clawing her way toward Charles VII of France so she can offer him her divine mandate to lead the fight against English on his behalf. The second half concerns Jeanne's battlefield victories and subsequent capture, trial and execution. Quad Cinema is screening the pair both separately and as a double feature this week, though the only sensible option is the latter.
Incredibly, Bronnaire is every bit the equal of Maria Falconetti's silent, beatified turn as the Maid of Orléans in Carl Dreyer's The Passion of Joan of Arc (1928), a performance with a permanent place on University syllabi. Bonnaire's Joan is full of adolescent contradictions, most notably zeal and fear, making her as capable of ill-timed giggles as she is of berating her soldiers for blasphemy. She thrusts herself onto the frontlines of castle sieges, but welps in undignified agony after receiving a flesh wound. Similarly, she craves the battlefield even after the victorious king declares a truce, but weeps for the resulting heaps of corpses.
Rivette and cinematographer William Lubtchansky's endlessly tracking and panning camera resembles the decisive grace of tai chi as it shifts in delicate balance with the characters. They keep a distance from the proceedings, avoiding closeups in favor of wider shots involving the choreography of multiple characters across multiple planes. Beyond satisfying Rivette's perennial fascination with theatrical staging, this detachment deemphasizes Jeanne's religious rectitude and frees the film to chart her valiant struggles against institutions erected for and by powerful men. Rivette ironically puts some of these men onscreen to narrate her quest while looking directly into the camera, sounding simultaneously astonished and forlorn at a teenage girl's accomplishments.