Featured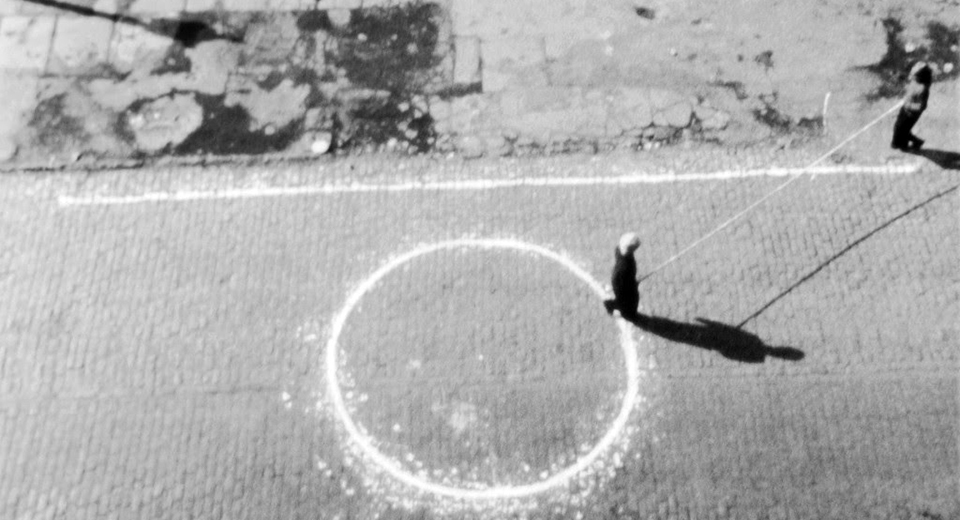 September 17th 2017
Tonight, Anthology Film Archives will screen new 16mm restorations of two of Joan Jonas's earliest film works—"Wind," from 1968, and "Songdelay," from 1973—along with three other short films (two of which she made in collaboration with the artist Richard Serra). In "Wind," which was Jonas' first film, we watch the figures of a man and a woman—both dressed in coats covered with a patchwork of tiny mirrors—shuffle hand-in-and across a frozen lake. Elsewhere, sub-zero winds antagonize four young women huddled together on an empty beach. Shivering, but with smiles on their faces, the women pass their winter jackets back and forth, until eventually the two groups meet and enact a stumbling dance.
"Songdelay" resembles the live performances that Jonas began staging in the early 1970's in the then derelict lots and empty cobblestone streets of the Lower West Side of Manhattan. As she has explained them: "Performers stood at different distances from the audience and clapped blocks of wood together over their heads. The farther away, the greater the sound delay." In the film iteration, we see black and white images of the performers clapping their wooden blocks as rusty freight ships pass behind them in the shipping lanes that once encircled Manhattan. We catch a glimpse of two of the performers (Gordon Matta-Clark and Steve Paxton) standing around chatting about the impossibility of keeping up a vow of silence in the city. And in other scenes, performers (one of them Jonas herself) play with props like a large metal hoop, more mirrors, and long strips of bamboo. The impression one gets is of a group of poor, young artists at play in a city whose neglectful conditions provided them with their materials and the space to use them. In Jonas' words: "It was a different time."
Jonas began her artistic life as a sculptor, but, under the influence of relative contemporaries like Yvonne Rainer and Robert Rauschenberg, and the tendencies that would later be called land art and minimalism, she quickly turned to performance, which at the time had no official name and no standard operating procedures. Simultaneously, she also turned to cinema, and both "Wind" and "Songdelay" are evidence of just how simultaneous those two discoveries were. To be clear: neither film is documentation of an otherwise self-contained performance. As much as they might resemble the intimate, no-budget spectacles that Jonas and her friends were staging live for an audience downtown, the films are what they are because they are films. By the time she made "Wind," Jonas was already as curious about the language of cinema and the camera as she was about the possibilities of performing. What film offers is the cut, the ability to rearrange records of time. And Jonas uses it for an opacifying effect that turns her performers into characters without names in a story with no plot other than their movements.
Run, squat, lift, spin, clap is the story. And it is a story. Nothing else is needed.