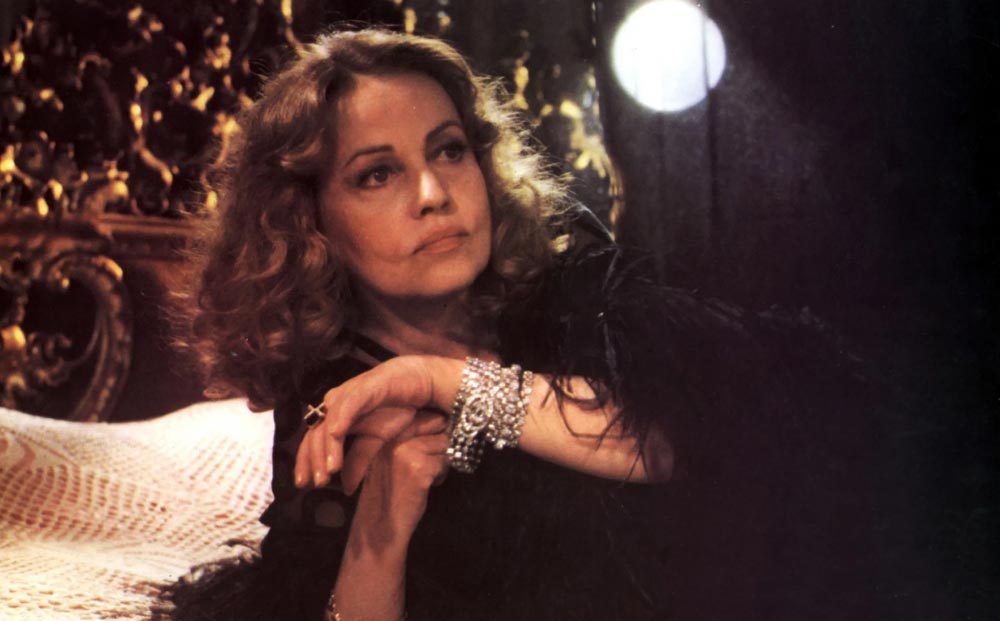 March 17th 2023
"Deceptively simple" is how Studs Terkel aptly characterized Jeanne Moreau's second film The Adolescent (1979) in a discussion during that year's Chicago Film Festival. The "signal star" of the French New Wave, Moreau had an illustrious three-decade career in front of the camera before directing two long-underseen features and a documentary that tenderly center female experience: Lumière (1976), The Adolescent, and Lillian Gish (1983). Moreau was adamant that a great director, like Jean Renoir, cannot pass judgment on their characters, and her films bear that out, giving women's stories space to breathe.
Moreau described herself to Terkel as "profoundly French," and her directorial debut, Lumière, falls squarely within the French cinematic tradition of self-exploration. Moreau directs herself in Lumière as Sarah, an aging, decorated actress (much like the director herself) who is navigating the end of a relationship with a much younger director, the beginning of an affair with a much younger German writer (a baby-faced Bruno Ganz), and the untimely death of the one man in her life, paternal Gregoire, who demands nothing from her. Surrounding Sarah are three other actresses: Caroline (Caroline Cartier), saddled with an angrily insecure screenwriter boyfriend; Julienne (Francine Racette), dealing with a lovelorn ex and custody arrangements for their young son while dancing around the advances of her new director; and Laura (Lucia Bosè), Sarah's best friend of many years, a mostly retired Italian actress who is tired of being "my father's daughter, my husband's wife, my son's mother."
The critic Robert Christgau wrote that Lumière is "a film that never states clearly where its main action lies," but that isn't really true. Its main action lies in Sarah's relationship with these four women; the film even starts post-facto, with an idyllic scene at Laura's Italian estate a year after the events that make up the plot, to show the warmth and tenderness they feel for one another. It's an immediately immersive scene, with the women swimming in a stone pool, flying kites, drinking wine, reading in hammocks, and talking about everything: their first French kisses, catching your parents in the act as a child, and wanting it all. The plot, Moreau suggests, is secondary to the fact that all four women make it out of their situations alive and well, and yearn for the balm of each other's company.
Moreau's second film, The Adolescent, is the compassionate, perceptive story of Marie, twelve years old in the summer of 1939 as she and her parents spend the summer at her paternal grandmother's rural country inn. Moreau told Terkel that though the film is not her own story, she was inspired by her childhood growing up in a hotel ("When the rooms were full, I had to leave!"). It's an eventful summer for Marie; she falls in love with the new doctor in town, is (thankfully) rejected, and sees her mother instead begin an affair with him. Marie, the only child at the inn, learns about the world of sex and love the way many precocious children do: through eavesdropping and thoroughly misunderstanding what she hears. After proclaiming her undying love to the doctor, he gently insists: "Marie, you're a little girl." Moreau understands that this is the worst insult you could throw at a twelve-year-old in love: "No! I'm a grown-up!" Marie yells in response, knowing deep down it's a lie. Laetitia Chauveau (in her only film performance) is pitch-perfect as Marie, combining the petulance of a teenager with the straightforward curiosity of a child, the scowl on her face still full with baby fat.
The French countryside doesn't need much help to look beautiful onscreen, but Moreau clearly loves the setting, surrounded on all sides by dormant volcanoes. Marie's wise, patient Mamie (Simone Signoret) explains what she can to Marie: that nature is violent as well as beautiful. In the film's most dreamlike sequence, Mamie teaches Marie a moon magic ritual and makes her promise that, after Mamie's death, Marie will continue to cultivate the witch inside of her. The Adolescent is a film of cycles: the moon, the harvest, global wars, Marie's first period, knowledge passed down between women. Moreau described her view of life to Terkel as "a river flowing by," a continuous stream that's always moving, always changing. This summer is the end of an era for Marie and all of France; while Marie learns how women negotiate their way through life, the world is on the verge of war.
Compared with Moreau's features, her hour-long documentary, Lillian Gish, is a more straightforward beast. During a rare filmed interview with "the delicate child of silent film," Moreau is interested in tracing the lineage of the movie star, beginning with Gish and running through her own experiences on screen. Though the conversation unfortunately revolves almost entirely around Gish's work with D. W. Griffith (the apolitical nature of their discussion hasn't aged well), there are some delightful anecdotes about Lillian and her sister, Dorothy, getting into theater, then the burgeoning movie business; Gish wasn't impressed when actor John Gilbert fell in love with her because "he chased every skirt, that was no compliment," and she only got The Scarlet Letter (1926) made after she promised churches and women's clubs she would be the one in charge. Moreau is clearly star-struck throughout, a sweet counterpoint to the image of a self-assured auteur elsewhere.
Richard Brody noted in 2017 that Moreau's strength as a director was capturing "the essential cinematic power of mere being, the emergence of character in presence, of energy in repose." Marie's emergent sexuality and Sarah's strong-willed independence are given an empathetic touch by Moreau. In her films, women are portrayed differently such that they might actually be seen differently.
"Jeanne Moreau, Cinéaste" runs March 17–23 at Film Forum, all three films in new digital restorations.