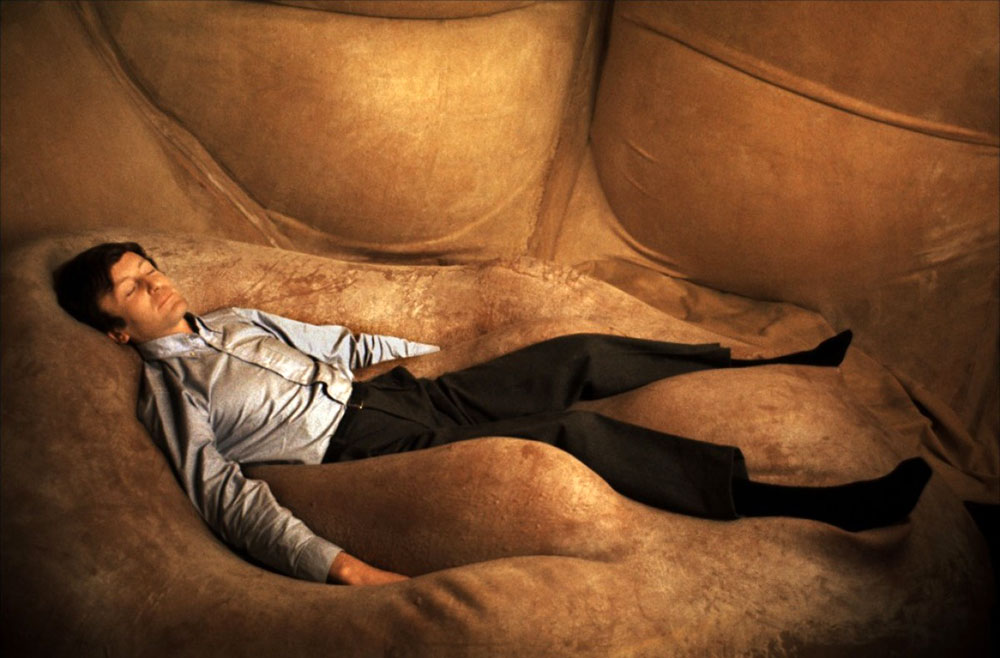 August 15th 2022
Nietzche once morbidly asked his reader, "What if a demon crept after you one day or night .‌ . . and said to you: 'This life, as you live it now and have lived it, you will have to live again and again, times without number?'" Intellectual dirtbag Claude Ridder (Claude Rich) involuntarily takes on this challenge in Alain Resnais's Je t'aime, je t'aime (1968). Following up the Left Bank auteur's time-and-trauma trilogy—Hiroshima, Mon Amour (1959), Last Year at Marienbad (1961) and Muriel (1963)—and the political experiments of La Guerre Est Finie (1966) and Far From Vietnam (1967), the director's sole stab at sci-fi pushes his formalistic rigor to the breaking point, causing him to surrender a commitment to structure for freer orientations.
Where Resnais's previous investigations into the rhythms of life behaved like classical compositions, Je t'aime, je t'aime plays like jazz as it skips through time. Extracted from "a little mountain of 800 pages" haphazardly, but diligently, penned by screenwriter Jacques Sternberg over the course of five years with the original intent of creating "an elastic film which would … last twelve or twenty-four hours," Resnais's abridged translation to the screen sees him continue to challenge the conventions of narrative filmmaking while rethinking man's relationship to the ineluctable passage of time. Claude, recovering from an attempted suicide, decides to partake in a time-travel experiment that has only been tested on mice, which requires that he cocoon himself inside an amorphous blob resembling an overgrown garlic bulb. After the experiment inevitably goes awry and Claude is forced to relive his life in random succession, Resnais begins to indulge his most madcap delights, arranging Sternberg's quotidian fragments into a jumbled musing on memories and love.
The furious flurry of Resnais's storytelling lays evident how his syncopated configurations would ripple across time, particularly how they would inform philosopher Gilles Deleuze's synaptic understanding of cinema as "a flickering brain." Cutting straight to the point and making the navigation of time and memory the central conceit of Je t'aime, je t'aime after obliquely addressing such themes over twenty years of filmmaking, Resnais produces a living brain before the screen; consciousness unraveled in swelling strokes of joy, sadness, and insignificance that tessellate into a perfectly puzzling portrait of humanity.
Je t'aime, je t'aime screens through August 23 at Film Forum as part of the series "Alain Resnais 100."