Featured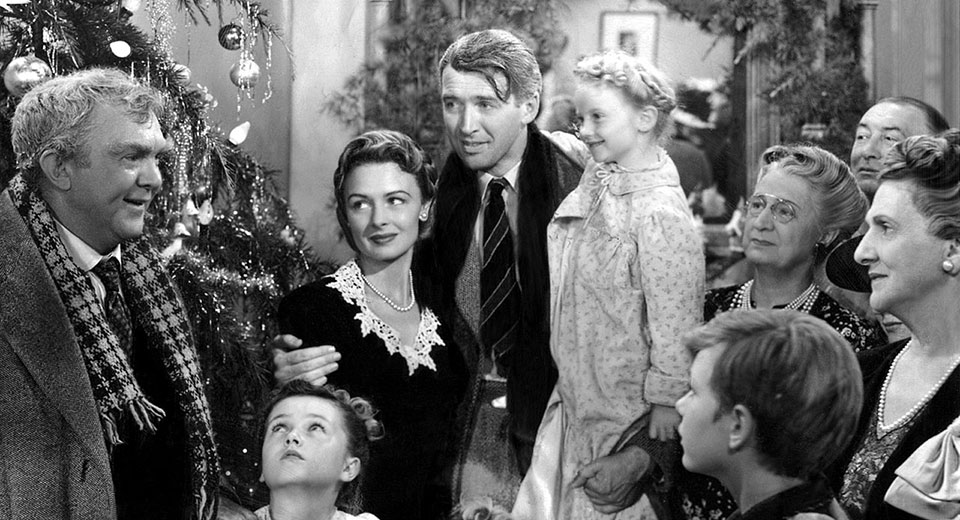 December 24th 2019
It makes sense that It's a Wonderful Life (1946) was director Frank Capra's favorite. It embodies the idea that a collective derives its strength from the singular contributions of its members, a notion that a one-time union president and US Army major like Capra would have held dear.
The film opens with a strangely corporate Heaven, where a senior executive angel is briefing a junior partner angel about troubled mortal George Bailey (James Stewart), condensing his life story into a compilation of traumas (little George saving his brother from drowning, his alcoholic employer beating him, his dad dying from a stroke). The junior angel is then sent to stop adult George, rendered desperate by the sudden disappearance of his family business's liquid assets, from throwing himself off a bridge. To convince George that his life has value, the angel shows him what Bedford Falls, NY, would be like without him: downtown is filled with loud bars, public services have been privatized, and whatever social safety net they had has been gutted so that everyone has to rent out their apartments to strangers and hustle 24/7 to eke out a living. Touch a nerve?
Is It's a Wonderful Life propaganda against capitalism, like the FBI thought when they investigated screenwriters Frances Goodrich and Albert Hackett for regularly lunching with "known Communists"? Or is it a prospectus for a gentler, more human capitalism, as Pamela Hutchinson wrote in a BFI tribute for the film's 70th anniversary? Capra, who considered himself a radical individualist and was certainly no pinko, decades later admitted, "That's the trouble with capitalism. Things own you." But It's a Wonderful Life is not just about wealth redistribution or holiday cheer, it's also about mental health. Local oligarch Mr. Potter (Lionel Barrymore), the "richest and meanest man in the county," may be a Dickensian caricature and the film's morality might lack gray tones, but George represents a nuanced study in high-functioning chronic depression, with his lashing out and his postwar masculine tendency to swallow his emotions rather than admit he has any.
In a film rich in wise words, my favorite ones are delivered by the Bailey family's maid, Annie (Lilian Randolph), the film's only non-white character (not counting Bedford Falls's Italian immigrant community). When the Bailey boys are running amok, she quips, "That's why all children should be girls," earning her the further honor of being the only radical feminist in Capra's Christmas classic.