Featured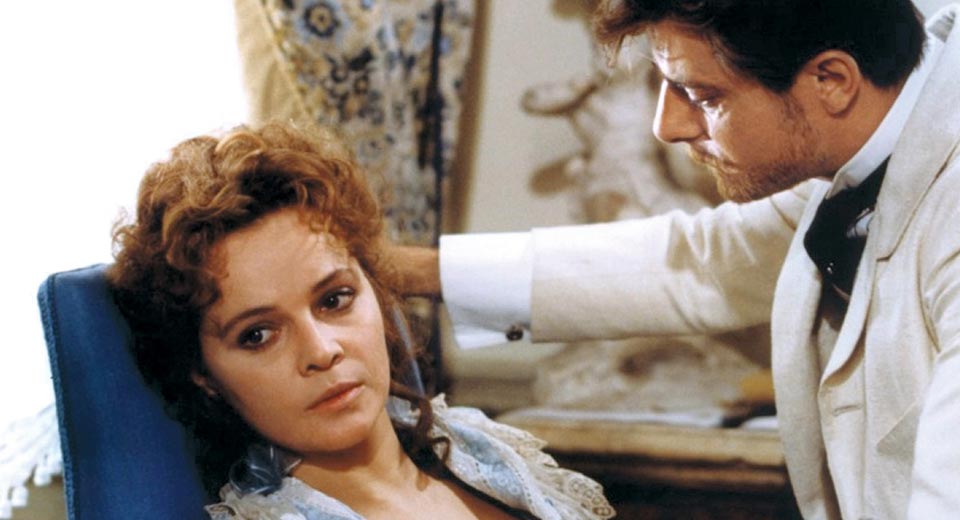 June 11th 2018
As Lincoln Center's program notes point out, Luchino Visconti was filled with contradictions. A Fascist in his youth, he converted to Communism in his early thirties; born with the title of count, he started his filmmaking career as a neorealist; openly homosexual, he remained a Catholic his entire life. His last film, The Innocent (1976), is a fitting piece of punctuation at the end of the sentence that was his life—an interrobang, or maybe an ellipsis made of three exclamation points.
The Innocent is a classic drama of adultery and jealousy: Giancarlo Giannini (of Lina Wertmüller's sex comedies The Seduction of Mimi, Swept Away, and Seven Beauties) plays Roman aristocrat Tullio Hermil, whose wife Giuliana (Laura Antonelli) knows about his affair with Countess Raffo (Jennifer O'Neill) and is having a fling of her own with lauded novelist Filippo D'Arborio (Marc Porel). The Hermils provisionally rescue their tumultuous relationship by agreeing that marriage is ultimately about common pecuniary interests, but it quickly takes a less rational turn. Tullio is gripped by murderous jealousy, and his pseudo-Nietzschean (a)morality lets him act on it without regret. The whole thing unfurls in the gardens and drawing rooms of opulent villas, bedecked with ornate wallpapers and lace curtains, decorated with oval-framed portraits and marble-pedestaled busts, and furnished with four-poster beds and candelabras.
The setting is familiar from Senso (1954) and The Leopard (1963): the world of the waning Italian aristocracy, the world into which Fascist author Gabriele D'Annunzio—on whose 1890 novel The Innocent is loosely based—was born. The character D'Arborio is clearly a stand-in for D'Annunzio, his novel La fiamma an analogue for D'Annunzio's Il fuoco. Tullio calls D'Arborio "pompous and emphatic," a criticism shared by Visconti himself, who considered L'innocente a mediocre work; but as he told an interviewer, "great films are not born of great books." Tullio's jealous relationship with his wife's bastard child could apply equally to Visconti's relationship with his source text: "Children belong to those who raise them." Being burdened with another person's creation then having to give it your name, oversee its development, and be blamed for its flaws—are these not responsibilities of the director of a literary adaptation, just as they are those of an adoptive parent?
"The Earth is my fatherland," says Tullio the atheist. "My story begins and ends here." Visconti's life ended here as well, but posterity gave him an afterlife.