Featured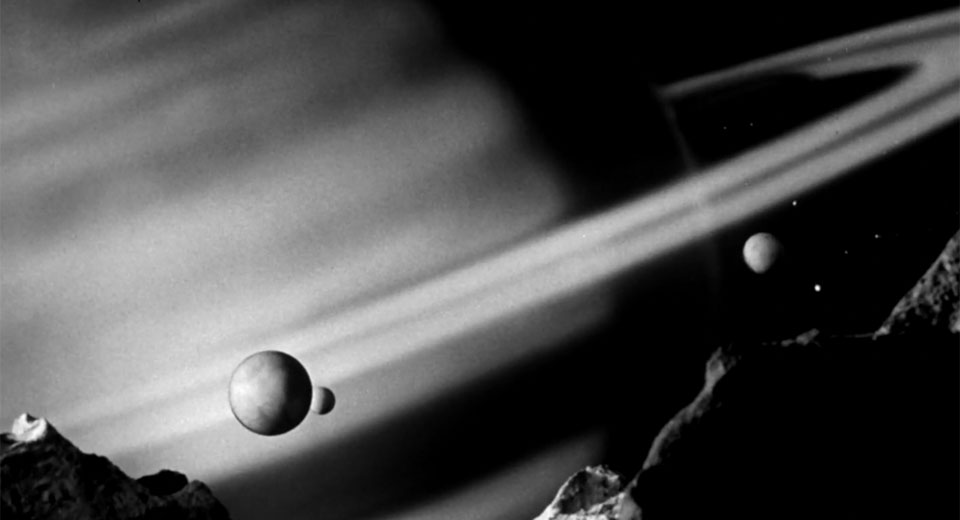 January 18th 2020
Perhaps the only film that could justify an entire museum exhibition, Stanley Kubrick's 2001: A Space Odyssey (1968) is cinema's grandest vision of humanity's place in the cosmos. For the next six months, the Museum of the Moving Image has imported Deutsches Filminstitut & Filmmuseum's exhibit Envisioning 2001: Stanley Kubrick's Space Odyssey, which puts Kubrick paraphernalia, research, concept art and props on display alongside 70mm screenings of the film itself and a companion series of screenings featuring films that inspired "the ultimate trip." Among the latter will be no-brainers such as heady sci-fi forerunners Metropolis (1927) and The Day the Earth Stood Still (1951) as well as more intriguing influences such as Kubrick's all-time fave The Earrings of Madame De… (1953) and Wild Strawberries (1957). The most tangible influences on 2001, however, can be found in today's 75-minute program of documentary and avant-garde shorts that shaped the tone and look of his masterpiece to an astonishing degree.
No single film influenced 2001 as much as Colin Low and Roman Kroitor's Universe, a short 1961 documentary produced by the National Film Board of Canada. In addition to hiring the film's narrator, Douglas Rain, to voice HAL 9000, Kubrick also hired one of the film's effects artists to build models for his film. Most crucially, though, we can see from its opening frames an algebra between sound and image that suggests the impossible scale of their subject matter. It doesn't take especially discerning eyes and ears to detect the imprint Universe would leave on Kubrick. Before you see anything, you hear the titanically huge timpani. As a starfield fades into view, the heraldic brass swells upward. It's not Richard Strauss, but the resemblance is uncanny. Despite a since-debunked declaration of vegetation on Mars, Universe remains an astounding educational document of space that uses brilliantly detailed models and relatively simple photographic tricks to illustrate colliding galaxies and lunar surfaces that embarrass modern CG renderings.
Elsewhere, Scott Bartlett's harrowing film/video hybrid OffOn (1968)clearly inspired Dave Bowman's psychedelic eye closeups, while John Whitney's Catalog and Jordan Belson's Allures (both released in 1961) sublimely present abstract arrays of color that distinctly prefigure Kubrick and effects supervisor Douglas Trumbull's Stargate sequence. The latter pair's cribbing borders on thievery of the kind that supposedly only great artists commit. Kubrick's undeniable brilliance has often been considered sui generis, but this roster makes the unimpeachable case that without these influences, one of the greatest works of film art would not look or feel as it does.