Featured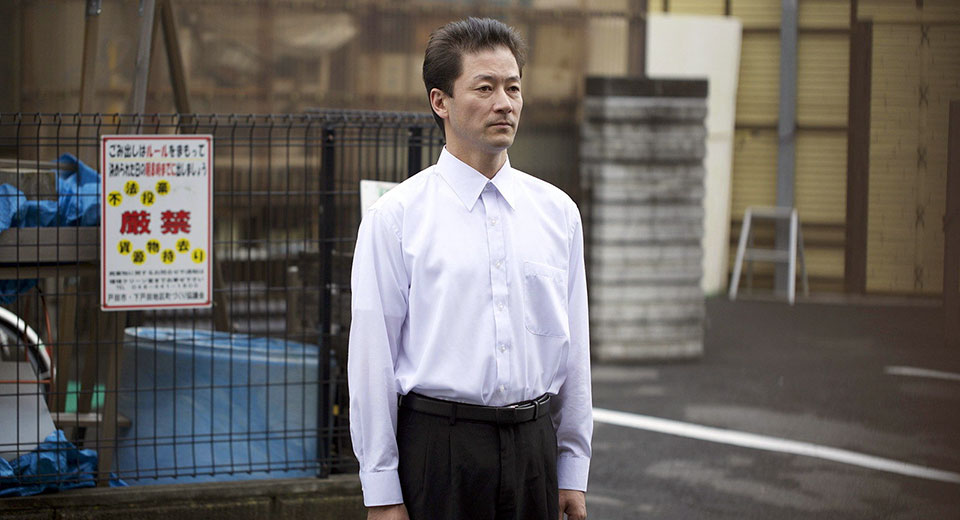 June 11th 2017
A year after his Un Certain Regard Jury Prize win at the 69th Cannes Film Festival, director Koji Fukada's latest feature Harmonium gets a theatrical run at Film Society of Lincoln Center. A welcome addition to the incredibly limited roster of Japanese filmmakers that get U.S. theatrical distribution, Fukada joins of the ranks of established auteurs like Kiyoshi Kurosawa and Hirokazu Koreeda, both of whom had new films run in NYC within the past year.
Described by the filmmaker as a companion piece to his 2010 satirical comedy Hospitalité, both films center around the psycho-social negotiations of a nuclear family ("an absurdity" according to Fukada) dealing with guests and intruders. Harmonium is the much darker, tragic side of the coin—an unsettling domestic thriller that methodically plays out the bleakest conceivable nightmares for a seemingly ordinary Japanese family negotiating their individual secret guilt and repressed desires.
We are introduced to Toshio (Fukada regular Kanji Furutachi) and his devout wife Akie (Mariko Tsutsui) living a rather humdrum life with their adorable and inquisitive daughter Hotaru (Momone Shinokawa). While working out of his garage, Toshio is unexpectedly visited by Yasaka (Tadanobu Asano), a former friend just released from prison who appears like an apparition in a starched white shirt and a blank expression. Yasaka is immediately offered a room and a job with Toshio, to the curiosity of Akie, who shows initial misgivings but is quickly drawn in by the polite, odd mystery man when she witnesses him teaching Hotaru a song on the harmonium. As Yasaka is gradually made into a part of the family, Akie's curiosity develops into something much more involved—something which, without giving too much away, eventually leads to a shocking trauma.
The second half of the film, jumping forward eight years later, finds Toshio and Akie living under the shadow of their actions, tortured by their secrets and its consequences. Meanwhile, Yasaka exists on the periphery, haunting both of them to the point of becoming a mythological being. It's here that Fukada takes some of his bolder, more unexpected narrative choices, exploring the obsessive madness left in Yasaka's wake and approaching something like psychological horror. Among the film's excellent performances, Mariko Tsutsui deserves extra praise—burdened with the task of playing a woman who physically and mentally unravels over time, she consistently manages to humanize Akie's fractured interiority and erratic behavior, even when she decides to take the film to it's horrifying, irreversible conclusion.