Featured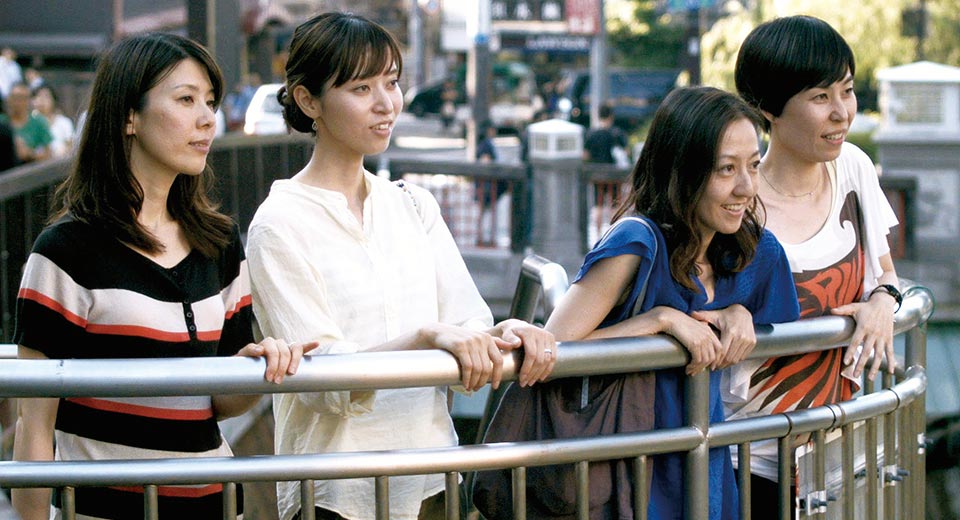 August 26th 2016
Ryusuke Hamaguchi's Happy Hour begins with the image of four women sitting at a picnic table on the top of a mountain where they have come to admire the view. It is raining, and as the women unpack their beef cutlet sandwiches and rice balls one of them points at the entirely cloud-covered skyline and explains that this is just what it's like to be a middle-aged woman: there is nothing on the horizon, no view, there are only flat grey clouds obscuring everything. 
The film, set in the coastal city of Kobe, follows these four women, all of them friends, who, as they draw closer to middle-age, begin to find themselves on the verge of something that could be collectively categorized as a crisis. Anyone familiar with the history of Japanese cinema will immediately recognize the milieu of women struggling with marriages, divorces, children, and work. But Hamaguchi, along with the four lead actresses—who deservedly shared the best actress award at the Locarno Film Festival—push the traditional image of the strains of working and middle-class life to a breaking point that feels both entirely within the lineage of masters like Mizoguchi, Naruse, and Ozu, while simultaneously existing as an entirely unique portrait of the fragility of modern Japan.
The most talked about aspect of Hamaguchi's film has been its running time, which clocks in at roughly 5 1/2 hours. But, unlike so many other experiments with longer forms, Happy Hour shows no trace of using its duration as a conceptual object of fascination. The film's length does induce an intense way of looking that makes one instinctively or unconsciously memorize the subtle shifts in the gestures and daily routines that the camera captures. But the accumulation of these details only draws us further into the story in a way that makes every moment feel essential to the whole—which should erase any of our preconceptions that 317-minutes is too long for a movie to hold our attention That this is accomplished within the space of a reality that is so recognizable and familiar—and so easily dismissed—only makes one all the more aware that this film is the kind of expansive masterpiece that deserves a far wider release than it is likely to get.