Featured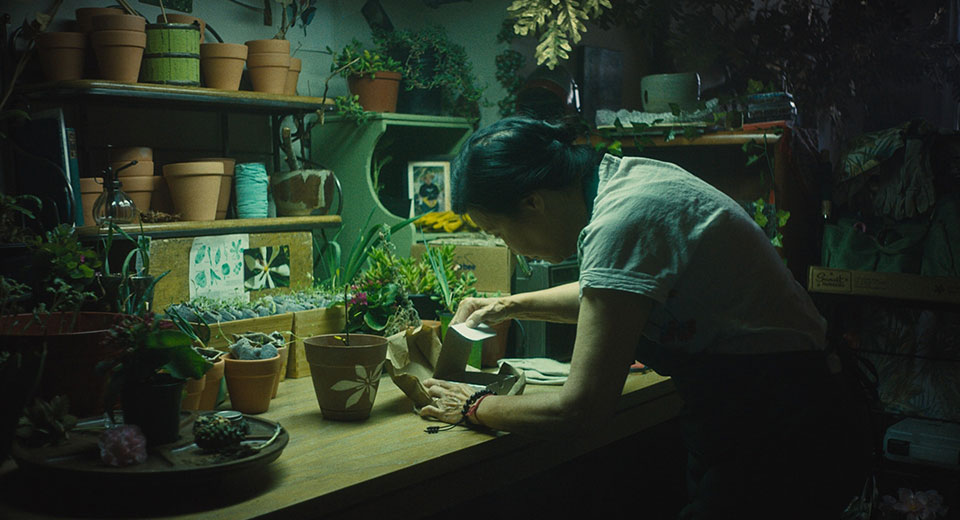 July 13th 2019
Happy Family Night Market is underway as of noon today. For its second instalment the fest has been transplanted from Brooklyn's 99 Scott to Manhattan's Abrons Art Center, an emigration to echo the trans-oceanic movement of its participants' parents and grandparents from Japan, China, India, Iran, the Philippines, Vietnam, and Korea. Founded by Phoebe Tran and Screen Slate's own Angeline Gragasin, the young festival is dedicated to showcasing Asian-American filmmakers, educators, comedians, artists, DJs, musicians, and chefs. I wish I could gush about this year's culinary offerings, which hail from establishments like Kopitiam, Kichin, Burrow, and Dawa's, but in accordance with Screen Slate's raison d'etre I've been limited to sampling the films.
Among the features and shorts I've had the opportunity to see, a number of distinct themes have bubbled to the surface. A big one is domesticity. Kimi Takesue's shimmering Hawaii-set documentary 95 and 6 to Go follows her amazingly spry 95-year old grandfather as he goes through the daily rituals of his seaside existence, from pushups and channel-surfing to tweezing his chin hairs and sifting through photos of his dead wife. The recent loss of grandma has obviously been a hard blow for the man. In flashbacks we see the two of them dancing salsa, tango, and rumba and singing along to Nat King Cole. Aging is also the subject of Wyatt Wu's bittersweet short Nai Nai,  in which a nearly century-old woman is tended to by a cadre of doting younger relatives. She may not remember who Hsiao-Bai, Ching-Hao, or Wei Wei are or why she's taken for a walk every day, but she can still wear stunner shades in church and fall into existential despair at her own body's refusal to die already. No English is spoken and you could be forgiven for mistaking the setting for a household in Taiwan if it wasn't for the Mizzou pennants adorning the walls. In Maegan Houang's stunning creep-horror short In Full Bloom, a plant-hoarding middle-aged shut-in finds a parcel on her doorstep containing stop-motion-animated worms. She places them in a pot of dirt, but soon the worms multiply, reveal supernatural strength, and start carrying all the woman's belongings into a growing hole in the middle of her living room floor. She defends her stuff but to no avail and ultimately dives into the abyss herself. It's Kiyoshi Kurosawa's Pulse meets David Lynch's The Grandmother.
Another major theme is, perhaps unsurprisingly, identity. In Kelsi Phung's animated short Les Lèvres Gercées, a teenage boy struggles with gender angst and his single mother's indifference. Mom takes no more than cursory notice until the boy's school calls her to report fights he's been getting into because of the "flamboyant" (read "gender-inappropriate") clothing he's been wearing. The boy's quietly desperate question that closes the film, "When I die, then can I be a girl?" stuns both the mother and the viewer. It shouldn't come to this, we think wishfully. (Suicide appears as a theme in Wu's and Houang's shorts as well.) Jeannie Nguyen's circa 1999-set First Generation is a study in body-image confusion. Its high-schooler protagonist is addicted to fashion magazines in which she sees an endless parade of blonde women in Revlon, Pantone, and TRESemmé ads, giving her perverse ideas about what she should look like. A scalp-burning bleach ordeal to rival Denzel Washington's lye-triggered road-to-Damascus moment in Malcolm X and the extreme closeups of our heroine's inflamed eyes as she puts in her blue contacts leave no doubt about the cruelty of these cosmetic interventions. Great late 90s style, I must say, from chokers and mini buns to skate shoes and wide-leg chinos. (Nostalgia is also a theme in 95 and 6 to Go, in which Frank Sinatra vies with Vietnamese crooner Duy Trác for memory-trigger supremacy.)
The last theme I'll mention is work. Jessica Kingdon's Commodity City offers a portrait of Yiwu International Trade City, the largest wholesale market in the world. It's a five-mile-long mall in which each vendor sits surrounded by an incomprehensible number of near-identical wares, from wall clocks, pens, and cell phone cases to Defa-Lucy dolls, plastic Christmas trees, and Leatherman knockoffs. Children play, watch movies, or eat KFC while parents stagnate in deadening boredom or engage in vein-popping arguments with parts-suppliers. In Monika Uchiyama's A New Use,  we get to see several generations doing their part to run a wax-manufacturing family business. Men pour talc into corroded extruders, women wrap finished bars, and everyone chews the cud. A meditation on work and its futility, aging and its inevitability, and the often opaque reasons we do something instead of nothing.
There's so much more to see, hear, and taste at Happy Family Night Market. I'll be there, and I hope you will too.