Featured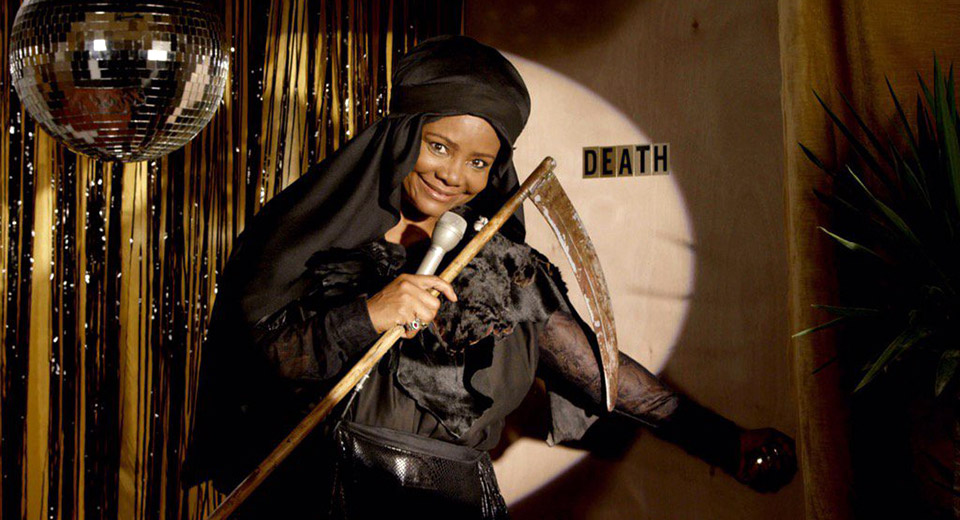 November 26th 2017
Flaherty NYC's fall series returns to Anthology Film Archives , and this year's selections meditate on the theme Out From Under. Programs explore the concept of 'underground' in all its permutations, including unacknowledged and undocumented labor, subterranean locations, and spaces of confinement and liberation. This screening is simply titled Program 5: Death , and examines the phenomenon as a solution, as separation, as gift, relief, and curse.
The stated screening order flows from a separation so blunt and sudden we're unsure who is alive and who dead, to frustrated helplessness, hope, understanding, and finally, acceptance. "Univitellen", literally 'same egg', has its characters bound but separated, simultaneously individuals and archetypes as nonlinearity and doubling turn their particular love story into a multi-generational abstraction. The lo-fi local access styling of "Everybody Dies" underscores the helpless horror of bearing witness to a vicious intensification Death herself is powerless to stop. "The Gatekeeper" is an odd title choice, as there's no gates literal or metaphorical at the Japanese cliffside park that's also a popular suicide destination. The retired officer patrolling for potential jumpers doesn't enforce, but engages with those he suspects are contemplating, going against the cultural opinion that if someone wants to die, he should let them.
The classic hitchhiking ghost story gets a feminist update in "Trail Of Hope"—instead of a prom or school dance, the young woman needs to take a university test never reached in life. The brightly colored figures trekking across the desert suggest there's more than one restless soul seeking peace. Shooting from the point of view of domestic objects, "Hoje, O Silêncio" turns a hospice worker into one herself, a clinical tool extending her client's life. Her caretaking turns into complicity as she internalizes his pain, but the responsibility for his suffering comes at her personal cost.
Heaven may be above, but Death is subterrestrial, burial and underworld. The five films in this program take place on an earthly plane (though aren't always on Earth), highlighting the very human suffering surrounding death's permanence and loss. Each shines a light on unheralded, sometimes unmourned, endings, demonstrating death doesn't happen in a vacuum, that its trauma is borne by the living. You could call them purgatorial.