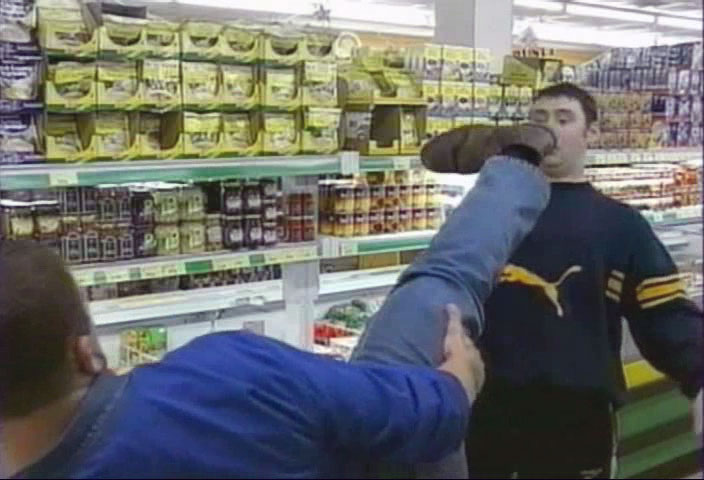 November 16th 2021
Action cinema is a genre teeming with David and Goliath tales, on and off the screen. We can count the origin story of James P. Bennett, aka The Meath Machine, among them. His humble origins were neither in the United States nor Hong Kong, but in Ireland—specifically, the small town of Trim in the eastern county of Meath, where he was reared and worked as a farmhand. Bennett's stated aspiration was to be the next martial arts superstar, on par with his hero, Jean-Claude Van Damme.
Under the impression that a few Hong Kong producers were interested, if only they could see some of his work on screen, the then 19-year-old Bennett set out to make a full-blown feature film with himself at the center. He roped in several friends and volunteers to help handle directorial, camera, and editing duties, including Simon Linscheid and later, when the production's original Hi8 camera was accidentally destroyed, wedding videographer Shay Casserley. Their efforts culminated in Fatal Deviation (1998): a homegrown Irish kung-fu film, an anomaly on an island whose prior history of action cinema was next to non-existent.
The film includes a mix of established Hong Kong and American genre conventions and a fair few eccentricities. James Bennett is Jimmy Bennett, a young martial artist fresh out of reform school, where he spent ten years following the mysterious death of his father and mentor. Now that he's back in Trim, Jimmy is on the hunt for the man responsible. Unbeknownst to him, the killer is local kingpin Loughlin (Michael Regan) who's riled by Jimmy's return and his pursuit of Nicola (Nicola O'Sullivan), the girlfriend of Loughlin's loose-cannon son Mikey (Mikey Graham). It all comes to a head at a local fighting tournament, which Jimmy enters under the tutelage of his father's old master (Johnny Murray), a monk of the Franciscan, rather than Shaolin, order.
When Fatal Deviation gets discussed, it is generally under the goading "so bad it's good" banner— unsurprisingly, given the film's rock-bottom production values (shot for 9,000 Irish pounds on Super VHS, a budget replacement for the banjaxed Hi8), tonal inconsistencies, and the exposed joins in its construction. There are moments where this proves an actual hindrance to enjoyment, yet to iron out these wrinkles would have rendered a richly specific and idiosyncratic cultural object plain and lifeless.
Fatal Deviation is both a grab-bag action movie and a ship in a bottle. It preserves the tatty fringes of late '90s "Celtic Tiger"–era Ireland, with sequences staged on country lanes, in the aisles of a Londis supermarket, and in a decrepit funfair. Loughlin's heavies are composed not of anonymous fodder but of the rural Irish lumpenproletariat: barrel-chested farmer's sons and greasy-haired ravers, delivering Bressonian performances with heavy, droll Meath accents. Regan, a non-actor, is remarkable, delivering his lines at the top of his lungs with strange, camp flourishes. He transcends his cookie-cutter role and places it firmly in an Irish context. Squint and you might perceive a reference to the then prime minister Bertie Ahern, or an extreme twist on the archetype, in life and in literature, of the country businessman, hopelessly corrupt and clammy handed. Graham, as Mikey, is also playing to the back row. The closest the film has to a star, Graham was then the least prominent member of popular boy band Boyzone. This was his first acting gig, an opportunity that arrived just when the group was drifting toward a breakup, so he has the air of desperation perfect for a coked-up failson.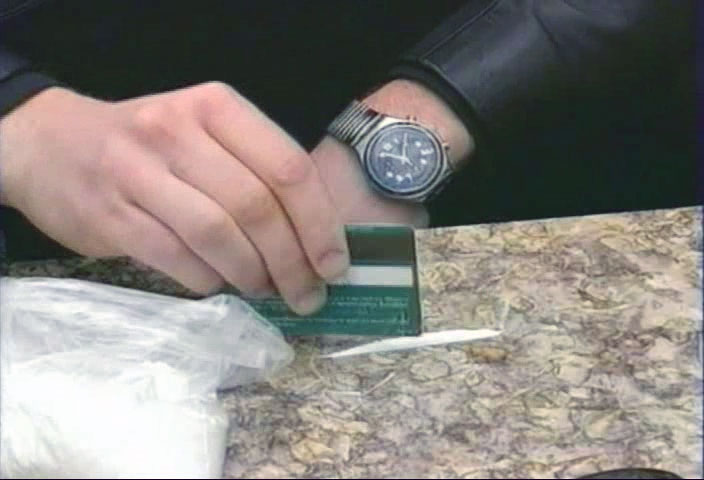 Bennett does not possess the photogenié of his hero JCVD, but there's a blunt-force magnetism stemming from his terse demeanor and blocky physique. He also has the fighting skills, mostly karate with a couple other moves peppered in, and the movie on the whole does not skimp on action. The film's charms are maximized in the climactic sequence, a great cover of the Hard Target (1996) motorcycle chase capped off with a bizarre bathroom farce and a real, unplanned car crash.
Meanwhile, in the significantly Irish-speaking region of Connemara, Galway, in the west of the country, a plan was afoot to put Ireland on the action film map. Founded in 1996, Concorde Anois Teo, an offshoot of Roger Corman's Concorde-New Horizons, was a result of the producer's hankering for a greater share of the European market, which coincided with an Irish government initiative to boost the national film industry. The dealmaker was the then Minister for Arts, now President of Ireland, Michael D. Higgins, who offered the land and financing for a studio in the significantly Irish-speaking region of Connemara, Galway, provided that the crews would be predominantly local. The dream was that what Corman had accomplished in the 1960s, laying the groundwork for a new American cinema, could be pulled off again, transpontine.
This did not happen, as neither the cultural conditions nor the resources were in place for a grand flowering, and the mostly absent Corman was not so lusty and ambitious by the '90s as he had been three decades prior. Instead, the company made five years' worth of unassuming thriller, action, and horror movies starring the likes of Louis Mandylor, James Marshall, James and Josh Brolin, David and Robert Carradine, and Don "The Dragon" Wilson. The venture drew to a close in 2000 following a local media furor over the movies' prurient contents and their contested "Irishness." The real killer, Corman's wavering interest, was more banal.
Moving Target (2000), the studio's final production, features Bennett in a small, uncredited part. The film is a slightly better-than-average entry into the Concorde Anois corpus. Its charms include some good action and a pleasantly ludicrous story (an IRA plot to steal the detonators for a nuclear device, hidden in a six-pack of Beamish stout), but it comes off as dry and frictionless next to a truly grassroots passion project like Bennett's Fatal Deviation, which is closer in character to other examples of outsider, regionalist art, like the original run of the County Mayo–set comedy series Hardy Bucks (2008-2011).
Fatal Deviation, now a cult item, went largely unnoticed upon its initial home video release. Bennett soon relocated to the US, where he initially worked in construction and martial arts instruction. By the mid-2010s, thanks to the recent wellspring of straight-ahead, direct-to-video action films, he had found a steady stream of stunt work and bit parts, including roles in four Van Damme productions. His standing within the international martial arts film industry is now secure, the first brick having been laid back in the old country with his hand-made labor of love.
Fatal Deviation is available to stream on YouTube.