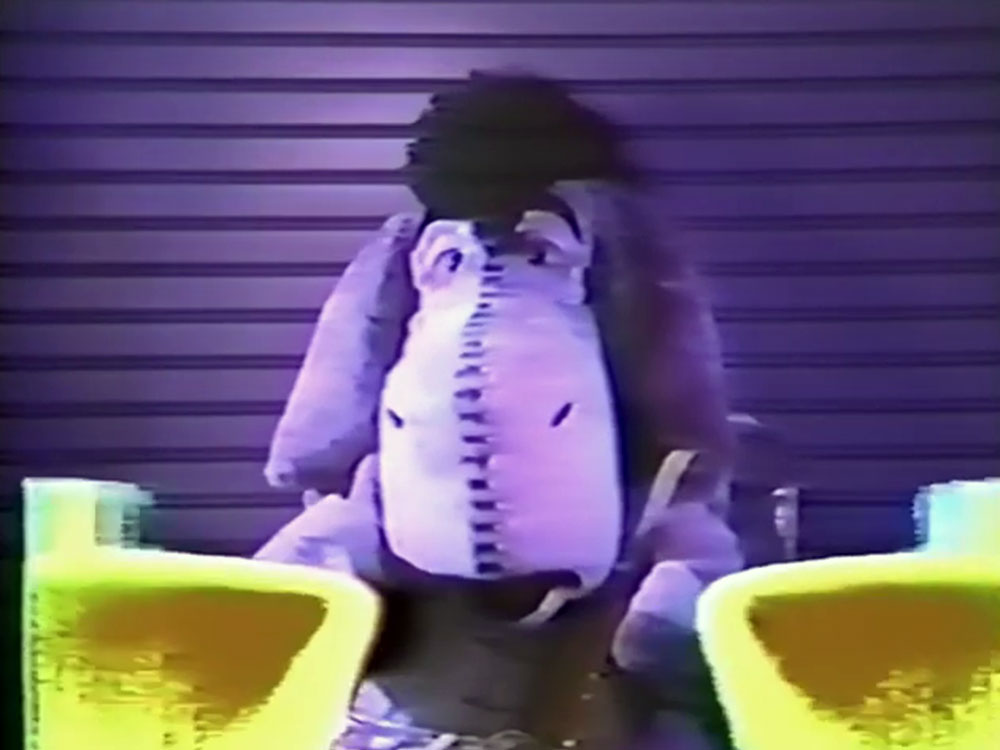 August 4th 2021
Now less of an urban legend than it was during my time as a Disneyland cast member, Captain Eeyore remains an insurrectional experience that satirizes not only the original Captain EO but critiques the dehumanizing labor conditions that come with working at the Parks. I first encountered the myth of Captain Eeyore, a video made by working cast members in 1987, while waiting in line for the staff preview of Captain EO Tribute in 2010. Following demands from the public, the Disney Parks had closed the Honey, I Shrunk the Kids attraction in their Tomorrowland/Epcot locations to restore Captain EO in memory of (recently deceased) Michael Jackson. Lacking its original 4D experience, Captain EO Tribute felt like an old relic of video technology come to life.
While in line, my colleague, Sarah Maldonado, recounted the myth of the secret VHS tape. Sometime in 1987, after an end-of-year cast party, one of the Space Mountain ride operators gathered multiple cast members from the Parades and Characters to recreate Captain EO on the basis of the original choreography of the centerpiece song, "We Are Here to Change the World," which he had imperfectly memorized while watching the film during his closing shifts. This parody was recorded but seldom seen. (Its origins remain shrouded in mystery. While I'm sure I could track down an original cast member, I feel that leaving Captain Eeyore's backstory somewhat ambiguous honors its game-of-telephone history.) I watched Captain EO Tribute that evening, and although I was appropriately dazzled, its twenty-five million dollar budget did not match the vivid imagery that the mere idea of "another" Captain EO film lurking in the shadows had conjured.
Over the next year, I repeated the legend to my co-workers, using gossip as a type of detective work — often to no avail — until one fateful shift in Fantasyland where I discovered its theater's previous life as Videopolis (1985-1989). Videopolis was a Disney attraction meant to capitalize on the lure of video culture, specifically music videos. It was also the site where the fateful Captain Eeyore was shot in sequence, overnight, through the early hours of the morning. The cast member who clued me in on this detail also invited me to a secret Facebook group page where a low-res copy of Captain Eeyore had been uploaded and circulated.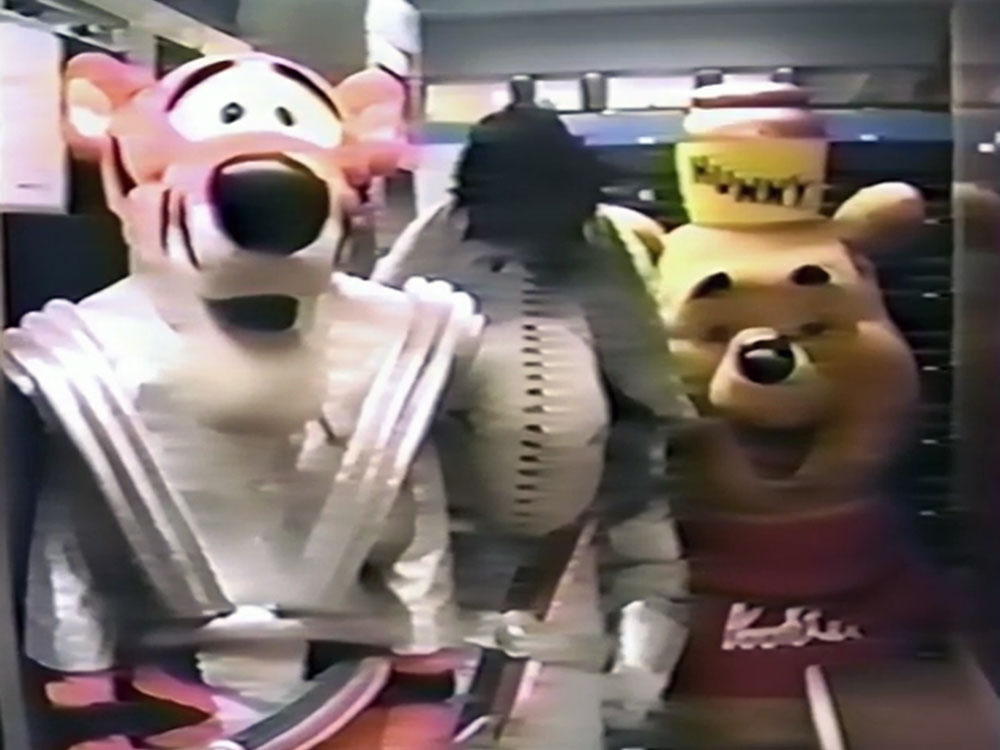 Captain Eeyore is a nearly shot-for-shot remake, with some noticeable differences (beyond budgetary constraints). For starters, our Captain EO is Eeyore, instead of Idy and Ody (the furry two-headed creature from the original) you have Tweedledum and Tweedledee, Major Domo is played by Tigger, The Supreme Leader (played by Anjelica Huston in the original) is played by a demoness Minnie Mouse (who transforms into Snow White by the end of "We Are Here to Change the World"), and Hooter is Pooter, a.k.a. Winnie the Pooh. Most of the character suits seem to be pulled from the Tomorrowland region as many of them are silvery and shiny — the 1980s version of "the future."
Despite being shot for approximately $25 million less than the original, Captain Eeyore appropriately enchants the audience with its limited technological achievements. Perhaps the cheap parody was more obvious to audiences in 1987, but in 2021 the differences between the two feel minimal. The 17-minute original remains the highest-cost-per-minute film in Hollywood history. Since the film was shot for Tomorrowland's 4D experience — which included synchronized lasers, smoke, and mist alongside its impressive 3D technology — the budget ballooned to astronomical proportions. Directed by Francis Ford Coppola and based on a script by George Lucas and Rusty Lemorande with music by James Horner and Quincy Jones, the Michael Jackson vehicle brought ambitious sci-fi movie-making to the Disney Parks. However, in its 2D iteration, screened once on MTV in the mid 1990s, the film's music video aesthetics become more prominent. Media scholar Carol Vernallis describes the music video format during this time as a creative free-for-all that enjoyed minimal interference from financiers and thereby developed an aesthetic uncommon to standard theatrical releases — a feature that both Captain EO and Captain Eeyore use to their advantage.
Sprinkled throughout Captain Eeyore are inside jokes that give insight into the often dehumanizing labor conditions cast members face at the Parks. In the climax, we hear a clever revision of the punishment decreed by the Supreme Leader to Captain EO and his crew for trespassing on her territory. Rather than turning them into a trash can, The Supreme Leader (the demoness Minnie Mouse) declares that they'll be turned into photo characters and that Captain Eeyore be sentenced to 100 years of purgatory at the "Inn Between," all while reprimanding them for sitting and talking in costume. (The Inn Between is the employee diner behind the Plaza Inn, notorious for guests bombarding cast members on their way to clocking out; the job of a photo character carries the unfortunate reputation for being a position in which cast members are casually assaulted by guests — sexually, verbally, or physically — with management rarely interfering for fear of breaking the "illusion.") These revised punishments disclose cast members' fraught relationship not only with their managers but also with the guests who often become foot soldiers of the Parks' mistreatment of their employees.
In the beginning of the COVID-19 pandemic, the public was granted a rare insight into how precarious Disney jobs could be when the Parks division laid off over twenty-five thousand employees — despite earning several billion in profit from their various enterprises that year. While initially audiences were disgusted by the announcement, many ran back to the conglomerate to enjoy whatever offerings they made available (including Disney World's suspicious and dangerously early reopening). Captain Eeyore is a parody by cast members for cast members that, until the Lake Buena Vista Historical Society restored it as a historical document, was repeatedly suppressed by the company. Disney constantly erases and regulates its own cultural footprint, creating a distinctly mediated history that favors corporate authentication over oral history and personal memory. By contrast, Captain Eeyore acts as a disruptive text to Disney's cannibalistic machinery and embodies a counter media position in its production and circulation. Its existence points to alternative histories of popular culture and to the critical value of pursuing documents that exceed a company's official records.
Captain Eeyore is available on YouTube.