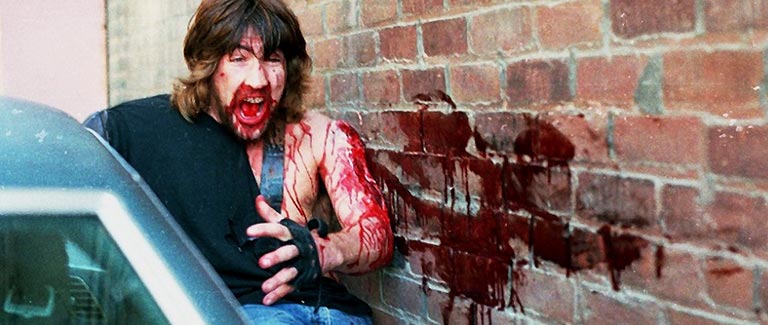 November 14th 2018
It's not difficult to get a lot of production value out of latex, corn syrup, leftover burger, and a pneumatic gun. With cheap special effects, horror has long been the domain of upstart genre filmmakers. But what about the action movie? Pyrotechnics, building scaling, fight choreography, car chases, exotic locations, and helicopters — surely these things are best left to the well-resourced professionals?
Undaunted, filmmakers hailing from Dayton, Ohio to Wakaliwood have risen to the task, and with violence-driven, no-budget spectacle, they've managed to imbue their defiant productions with, we daresay, auteurist sensibilities. This month, Alamo Brooklyn spotlights them in the series Homemade Action, programmed by Cristina Cacioppo.
From her shows in the Ocularis series at Galapagos, to running the film program at 92YTribeca, to her present position at Alamo, Cacioppo excels at programming that's unabashedly fun, eclectic, and rife with opportunities to indulge intellectual curiosity. She's a master of making unlikely associations seem common-sense — consider the inclusion of Herschell Gordon Lewis and Michael Bay side-by-side in the series Florida Bad — and bringing under-seen films to the fore, such as in a recent evening of first-shorts by renowned female filmmakers on 16mm at the New York Public Library. (Other longterm preoccupations she's pushed with a missionary zeal across microcinemas and multiplexes include Sylvester Stallone, Pumping Iron II: The Women, and the shorts of Anna Biller.)
Last week, Cacioppo and I sat down to discuss the series, and our conversation ranged from the nuts-and-bolts of programming, like formats and defining conceptual parameters, to debating the personal qualities of mainstream action movies and considering to the opportunity this series affords to place gender under the microscope. It's been edited for length and clarity.
JON DIERINGER: What prompted this series? Is it a concept you'd had in mind for a while, or is there a particular restoration that made it come together?
CRISTINA CACIOPPO: It was definitely Deadbeat at Dawn. That's a movie that I've wanted to show in some way or other for a long time, and there have always been limited ways to show it – or no way to show it – and so I knew that AGFA [The American Genre Film Archive] was going to have this DCP. I have always equated Deadbeat at Dawn, Flooding with Love for the Kid, and Combat Shock in this world of really personally made genre movies. Once I started to think about what I wanted to include, and what's available, it was really exciting.
It's weird, because this is the most DCP-heavy series that I've done, and that's just because of the availability of these things. Most have never really existed on release prints – the one print I have is Death Promise.
A lot were shot on video.
Yeah.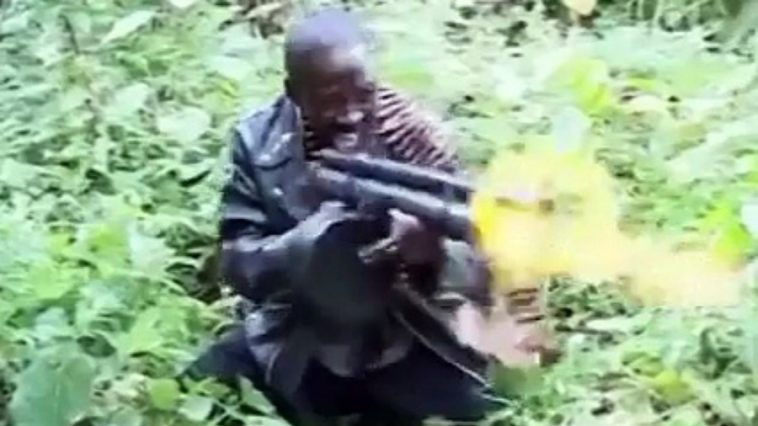 I think I heard Who Killed Captain Alex? only exists as a DVD rip, because the director had to delete his master to free up space on his computer.
We actually have a DCP, because they did something at the Alamo in Austin, and [the filmmakers] gave them a file. It's still very low quality, but they made it into a DCP, so it's not the same as what's on YouTube.
Oh really?
Yeah, it's in its "pure form." So, it really was about Deadbeat at Dawn. And I love these movies. I hope don't approach in a way where it's like, "Oh, these crazy movies are so stupid and so cheap." I genuinely think these are like masterpiece movies, you know?
Yeah. They're clearly really personal expressions. I was looking into James Robert Baker, who wrote and directed Blonde Death, and as I read about his upbringing, I was like, wow, he is Tammy [the film's teenage female protagonist]. And then obviously, Deadbeat at Dawn is a really personal movie for [director/star] Jim Van Bebber. Even though I don't actually know ninja star throwing gang members [author's note: as I spoke this, I blanked on my own years of studying strip mall martial arts], I know people like that character from growing up in Ohio. And you get the sense the filmmaker is that kind of character.
Yeah, absolutely. And it's a weird way of kind of exposing himself, but also creating this other thing where he's this tough motherfucker, you know? To make a movie in which you're in a graveyard throwing nunchucks around is really intense, and it's very revealing, probably in a way that he doesn't even realize.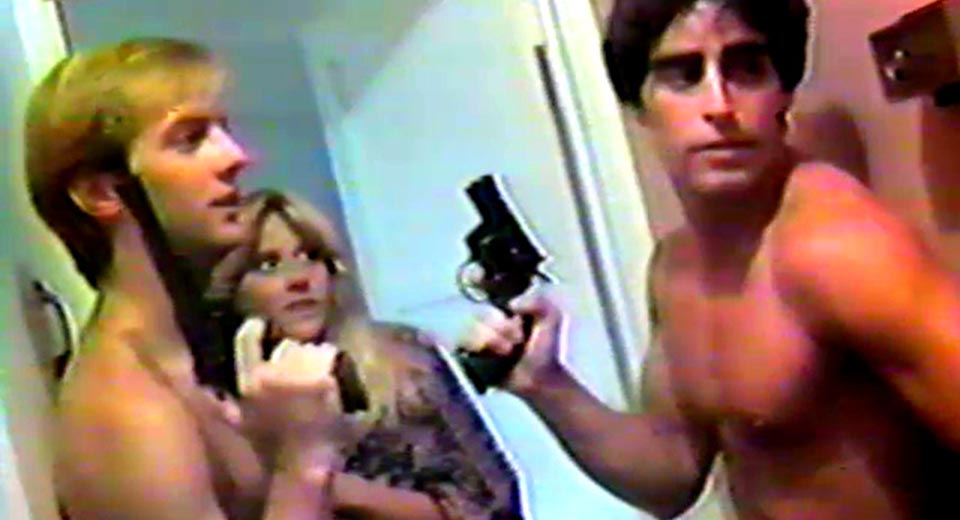 I guess part of the crux of that movie is that contrast between Jim van Bebber creating this superhero version of himself, but being so naked and vulnerable. You don't really see this moments in mainstream action movies. Maybe Chuck Norris pouring beer all over himself in Lone Wolf McQuade.
I would absolutely disagree, because I think Sylvester Stallone's movies are really personal, too. And even some of Van Damme's movies. You could always see what he's really fighting against, you know? So I do think that mainstream movies have that – well, not always. Schwarzenegger: untouchable. You can't get beneath the surface of whatever's going on in there.
I think the opposite with him, in terms of–
Really?
I think all his movies reflect his immigrant story and career arc in the way that he's dropped into these foreign, unfamiliar situations that he ends up commanding, whether he's dispatched to conquer the jungle, or he's an absentee, workaholic father who has to brave the mall to do Christmas shopping for the first time. He's always a literal or figurative alien who becomes the master of his domain, which is true of his unlikely ascent in Hollywood and politics.
I mean, I feel like that's a very intellectual approach. And I appreciate it, because it's probably like the way I think of Stallone movies: it's probably not the way that he would think of them. But yeah, I— I'll buy that. [laughs] I would think of that way more about Van Damme. Schwarzenegger always has that smirk, I feel like he really keeps you far away from him, while also having you in a bear hug, headlock, or whatever.
Even as much as I think Stallone movies are personal, like, if I really wanted to stretch it, I'd put Rocky III in Homemade Action, because that's the one that's the most personal-seeming.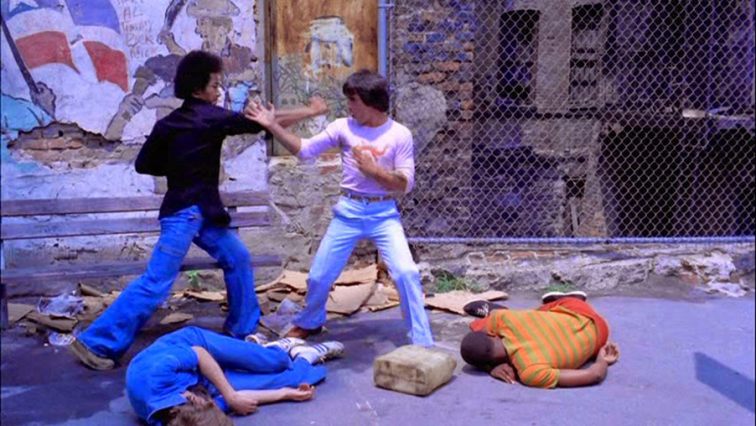 Could you talk about the parameters of the series? It ranges from something that I think was made for $96 in a studio apartment, versus something that seems to have had more money behind it like Miami Connection.
Yeah. I mean, it's not like I was looking at budgets or anything like that. I was just thinking of movies that definitely had either self-funding, or really bare-bones, and pulling together nearby resources, the way Combat Shock  was shot on Staten Island. And also, that personal touch. Because there are a lot of cheaply made action movies where you don't feel the authorship. So that was an important factor — it was somebody's passion project, and you can see them written all over it.
I also think, without putting too fine a point on it, there's a clear political perspective to a lot of these films. Case-in-point would be something like Death Promise, which is the ultimate anti-gentrification, tenants' rights organization movie with this intersectional cast of Black, Puerto Rican, and Chinese kung fu fighters battling every flavor of shitty landlord and teaching the lackeys that they're victims, too.
I think Death Promise is definitely the one that you see that in the most, and it's really unique and special in that way. It's funny, because my fear was that this series was against the time because it's so masculine, you know? But for me, what's interesting about it is the masculinity, and I almost feel like I'm like studying it, because it's a little strange to me the way the performances are and these relationships are.
I was hoping there was some kind of movie that was like a woman-directed, maybe or even like a woman-centered movie, and really Blond Death was the only thing that came close. But if I'm missing something, as much as I hate people to tell me things after the fact: Screen Slate readers… Even thinking of Doris Wishman stuff, there wasn't anything that fit the bill, and that was kind of a bummer. So I guess I'm gonna have to make one myself now?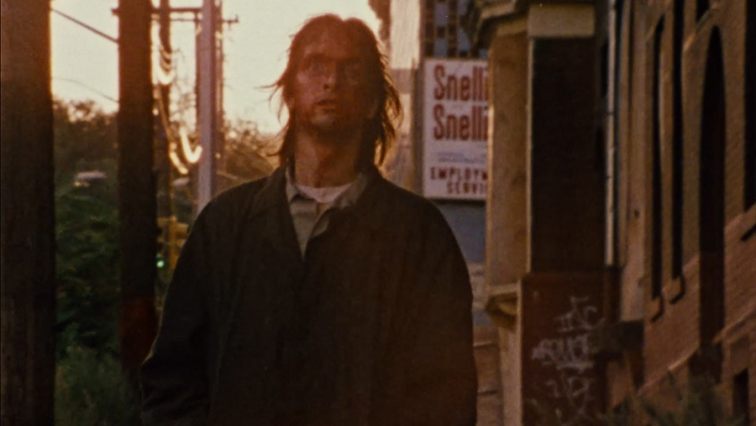 Note: this article has been updated to reflect the fact that Who Killed Captain Alex? will indeed screen with the wonderful English-language voiceover/commentary track.